PS4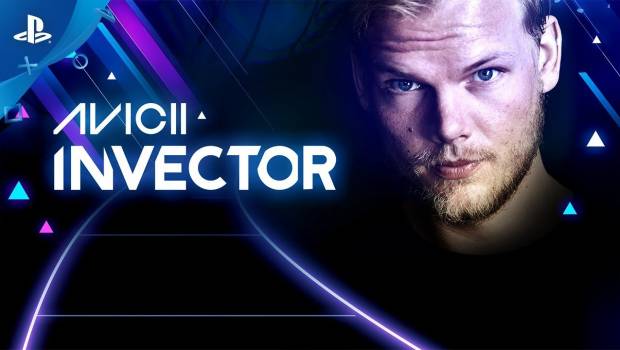 Published on January 9th, 2020 | by Daniel
Avicii Invector PS4 Review
Summary: A wonderful tribute to a DJ lost too young. Avicii Invector might suffer longevity, but will remain as a testament to the late DJ and his creativity.
Avicii Invector, a game made in loving memory of Tim Bergling. The world lost a true musical talent far too young. It's always heart-wrenching to lose someone, especially someone so widely and publicly known like Tim. In his case however, he's survived by a vast catalog of music, numerous collaborations with other artists and creative endeavors that have only since grown from his passing in 2018.
One such endeavor is a project collaboration with Hello There Games, to produce a unique take on the rhythm game genre. Avicii Invector, is a straight up tribute to the late DJ's musical prowess. Giving players a chance to experience his repertoire solo, or with friends in a graphically gorgeous style.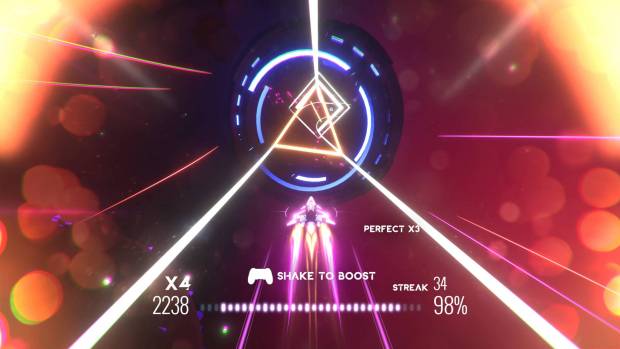 I'm relatively fresh faced when it comes to rhythm games, but my understanding is they critically require a solid and reliable flow. For example, a button sequence could start and end with the same input. Like X to X. Giving the player familiar phrases to fall back on. Avicii Invector, does this well at times. But odd combinations of inputs mean that players won't instantly adapt in the same way they might to other rhythm games who accomplish this better. And for some gamers, this is an instant deal breaker.
On the easiest difficulty, your main inputs are X, square, L1 and the left and right D-pad buttons during each track. There are certain sections where your ship derails from the course and is controlled by the left analog stick to fly trough glowing rings. The main issue that may catch some players off guard, is that the game will constantly ask you to pull the left trigger to keep the beat. Or demand you move the ship between "lanes" with the D-pad buttons in order to keep the sequence going.
It's a bit truncated sure, but fans will appreciate this entry into their libraries.
While in the easier and therefore, slower difficulties, this may not prove too much a hassle. But as you naturally get the hang of the game and progress through the difficulty tiers. This feature ramps up with harsh intensity. You'll adapt to it, sure, but it'll take some time. The game also throws out reminders of the L1 button if you miss it too frequently. Almostl tauntingly "Oh you missed that? Let me berate you with another reminder, maybe you'll get it for the 53rd time". Although it is amusing watching the same reminder coming at at them in multiplayer.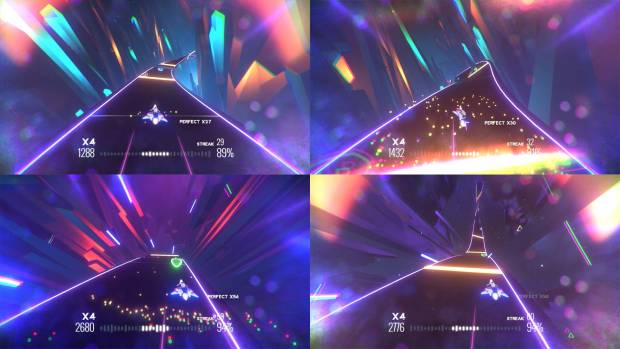 The game is graphically gorgeous too, it's not linear like most rhythm games. The track bends all directions, flips onto its side, upside down, even going off the rails entirely for some really open segments. Every four tracks has a different theme. From the tight flying of the valley section, to open space and to flying through cities. The colours and shapes really suit the EDM theme. The smooth transitions from open road, to tight tunnels and eventually open air all blend really well and there's a real sense of movement in the game. It really feels like you're racing between notes rather than the stock standard conveyor belt of notes. But best of all, it doesn't distract from gameplay. The last thing any rhythm gamer wants is to be distracted from what they're doing, by the art in the background. And Avicii Invector does this really well.
It's a futuristic and and minimalistic game, following a space pilot who is traversing these songs, as you play them. One thing that really stood out, was that successfully linked and increasing combos intensifies your surroundings making for a truly immersive and rewarding experience. There are these odd little clips with the pilot here and there, that hint at some form of internal story going on. I really didn't get it as they were pretty confusing and not really relevant to the core gameplay. But hey they looked pretty cool though.
Naturally, the audio is great. Although limited to a small fraction of Avicii's true discography. The late DJ has three studio albums, three compilation albums, a mix and a remix album. He also collaborated with tons of artists. This means that players will have heard at least one of his many chart topping hits. But this also works as a detriment, all of these songs are obviously EDM in nature and if you're someone not into this genre you're not like to have a good time.
There's not a lot of sounds to distract from the main attraction however. You get little bleeps and bloops when connecting or breaking chains and combos. That's pretty much it, except for the pilot's audio. Which is fine in itself.
Avicii Invector, isn't one of the most robust titles out there either. Only boasting 25 tracks total for a $20 game. You only have easy, medium and hard difficulties too. The tracks aren't all immediate available either. You start with Valley's four and Oblivion's three respectively. Then you have to complete all four of the previous group in order to progress to the next and so on. Unlike similar games like Voez and Cytus which boast tracklists upwards of 50+ for similar price tags. With additional setlists available for purchase.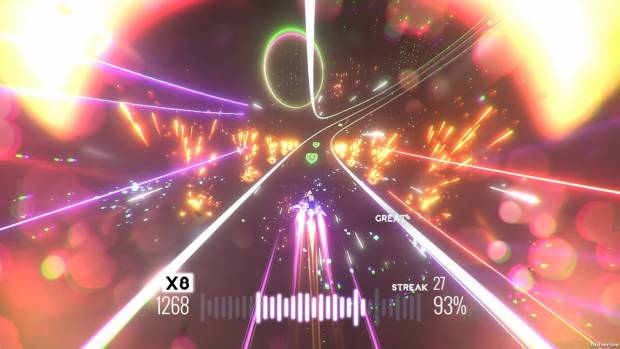 Avicii Invector is a music game that feels more like a space rhythm adventure. It's a bit truncated, sure. Lacking a little in its setlist length, being devoted wholly to one artist. Featuring some tricky mechanics and only having three difficulty levels. Meaning that longevity will always be an unknown. But fans of the artist and the EDM genre will still appreciate this entry in their libraries.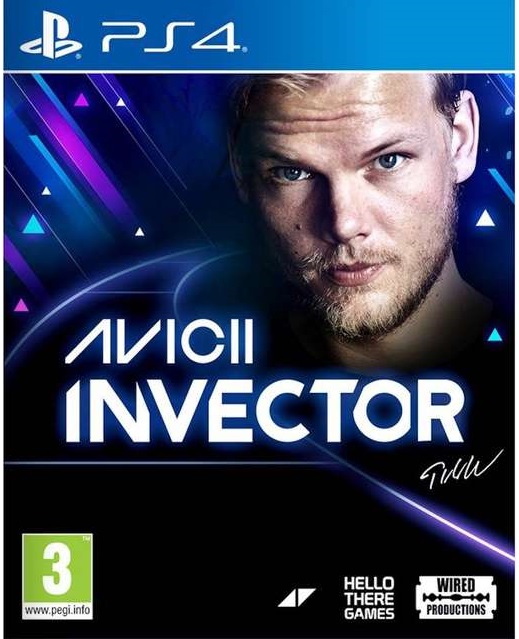 Game Details
Game Genre – Rhythm
Label – Hello There Games, Wired Productions
Rating – General
Year of Release – 2019
Platforms – PS4, Xbox One, PC, Switch
Mode(s) of Play – Single, Multiplayer