PS4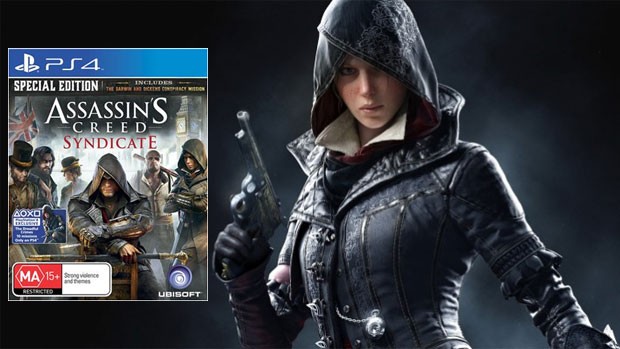 Published on October 30th, 2015 | by Andrew Bistak
Assassin's Creed Syndicate Review
Summary: After the bumpy start to Unity, the latest game in the franchise Assassin's Creed Syndicate successfully addresses the sins and creates a compelling game
London 1868 and it's the height of the Industrial Revolution yet in the shadows of this bristling city, a dark and insidious evil lurks. So while mankind heads for a new enlightenment, a never ending war rages with the citizens of London blissfully unaware… well most of them anyway. This war is between the Templars and the Assassins who are like the yin and yang of humanity, one vying for control, whereas the other would rather guide man then conquer. Welcome to the latest instalment of Assassin's Creed as players are once again thrown into this deadly battle as they help take down the Templars and prevent mankind from being controlled from this powerful Clandestine group!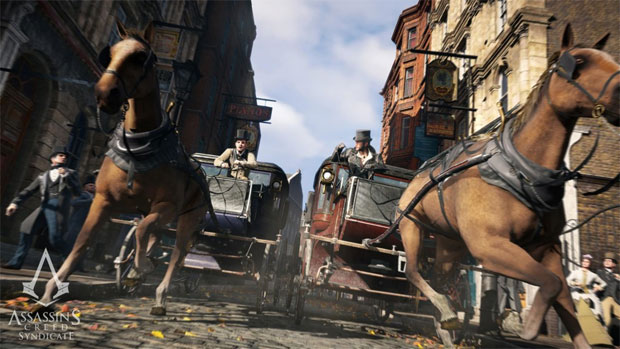 However unlike previous instalments of the Assassin's Creed franchise, Ubisoft introduces a unique element into the series with twins. These twin assassins are Jacob Frye and Evie Frye which really add a different element into the series as each has their pros and cons. There's also some great sibling rivalry between the twins, especially the banter which makes them both quite likeable characters. Add in new gameplay mechanics, weapons and adventures in Victorian London and Assassin's Creed Syndicate is a colourful adventure in this entertaining franchise which had its ups and downs. Thankfully Syndicate is an up for the series but it still feels like an Assassin's Creed game but just in a different setting.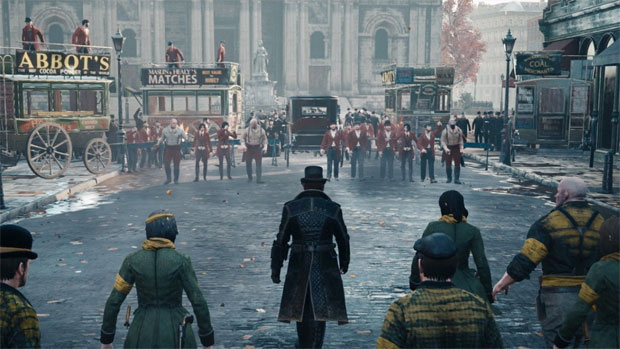 So where Syndicate does differ from its predecessors is the ability to play two different characters. The game does give the player their choice of twins to play, whether that's the more unpredictable Jacob or the more cunning Evie but certain missions will force you to play a twin as part of the overall story. They can also be swapped on the fly and Jacob is more your classic "tank" fighter character, whereas Evie is more your rogue "thief" character. This of course makes Evie the "true" Assassin but both are quite fun to play and for me, it was hard to find a favourite. The version that we reviewed was the "Gold" edition which contained the PS4 exclusive "Dreadful Crimes" which required the twins to investigate some … "dreadful" crimes all over the London such as murders and kidnappings which gives players a great insight into this Victorian world.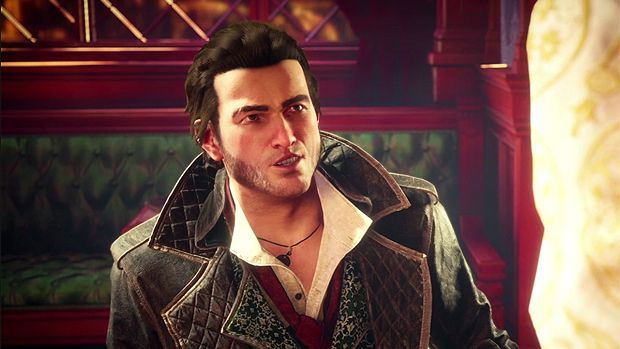 So while you engage in a variety of missions, you get to meet a handful of historical figures like Queen Victoria, Charles Dickens and Florence Nightingale in order to "help" shape London to what it has become today by ferreting out the nefarious Templars who have imbedded themselves into the architecture of London itself. At times I felt like Batman out of the DC Comic Gotham by Gaslight, a title set in Victorian London because the twins, even though they are deadly assassins are quite heroic as they help the poor of London and dispose of some its villains as well. Levelling up once again plays a key component of the game and does allow you to take on more difficult missions and characters.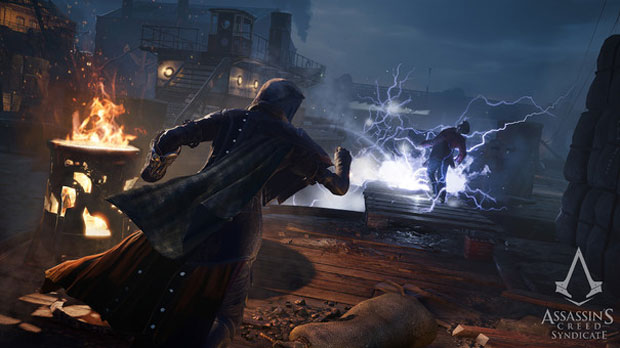 Besides the main missions of Syndicate, it's quite easy to get lost on side quests and explore this rich city to unlock secrets and bonuses for your characters. Syndicate does jar when it returns to modern times with Abstergo that still feels forced and contrived. Fortunately this part of the story is a drop in the ocean but is still as confusing as ever and only reminds the gamer that it's time to return to Victorian London, more so with the wonderful gadgets at your disposal like the rope launcher (did someone say Batman), brass knuckles, smoke bombs to my "gentlemanly" cane sword. Furthermore, your Assassin's eagle vision returns in this game that helps the player with tasks while investigating areas for items and objectives.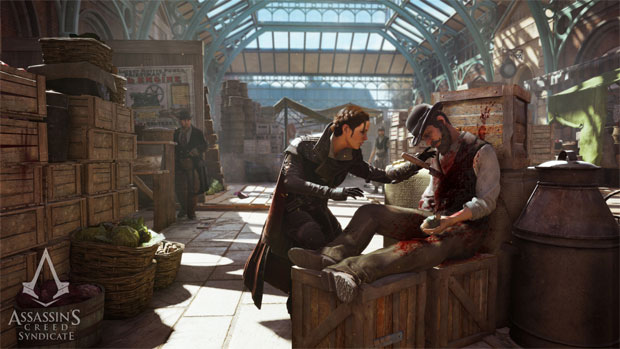 So while the Templar's control London, you can help retake the city with your own gang as you attempt to thwart, outwit and eventually challenge the vile Crawford Starrick and his "Blighters". Add in the ability to "power-up" your gang the "Rooks" and you soon become a force to be reckoned with. Crafting also returns for those who want to dabble but it's more a side game for players who want to be more hands on. On that note, nothing is more fun then taking over areas with your gang in order to establish a power base.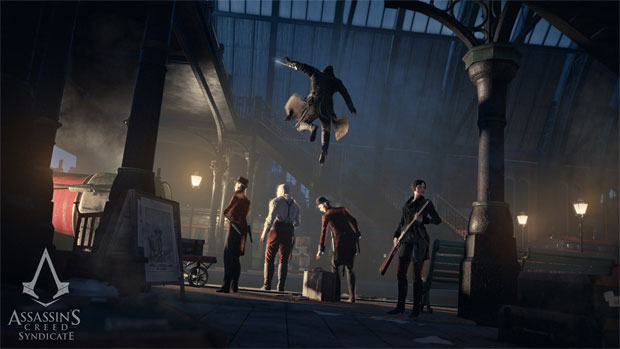 The Parkour mechanics still remain strong and in Syndicate they do feel more streamlined and less clunky, even though I did notice some graphical issues here and there. So as you run across the roofs (or rooves) of London, climb walls and buildings with ease plus perform a variety of other stunt manoeuvres, the controls work quite well on the DualShock controller with only a handful of controls. The developers have added another twist into the franchise by allowing gamers the ability to control carriages which even allows you to hijack them in classic Grand Theft Auto fashion and nothing is more fun than crashing into other carriages. Oh… you can even drift with your carriages!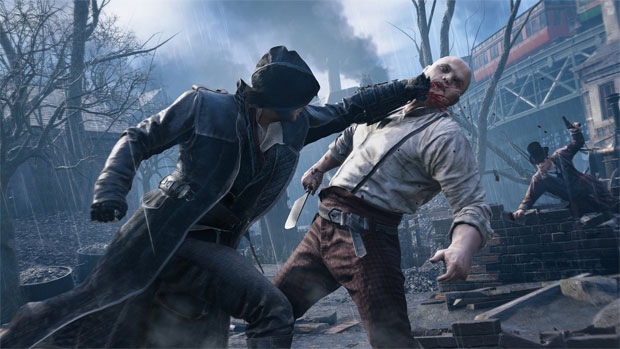 Combat is quite fun as well, particularly when you take on multi enemies or perform those devastating assassinations which can be very brutal at times. Add in combos, counters and various attacks and the developers give the player everything they need to have a thoroughly enjoyable experience as they take down the Templars and their lackeys. Then you have the quite graceful aerial kills which are always a joy. The player is also alerted to where the enemies are which does help with your strategies, more so when you're sneaking around. And when it all goes belly-up, there's plenty of escape routes and you do have medicine to help heal your characters. Overall, it's quite a fun and sturdy game on the PlayStation 4.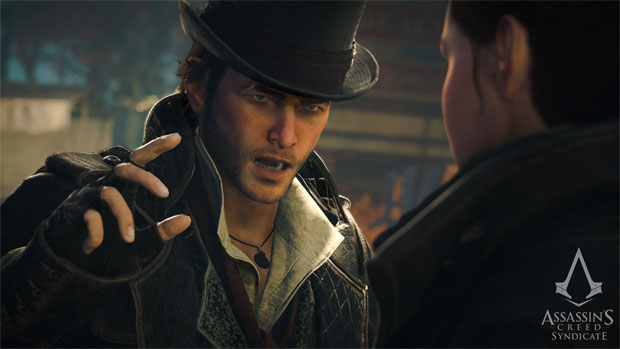 Graphics/Audio
Graphically, Assassin's Creed Syndicate is quite the game on the PlayStation 4 that boasts some truly amazing open-world environments. If you thought Unity looked brilliant on the PS4, then Syndicate is its successor and what a world it is. Victorian London has been carefully designed to create this almost virtual reality experience as you explore every nook and cranny of this amazing city, including landmarks such as Buckingham Palace and Whitechapel. Furthermore London feels like a living breathing city from its realistic lighting and citizens who seem to be blissfully aware of whom and what are shaping their city.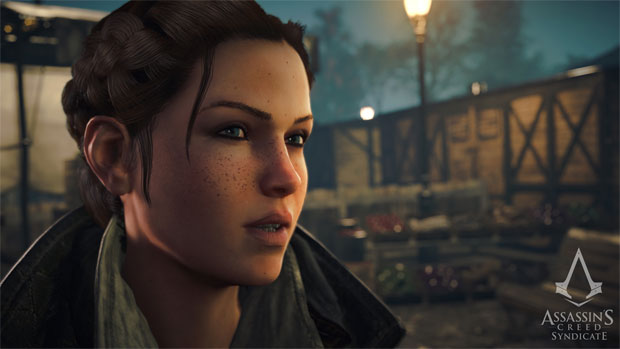 Another highlight with the graphics is the characters themselves that once again move with this human-like grace but detail of their faces is a true "wow" moment. Furthermore, the attention to detail is flawless and whether it's the realistic textures on their clothing or the way they interact with the environment, Assassin's Creed Syndicate is a true work of art. Add in the amazing views of London as you spin around and take it all in from some very Vertigo-like heights and this game is a looker!
To further immerse the player into this virtual world, the sound effects of London really capture the spirit of this Victorian city which sounds quite different at night. Sound effects complement the gameplay well as does the music, however the only let down for me and this is quite slight is that some of the voice acting does seem a little flat. Sure, most of the main characters sound good but some are quite robotic, especially when you return to the modern age.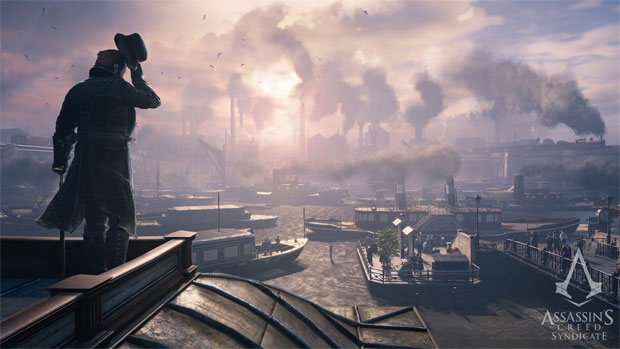 Final Thoughts?
Assassin's Creed Syndicate is a fun journey into Victorian London that boasts some likeable characters set in the turbulent world of the Assassin's and the Templars. The developers also give players two very likeable protagonists who both seem quite down to Earth and generally want the best for their city. Add in a climatic boss battle and Syndicate is definitely the game to come back to if you thought the previous game had its flaws. Overall, Assassin's Creed Syndicate hits the mark and gives the player a great story from start to finish.
Game Details
Primary Format – Games – Playstation 4
Game Genre – Action & Adventure
Rating – MA15+
Game Developer – Ubisoft
Game Publisher – Ubisoft