Films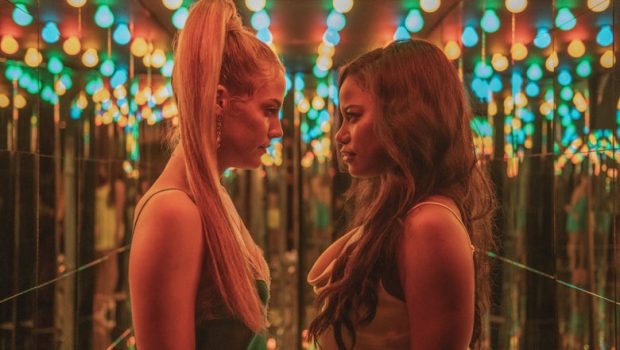 Published on December 3rd, 2021 | by Damien Straker
Zola – Film Review
Reviewed by Damien Straker on the 2nd of December 2021
Sony presents a film by Janicza Bravo
Screenplay by Janicza Bravo and Jeremy O. Harris, based on 'Zola Tells All: The Real Story Behind the Greatest Stripper Saga Ever Tweeted' by David Kushner and Tweets by Aziah 'Zola' King
Produced by Christine Vachon, David Hinojosa, Gia Walsh, Kara Baker, Vince Jolivette, Elizabeth Haggard, and Dave Franco
Starring Taylour Paige, Riley Keough, Nicholas Braun, Ari'el Stachel, and Colman Domingo
Cinematography Ari Wegner
Edited by Joi McMillon
Music by Mica Levi
Rating: MA15+
Running Time: 86 minutes
Release Date: the 18th of November 2021
Zola is unsettling, wildly even, and impossible to ignore. It is littered with disturbing and highly uncomfortable scenes to watch. Yet without suggesting it reaches greatness, its confronting nature is a positive attribute. If nothing else, the film offers the same brand of grizzled low-budget filmmaking a director such as Harmony Karmine (Spring Breakers, 2012) might have devised in the 1990s, before the oversaturation of superhero films. Evidently, pockets of Hollywood are still interested in adult cinema. The very factors intended to deter sensitive viewers, including an elderly pair who left its preview screening early, are what make Zola fascinating. Its depiction of sex trafficking, violence, and humour melds into a compelling but incomplete vision of abuse and consent.
The film's inception is truly bizarre. It started in 2015, when a 140-tweet thread was written by the real Aziah 'Zola' King. Her thread was viewed by various celebrities, including rapper Mary J. Blige and filmmaker Ava Duverney (Selma, 2014). Evidently, someone thought this outlandish but supposedly true story would make a great crime drama. The film adapts both the Tweets and a Rolling Stone article by writer David Kushner. Taylour Paige plays Zola herself, a black woman who survives by waitressing and dancing for money in Detroit. While working, she meets Stefani (Riley Keough), a crazy white girl who befriends her and invites her to Tampa, Florida. Stefani promises they can make some extra money by dancing there.
Accompanied by Stefani's white boyfriend, Derrek (Succession's Nicholas Braun), and a black man called Abegunde 'X' Olawale (Colman Domingo), the women travel to Florida together. However, it dawns on Zola that the road trip is amiss. It is revealed X is actually Stefani's pimp and is forcing her to have sex with men for little money. He then imprisons Zola into the same deadly scheme. Unable to escape, the two women turn their captivity into a successfully business opportunity. Zola takes photos of Stefani and pushes her to charge more for her sex work than the measly $100 she has been receiving.
While trashy and unsettling, Zola is far from purposeless. Tonally, it is pitched between a bleak nightmare of imprisonment and a funny parody of social media and hipster narcissism. The early scenes adopt a darkly confronting, voyeuristic mood. Director Janicza Bravo, also a black woman, chooses to film Zola's anatomy up close, ensuring her camera is perpetually fixated on her gyrations. There is also a confronting shot where from a top-down angle she films both Zola and Stefani sitting on the toilet. The leering form is then contrasted with softer images of personal space. During the during the pole dancing scenes, the camera draws back to a wide shot to underline Zola's personal zone as a skilled performer.
When the women apply make-up, harp music and florescent colours take precedents. The moment resembles a collection of Instagram filters on screen. These scenes, along with the leering close-ups and wide angles, stress both the intrusive, voyeuristic nature of social media but also the empowerment and self-confidence of a person creating and thriving within their own personal space. Zola is simply interested in making money by dancing not engaging in sex with other people, which highlights her personal agency and consent.
As an attack on consent, Zola is an effective American nightmare. Janicza Bravo crafts a bleak, affecting atmosphere suggestive of what happens behind closed motel doors in the dead of night. Her vision of the American Dream is riddled with bizarre contradictions. The film illustrates the terrible world of sex trafficking and monetisation of female bodies in bleak strip clubs. Some of this is troubling, such as when several imposing white men enter to sleep with Stefani. It is also weird and funny when Bravo presents the scene as a slideshow of the male anatomy, which drew a nervous reaction from the audience.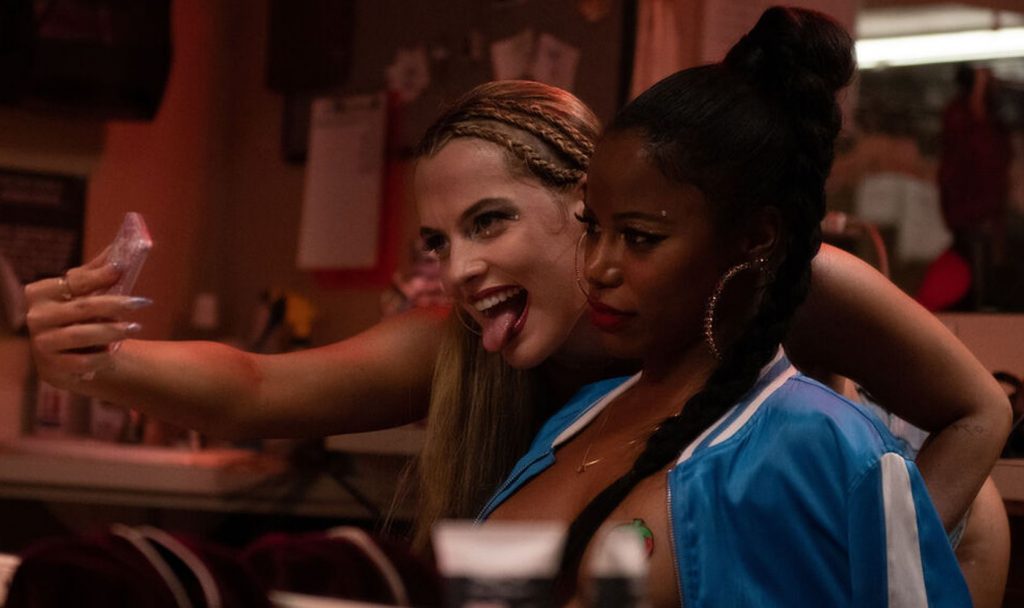 Throughout many scenes, the sex and debauchery are juxtaposed with religious iconography. Bravo's camera notes a cross by the roadside and various religious pictures on the motel walls. In one strange moment, a female stripper holds everyone hands and prays wealthy black men will accompany them. The contrast in images and tonal shifts infers the insanity of the American Dream and Stefani's falsehoods. Bravo compounds the lies with a dangerous mood only be achievable from living in this fractured world. For example, the driving scenes at night are incredibly tense and X is such an imposing fellow it leaves us wondering how the women will escape him. Evidently, Bravo proves skilled in underlining the dangers perpetuated by deadly men and capitalism.
Given the source material, there are inevitable flaws in the screenplay by Bravo and Jeremy O. Harris. At a packed screening, the audience was tepid about the humour as if they stumbled into the wrong cinema. The first twenty minutes are particularly rough. It is difficult immersing into this bleak world, particularly when the dialogue is nonsense or hipster jargon. The acting style is also deliberately exaggerated, including Riley Keough's insane performance as Stefani. Yet once the first twist occurred, I was drawn in by the film's danger and enjoyed its black humour. While the world and its stakes are affecting, Zola's energy and style reduces its wild characters to weird caricatures and stereotypes.
This is wisely a short film but elaborating on its outlandish relationships, particularly Derrek and Stefani's twisted romance, is foregone. The most fascinating sense of character is what Zola chooses not to do. She refuses to exploit herself through sex and instead uses a white woman to make large sums of money. Though sometimes how she reacts under intense pressure, specifically a standoff with a group of Hispanic men, is sadly discarded. One must ask whether the moment is deliberately anti-climactic or a result of scratchy editing.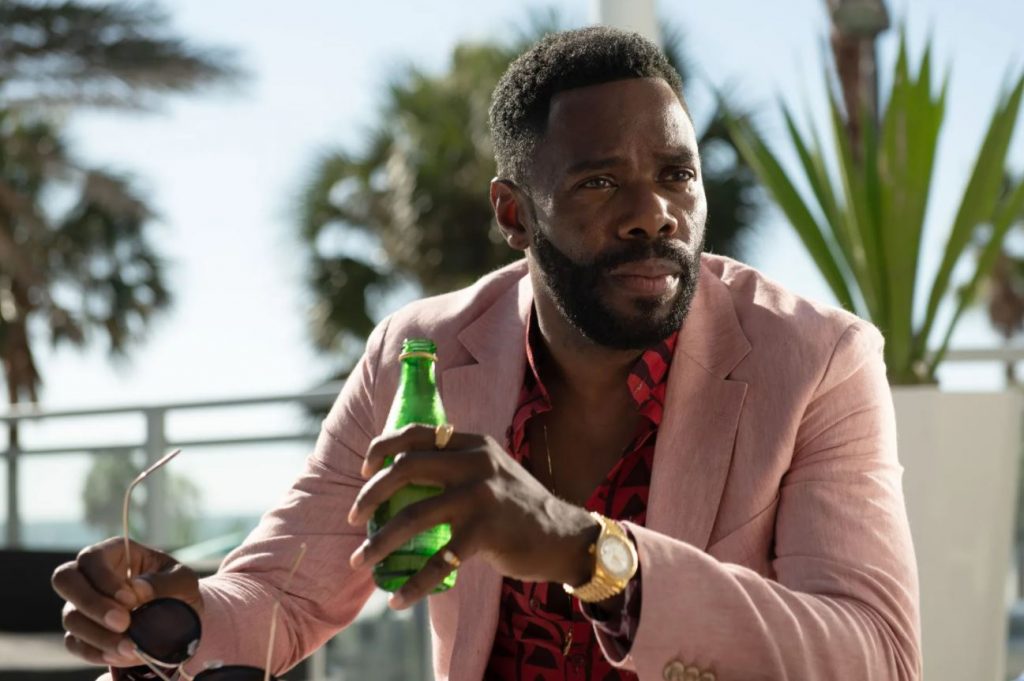 The crazed performances prove fascinating. As X, Colman Domingo proves incredibly imposing and scary. The enormous power he holds over everyone is highly convincing. By contrast, Nicholas Braun is hysterical as the bumbling white boyfriend Derrek. He is essentially playing the same nervous wreck from Succession, and he brings many laughs through his disarming nature and clumsiness. It is particularly funny when he politely thanks everyone after a burst of violence in a motel.
As Zola, Taylour Paige deserves credit for her physicality in her role and bravely shifting away from the early parts of her career, including High School Musical 3 (2008). She also underlines Zola's frustration with Stefani and her resistance to sex work highlights her character's belief in her own consent. Riley Keough's performance as Stefani will be the most divisive. This is an insufferable character though her vulnerabilities and fear become undeniable. Still, we are led to ask whether she is a victim or if she has undertaken this scheme before. There is an incredibly funny moment where she hijacks the film to try and tell her unlikely side of the story, which proves how humorous Keough can be.
Zola's resistance to safe, conventional filmmaking is commendable. This is a problematic, trashy, and divisive film. Yet these sinister characteristics ensure it is also an incredibly vivid portrait of the repulsive world of sex trafficking. The atmosphere and danger of the night feel tactile and there are genuinely funny moments throughout the story. Most significantly, there is a degree of substance behind Zola's intrusive and daring stylistic choices. Bravo uses her camera to underline social media's voyeuristic nature while simultaneously stressing a black woman's choice not to exploit herself. Despite its attempts to mirror an unfinished anecdote, it would have benefited from a stronger resolution. For these reasons, it is an uncomfortable experience and initially I was unsure if I liked it. Yet it soon grows into a devastating glimpse of what (supposedly) happens behind closed doors in America.
Summary: While trashy and divisive, Zola's resistance to safe, conventional filmmaking is highly commendable.