Films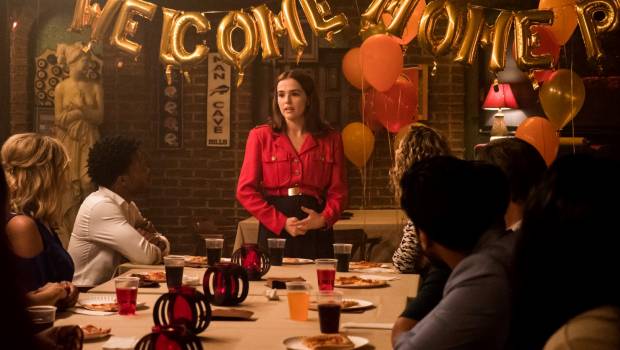 Published on August 27th, 2020 | by Adrian Gunning
ZOEY DEUTCH'S 'BUFFALOED' GETS DIGITAL RELEASE SEPTEMBER 9
Zoey Deutch stars in BUFFALOED, a quirky comedy filled with wings, pizza, and a story that explores the resistance to female ambition in blue-collar America. BUFFALOED releases on iTunes, Google, Xbox, Amazon and other major digital platforms this September 9 through Signature Entertainment, giving local audiences their first chance to see Deutch as the feisty antihero hustler Peg.
Directed by Tanya Wexler (Hysteria), BUFFALOED tells the story of a girl willing to do whatever it takes to make money and get the hell out of Buffalo. Ignoring the advice of her well-intentioned but misguided mother Kathy (Judy Greer), Peg cashes in on a series of side hustles that inevitably puts her behind bars. After a stint in prison, fate lends a hand by introducing her to the lucrative yet shady world of delinquent debt collection.
BUFFALOED also stars Australian actor Jai Courtney (Suicide Squad) as Wizz, a sleazy character who is the self-proclaimed 'smartest f*ck in the biz' as well as writer and comedian Jermaine Fowler (CBS' Superior Donuts) as lawyer and love interest Graham and Noah Reid (Schitt's Creek) as Peg's long suffering brother JJ.
However, it is Deutch's powerhouse comedy performance in BUFFALOED that steals the show, landing her plenty of plaudits stateside. Director Tanya Wexler admitted in a Forbes interview that whilst the character Peg was always an antihero on the page, Deutch took the character to a whole new level by making her likable, injecting a humanity and charm. An actress who is steadily building her body of work with dynamic roles alongside notable actors and filmmakers, Deutch is also a producer on the film.
Labelled as both a hustler comedy and Wolf of Wall Street with a feminist twist, BUFFALOED is a hilarious and timely film about one woman rewriting the rules of The Man's game. Available on iTunes, Google, Xbox and Amazon this September 9.