Events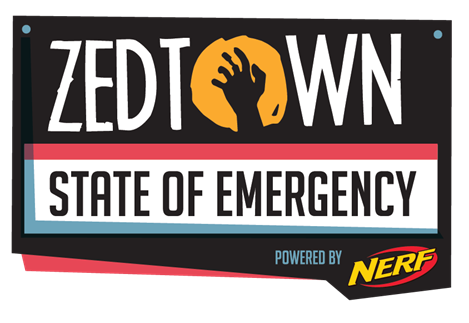 Published on April 18th, 2017 | by Admin
ZEDTOWN Sydney and Melbourne Dates and Venues announced.
The Nation is in a State of Emergency. The ZTX Virus is rampaging across the nation, infecting city after city. In desperation, the Government – its ranks already decimated by the virus' arrival in Canberra – have enacted Agenda 12, granting emergency powers to the newly created Ministry for Disease Control (MDC).
Minister August Reyn (THE MINISTER) in a hastily arranged press conference in an undisclosed location. "Under new emergency powers, the Ministry of Disease Control (MDC) has issued an evacuation of all major cities across Australia. All able members of the public must report to Quarantine Zone. Resistance from victims of the ZTX virus is expected, so gear yourself with NERF blasters and prepare for the worst.  Due to overwhelmed government resources, there are limited places available in the Quarantine Zones. Apply for your ticket to freedom and await further instruction.
Melbourne Showgrounds are Quarantine Zone 5
Sydney Showground are Quarantine Zone 6
"If you are displaying symptoms of the virus, please remain inside your residence and do not attempt to access the Quarantine Zones. Be alert."
"We are the government and we are here to help you."

ZEDTOWN: State of Emergency

Melbourne Quarantine Zone 5
Melbourne Showgrounds
Saturday 24 June
Access to Quarantine Zones from 11am
12pm to 4pm
Access to Quarantine Zones from 6pm – 7pm to 11pm
Sydney Quarantine Zone 6         
Sydney Showground
Saturday 8 July  Access to Quarantine Zones from 11am
12pm to 4pm
Access to Quarantine Zones from 6pm – 7pm to 11pm

What is ZEDTOWN?
ZEDTOWN is a giant game of real world zombie-themed tag. Players take up NERF toy dart blasters and fight for their life against hordes of vicious zombies. Over the course of an afternoon, as survivors are hunted down and tagged by zombies they become zombies themselves, spreading the virus and dooming humanity. It's up to the remaining survivors to hold out for as long as they can, and maybe escape ZEDTOWN.
More than just a game of running and blasting, ZEDTOWN is a truly interactive event that empowers players to create their own action and tell their own stories. A call-in radio station provides up-to-the-minute immersive colour and useful survival tips while our dedicated app helps survivors communicate and play the game. Social media streams offer real-time clues, commentary and a hub for fantastic player-driven storytelling. These elements combine to create a truly immersive zombie experience just waiting for the players to suit up and leave their mark.
Pre-sale tickets available from Wednesday 19 April at 9am
General Public tickets available from Friday 21 April at 9am