Events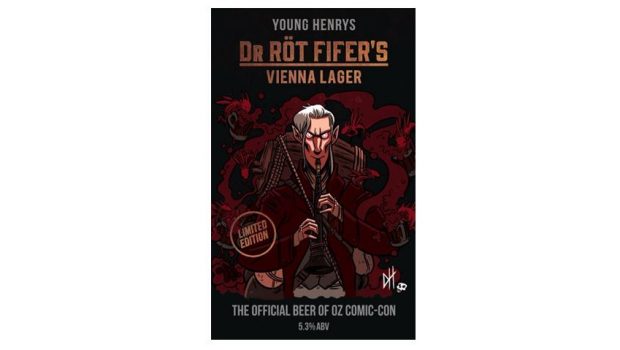 Published on June 7th, 2016 | by admin
Young Henrys and Oz Comic-Con's sinister new anti-hero and his limited release brew
Young Henrys and Oz Comic-Con's sinister new anti-hero and his limited release brew 
Young Henrys Brewery and Oz Comic-Con have teamed up with legendary Melbourne artist Doug Holgate to produce the most sinister brew ever known to man.
Enter the malevolent Dr. Röt Fifer. A twisted vision brought to life by Holgate, The Doctor is renowned for two things: his bloody pied piper melodies and Vienna Lager.
With a splash of black magic, Young Henrys and Oz Comic-Con have bottled The Doctor's copper concoction and present their first villainous brew and the Official Beer of Oz Comic-Con: Dr. Röt Fifer's Vienna Lager. Hallertau Blanc hops, stones fruit flavours and a smooth finish make the brew as entrancing as The Doctor's infamous pipe melodies.
"We give all our beers character and personality but it was especially amazing to work with legendary comic artist Doug Holgate to actually see the characteristics personified into the limited edition artwork that is Dr Röt Fifer. It's also been interesting to find out how many of our staff are closet comic and graphic novel fans – including a few comic tattoos!" says Oscar McMahon, Co-founder of Young Henrys Brewery.
Australia's favourite pop-culture expo Oz Comic-Con will be bursting into life across in Melbourne this weekend, celebrating all that is geeky, cool and collectable with knockout celebrity stars including John Barrowman (Torchwood, Doctor Who, Arrow), Lucy Lawless (Xena: Warrior Princess) and Robert Patrick (Terminator 2: Judgement Day), alongside a guest list of fandom favourites such as Rose McIver (iZombie) and more. As well as an overload of the latest merchandise, gaming zones, cosplay and more than you can possibly imagine.
"We're excited to unveil Oz Comic-Con's first beer just in time for our Melbourne event this weekend. It's fantastic that local comic artist Doug Holgate has created such an amazing character," said Paul Baker, Oz Comic-Con Event Director. "We can't wait for everyone to taste the brew!"
RSVP to the most sinister party in town: The Official Oz Comic-Con and Young Henrys Launch Party and come fall under the spell of the deliciously wicked Dr. Röt Fifer. Melbourne Friday 10th June, RSVP HERE. 
Melbourne Jun 11-12 // Melbourne Convention & Exhibition Centre // Tickets HERE
Sydney Sep 10-11 // Sydney Exhibition Centre // RSVP HERE
Brisbane Sep 17-18 // Brisbane Convention & Exhibition Centre // RSVP HERE
To get your mitts on a limited longneck or t-shirt and show your affiliation to Dr Röt Fifer, visit Young Henrys' online store, or visit the team at Oz Comic-Con Melbourne this weekend, at the Melbourne Convention & Exhibition Centre.