Comics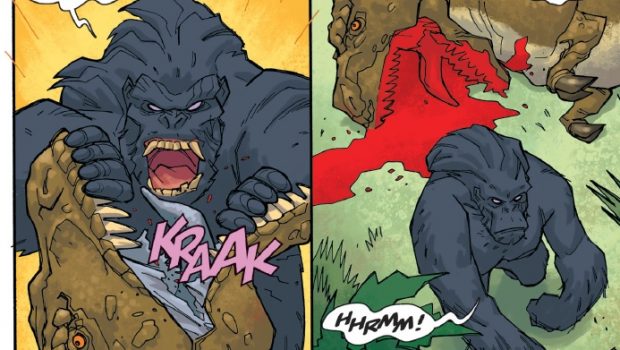 Published on March 28th, 2021 | by Tim Chuma
YOUNG HELLBOY: THE HIDDEN LAND #2 (2021) Review
Summary: A fun adventure story and well worth your time if you are a fan of this character or have only heard of him through the movies.
4
Young Hellboy is so cute
I haven't actually seen any of the Hellboy movies, but know the character has had a lot of stories about them so was interested in seeing this one about the younger years of the character.
It reminds me of the Young Indiana Jones stories and they are making it more of an adventure story to match this but with more violence than you would usually see from one of this genre.
Young Hellboy is very cute in this version and has not cut off his horns which seems to have happened later on for some reason. There is also a giant gorilla who is the guardian of the forest who turns out to be someone who Hellboy idolised.
Unfortunately the T-Rex on the cover is not a main character and does get dealt with quite swiftly although it is a great cover image and what initially interested in this story. It does remind me of Devil Dinosaur from Marvel and I am sure they were at least inspired by it.
A nice action-packed instalment of this mini-series and I didn't feel like I had missed too much starting it now as they explained it well as they went.
I would recommend this to fans of the main character or even if you would like to read a fun adventure story.
Comic details:
Writer: Mike Mignola, Thomas Sniegoski
Artist: Craig Rousseau
Colorist: Dave Stewart
Cover Artist: Matt Smith
Genre: Horror, Crime, Action/Adventure
Publisher: Dark Horse
Publication Date: March 31, 2021
Format: FC, 32 pages; Miniseries
UPC: 7 61568 00783 1 00211