Blu-ray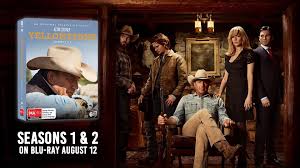 Published on September 29th, 2020 | by Rob Mammone
Yellowstone Series 1 & 2 Blu-ray Review
Summary: Competing clans fight over valuable land in this intriguing modern Western starring legendary Hollywood actor Kevin Costner.
It may be a century and more since the Wild West dominated the mythic landscape of the American frontier, but Paramount Network's Yellowstone revisits the era in a modern setting involving familiar themes – familial loyalty, political corruption, Old Testament style violence and a brooding, glorious natural landscape.
As is increasingly the case, television continues to claim the mantle that movies once held – the long form storytelling inherent in television allows for deeper characterisation, an immersive experience inside a world until it feels as familiar as our own, and a strong, diverse cast that allows for a nearly inexhaustible array of storylines to keep the audience trapped. Yellowstone is no different.
As is the case these days with television, big name movie actors continue to fall into its orbit. This time, it is Kevin Costner who has made the leap from film to television. Costner's two most memorable roles came in Westerns – Dances with Wolves and Open Range – so it is no surprise he slots into this modern Western with such ease, as brooding patriarch John Dutton. A sixth generation rancher, Dutton controls the largest contiguous ranch in America, a holding as vast as the state of Rhode Island. Control of this land comes with many benefits – immense wealth, immense political power and the born to rule mentality many kings of days of yore would find familiar. But the world has changed, so have the rules. Land developers, corrupt politicians, and a Native American chief itching to claim back the land stolen from his forebears, all threaten Dutton's hold on the land his family has held for more than a century.
Aside from Costner, the ensemble cast is impressive. Danny Huston (Wonder Woman, The Aviator) impresses as a rapacious land developer eager to bite chunks out of Dutton's landholding. Luke Grimes (American Sniper) impresses as the youngest Dutton son, Kayce, a former Army SEAL in a relationship with a Native American Indian woman. His divided loyalties, between his father and his partner, play a defining role in the first season. Kelly Reilly (True Detective season 2) burns up the screen as Beth Dutton, John's troubled financier daughter. Gil Birmingham (Hell or High Water) plays Chief Thomas Rainwater, determined to cast aside the old deference to the white man, and eager to reclaim the land taken from his ancestors.
All this makes a heady brew, especially for the first season. Indeed, there are probably too many characters, and too many plotlines to keep track. That said, as a viewer, you want more, not less story, otherwise why would you be bothered devoting so much time to understanding what is going on?
The political machinations are brutal, as politicians' influence is bought and sold like goods in a supermarket. Indeed, the old adage, never get between a politician and a bag of money is never more evident here, as the depressing reality that money greases the wheels of the political machine is front and centre. Elsewhere, the series looks hard at the constant fight between land developers seeking to make a profit, and land owners, who seek to preserve their traditional holdings. There's an irony here of course – for all John Dutton's posturing that he is protecting his family's legacy, he works to ensure that the actual traditional owners, the Native Americans, are kept as far from what was once theirs as is legally (and not so legally) possible.
Overall, this series is an excellent example of the current crop of television drama. There's plenty of steamy sex, plenty of action as different sides take up weapons and turn the valley into a battlefield, and plenty of political and legal machinations as the different sides take their battles from the land into the courtroom and the offices of the politicians in their pockets. And all of this, against the arresting landscape of Montana (where it is set) and Utah (where it is primarily shot). Yellowstone is a must have television series that brings the very best of the golden age of television to your screen.
All that, and thanks to the marvel of blu ray, more extras than you could poke a rifle at. Production design, fight choreography, interviews with Costner and the other members of the cast, learning to be a cowboy and deleted scenes are only some of the extras available on this six disc set.
Head over to the Via Vision Entertainment Facebook page for the latest releases, giveaways, great deals and more!
Blu-ray Details
Directors Taylor Sheridan
Actors Kevin Costner
Film Genre TV Drama
Label Via Vision
Audio English (Dolby Digital 5.1)
Aspect ratio 1.78:1
Region Coding B
TV Standard HD
Rating MA15+
Consumer Advice Strong themess, violence, sex scenes and coarse language
Year of Release 2019
Primary Format – Movies/TV Blu-Ray