Games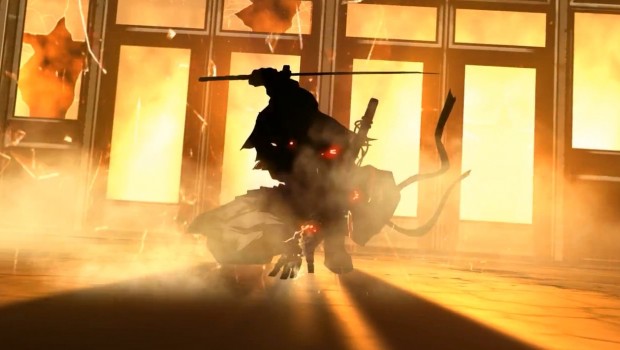 Published on December 16th, 2013 | by admin
YAIBA: NINJA GAIDEN Z GOES RETRO AS TEAM NINJA DIVULGES FIRST DETAILS OF "NINJA GAIDEN Z" MODE AND DLC
Team NINJA today revealed the first official details and an all-new trailer detailing the retro-stylised side-scrolling "NINJA GAIDEN Z" Mode, which will be included in the upcoming YAIBA: NINJA GAIDEN Z. Accompanying the new trailer are a variety of screenshots and information about Yaiba's rage mode, entitled "Bloodlust", and his cybernetic-savvy companion, Miss Monday. Additionally, in collaboration with comcept, "Beck" the main character of Keiji Inafune's Mighty No.9 will make a cameo appearance in the form of an alternate costume for Yaiba. The DLC release of "Beck" will be followed by a Camouflage costume for Yaiba as well.
The new "NINJA GAIDEN Z" Mode expands the YAIBA: NINJA GAIDEN Z experience allowing Yaiba's over-the-top zombie chucking antics to spill over into an all-new 3D side-scrolling realm. Brought to life through classic 8-bit stylized cut screens and UI, this new mode will have Yaiba battling though hordes of elemental zombies, mechanized enemies, and other familiar baddies reminiscent of a certain 8-bit ninja's plight (ahem) as he racks up more mad points with every brutal kill.
To get through this side-scrolling gauntlet, Yaiba will have to push himself to his own limits employing all the dirty tricks of his trade. Whether it be by chain flail or cybernetic rocket punch, no amount of zombies have a prayer when face to face with Yaiba's homicidal rage.
Fortunately for Yaiba, he will not be tackling this slaughterfest alone. Miss Monday, an engineer for Forge Industries who brought the pieces of Yaiba back to life with cybernetic enhancements, will be there making sure all of Yaiba's cybernetics are operating at their peak performance levels as he tears through these hordes of zombies. Sure, she doesn't really care too much about right, wrong or duty, but maybe because of this, she has an easier time dealing with Yaiba's "special" attitude.