Hardware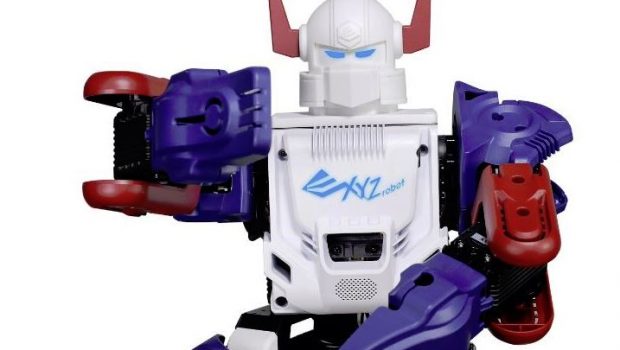 Published on May 10th, 2016 | by admin
XYZprinting Unveils Edutainment Robot – BOLIDE
Australia – May 10, 2016 – The Possibilities are Endless.
XYZrobots are for anyone who has an interest in robotics. Equipped with two RGB LED arrays for displaying information, a buzzer for audible feedback, and a Bluetooth module for direct communication, these robots excel at engaging its users and interacting with other devices. Immerse in the thrills of DIY by assembling the myriad of sensors it comes with to fully achieve environmental awareness: accelerometers to detect g-forces, notifying the robot if it has fallen, and infrared sensors to measure distances from objects to avoid collisions. With a staggering 18 Smart servos, offering 18 degrees of freedom, all accessible with an intuitive API, users can easily control or adjust the robot's movements however they want and save their custom made sequences for future use: make your robot move as you want.
The possibilities are endless. Some of the key features include:
18 smart servo: (max. torque 25kg-cm) to mimic precise human movements. Smart Servos transmit data on temperature, speed, position and include four color LEDs so you can quickly and easily monitor servo status.
Sensors: Accelerometer and IR sensor for falling down detection and distance measurement that allows BOLIDE to be aware of its centre of balance as well as its surroundings.
Learn architecture through reconfiguration: Use the same MCU board and servos with a few extra components to create a completely different robot!
Programming study: Program editing teaches software design. Intuitive UI design makes editing easier. BOLIDE can also memorize movements for faster editing.
3D print creative designs: To build your own unique robot with your creative ideas to showcase your design talent. (You can also download .STL files from the XYZ gallery)
Assembly develops logical thinking: Develop your logical thinking skills, left and right robot motion, and how sensors work.
 Arduino: Use Arduino 1.0.6 and the XYZrobot Editor to take full control of your BOLIDE Y-01's moments and actions
 Android & iOS: Control your BOLIDE with a remote control and the XYZrobot for Android and Apple smartphone and tablet devices.
"STEM curriculum focused on programming and coding in schools is growing rapidly with the government promoting computational language as a key component to skills for the future. The ability to assemble Bolide, 3D print additional parts and program movements makes it the perfect aid for teaching programming whilst encouraging creativity and abstract thinking in the classroom." said Andrew McGregor, XYZ Product manager at MMT, XYZprinting's Australian distributor. 
Showcase
Professionals and educators can see Bolide the robot on display with XYZprinting 3D printers during May at:
http://www.nationalmanufacturingweek.com.au/ co-located with http://inside3dprinting.com/
Where:                 Sydney Showground, Sydney Olympic park
When:                 11-13th May 2016
Stand:                   Bilby 3D at Stand: 1601
Where:                 Brisbane convention & Exhibition Centre
When:                 30-31st May 2016
Stand:                   Kookaburra Educational Resources Stand: 83
Availability
The BOLIDE is now available from select education resellers and XYZprinting partners
Bolide ships in two packages, completely assembled or in a DIY package for makers and education.
Bolide fully assembled MSRP of $1,399
DIY kit package MSRP $1,199 
Videos