Collectibles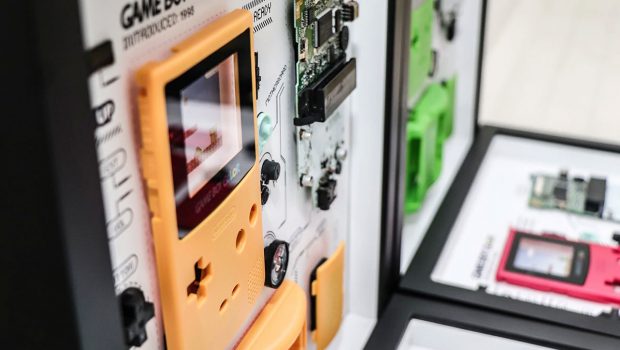 Published on June 16th, 2022 | by Andrew Bistak
Xreart Nintendo Game Boy Color Frame Review
Summary: The Xreart Nintendo Game Boy Color Frame is pure gaming retro art at its finest!
If you're a tech and/or gaming fan who is on the hunt for some very unique and hand built artwork, then look no further as Xreart have created some 3D pieces. Unlike traditional art, Xreart who once started as a photographic studio have successfully iimmortalised a variety of classic tech pieces such as the iPhone 2G, Nintendo Gameboy Color (reviewed) or PSP 2000 into picture frames that highlight the key technical features of this devices. Another cool element of these art pieces is that Xreart help with recycling and as a result, turn used electronics into modern pieces of art. Additionally, they donate a small percentage of the purchase price to a not-for-profit organisation that include the Nature Conservancy, Ocean Conservancy, World Wildlife Fund and Greenpeace Foundation
Still a little confused? Check out these photos from Xreart below of the Nintendo Gameboy Color:
So as you can see, it's 3D that uses the Nintendo Game Boy Color as the start, both inside and out with every piece hand designed by Xreart.
In terms of size, this art piece from Xreart has a template paper size of 300mm x 300mm with a frame size of 32.8cm x 32.8cm and a depth of 3.5cm. Surprisingly, the additional protrusion is not noticeable at all, whether displaying the Nintendo Game Boy Color Frame on your desk, bookshelf or wall.
For the uninitiated, the Nintendo Game Boy Color was initially released in Japan in 1998, the successor to the monochrome Nintendo Game Boy that led to becoming one of the world's most popular consoles of that time. Not only did it provide color gaming on the go with 10-hours of battery, it was also backward compatible and had the exclusive Pokémon Gold and Silver on this console.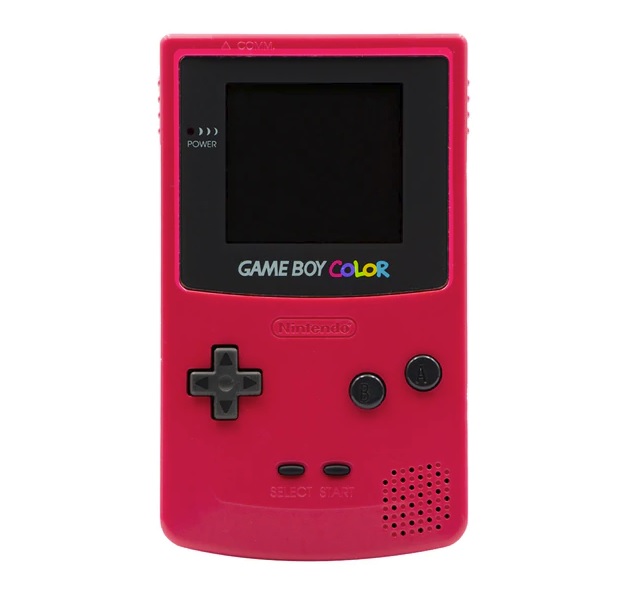 Nintendo Game Boy Color Technical Specifications
| | | | |
| --- | --- | --- | --- |
| Central Processing Unit (CPU) | | | 8 Bit, Clock frequency: 8 MHz, RAM: 32 Kbytes |
| Dimensions | | | 133.5 x 78 x 27.4 mm |
| Weight | | | 138 g |
| Power consumption | | | 70 – 80 mA hr. 2 AA batteries (1.5 V) |
| Playing time | | | Up to 10 hours |
| Screen type | | | Next-generation liquid screen (TFT) |
| Screen size | | | 4,4 x 4 cm |
| Screen resolution | | | 160 x 144 Pixels 32,000 different colors displayable, of which 56 simultaneously |
| Game Paks | | | Exchangeable |
| Contrast controller | | | No (automatic colour brilliance increase in bright light) |
| Loudspeaker controller | | | Yes |
| Headphone connection | | | Yes, stereo sound via headphones |
| Colours | | | Blackberry red, neon green, yellow, turquoise, purple, clear purple, Pokémon Special Edition |
| Cable connection | | | Yes (small) |
| Special features | | | LED battery charge display Infrared interface Carrying loop device |
Xreart Nintendo Game Boy Color Frame Unboxing Gallery
The Nintendo Game Boy Color Frame from Xreart is well packed and landed in Australia with no issues whatsoever. Once unpacked from the box, the next step is to remove the scratch resistant protector film.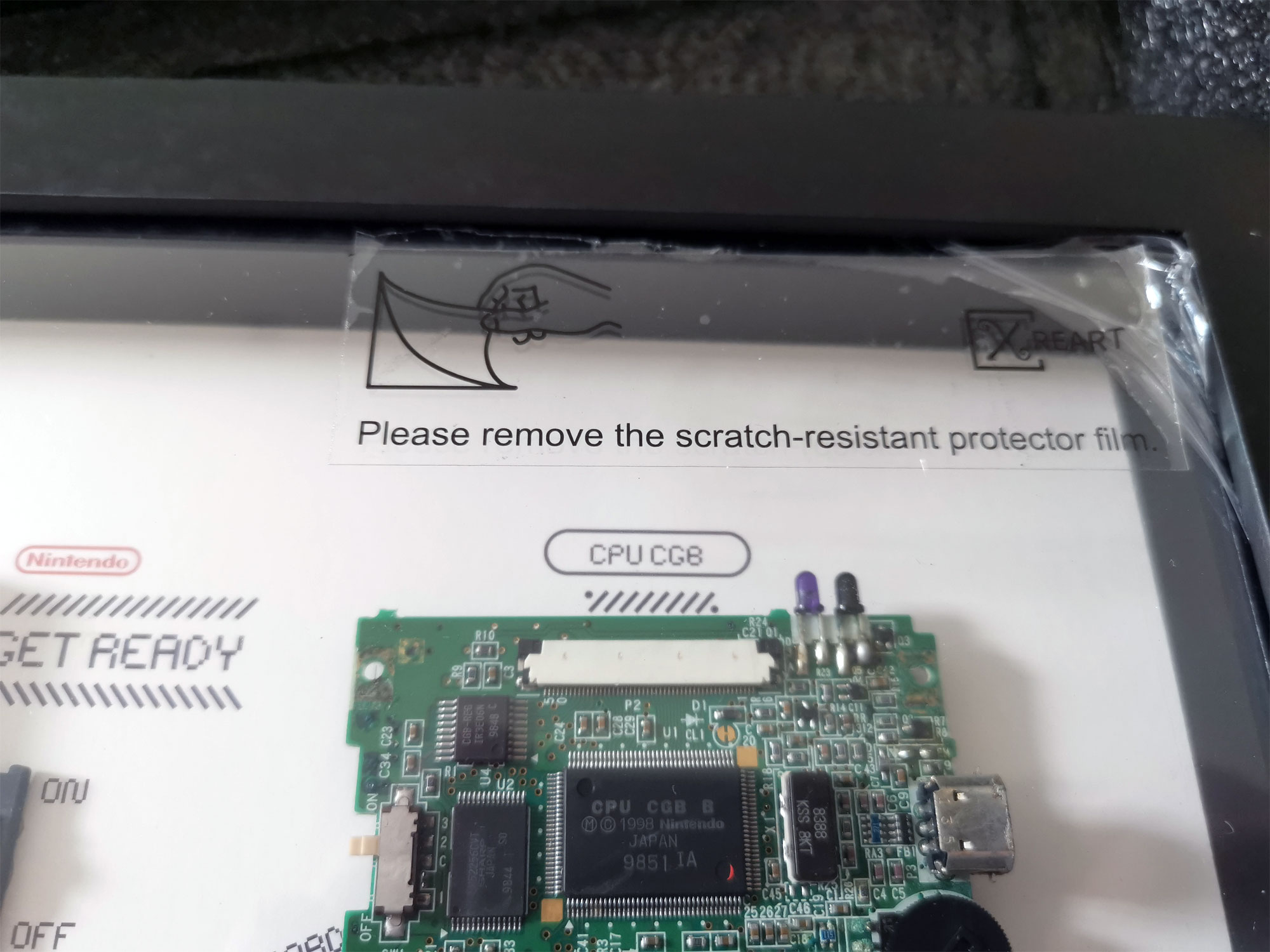 While most of the film came off easily, I did have to remove the backing on the frame in order to remove the glass, then take off the remaining film. However once done, I was treated to this impressive piece of gaming art and… history.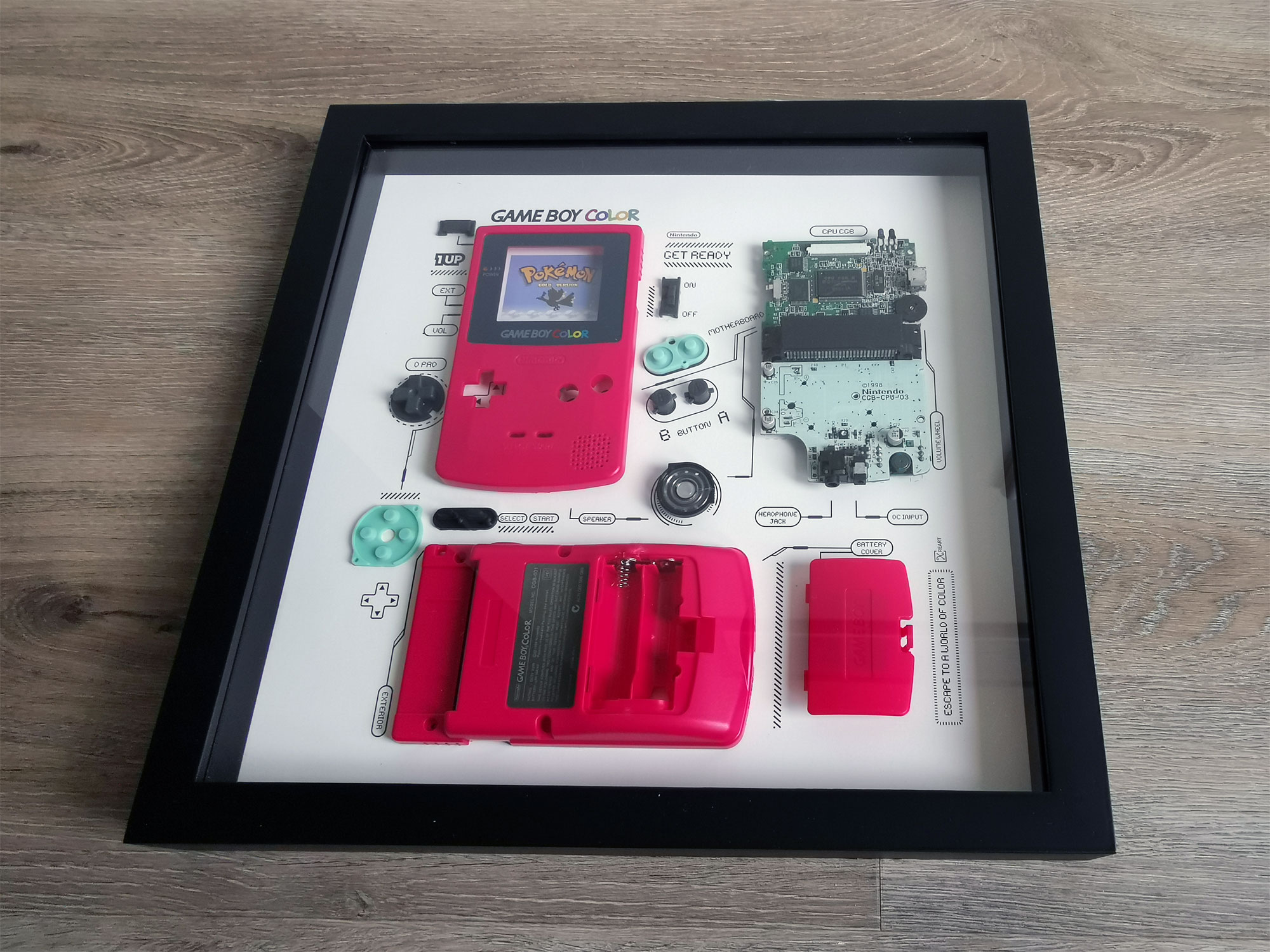 The template paper is also high quality which boasts sharp text and images. A special mention should also be made about the background of the case (or screen) which is a grab from Pokémon! Of course, the highlight are the console components which literally pop and whether that's the casing, buttons, powerful CPU or reverse of the Game Boy Color, it's quite a fascinating and informative piece of art.
And below is the hallowed CPU of the Nintendo Game Boy Color, the CPU CGB (aka Zilog Z80), a custom 8-bit processor made by Sharp with a speed of 8Mhz.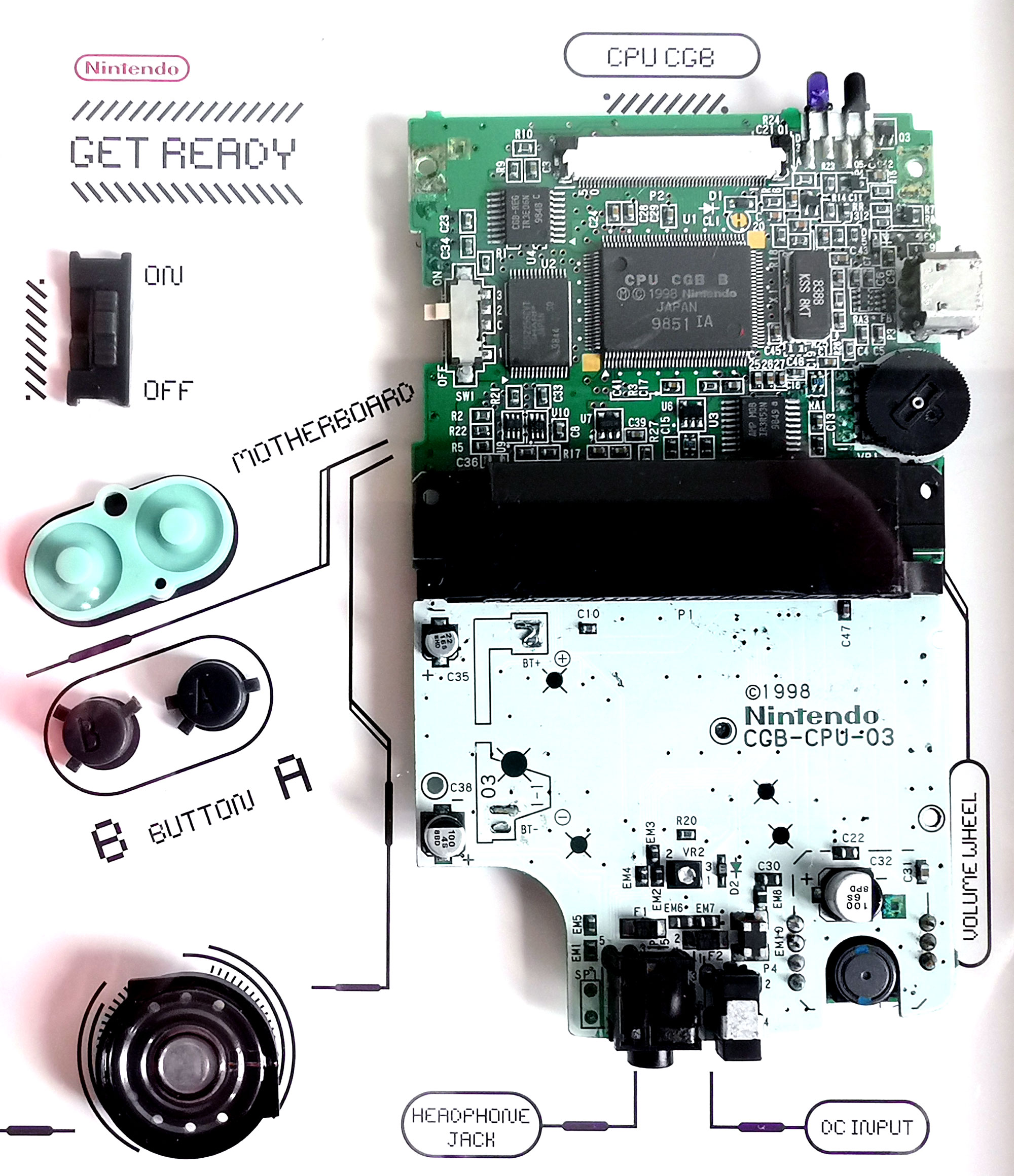 Final Thoughts?
The Xreart Nintendo Game Boy Color Frame is a very clever piece of art that not only recycles but delivers a piece of modernity for gamers. It's very well presented and would make the perfect addition to any gamer, whether for their home or office and as a twist, Xreart even sell kits that allow you to make your own DIY pieces.
Recommended!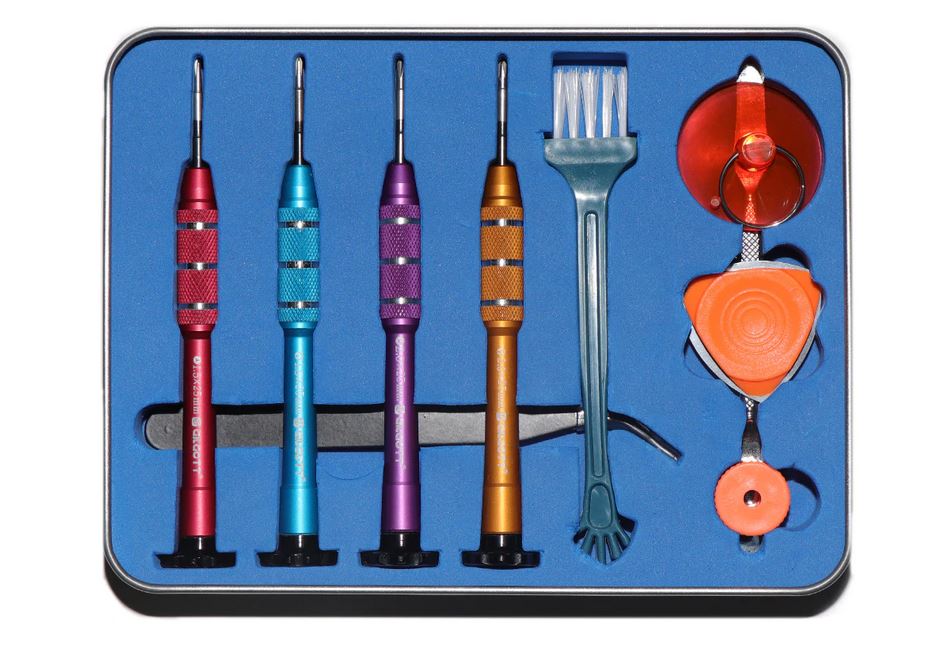 https://xreart.com/