Hardware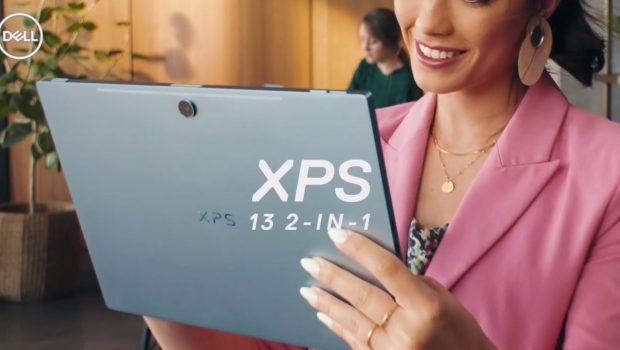 Published on February 25th, 2023 | by James Wright
XPS 13 2-in-1 Laptop Review (2023)
Summary: The XPS 13 2-in-1 Laptop is a true hybrid powerhouse!
Welcome to the Dell XPS 13 2-in-1 Laptop that boasts a powerful 12th Generation Intel CPU, the hybrid ability of becoming a tablet and also the first XPS device with 5G connectivity for lighting fast internet on the go. With a recommended starting price of $2,198.90AUD (Feb 2023) – https://www.dell.com/en-au/shop/dell-laptops/new-xps-13-2-in-1-laptop/spd/xps-13-9315-2-in-1-laptop for the base model, the XPS 13 2-in-1 successfully transcends the world of laptops and tablets which makes it perfect for home, education and work, including casual gaming. It's a merging of the best of both worlds.
In terms of processors, the XPS 13 2-in-1 Laptop is available with either a 12th Gen Intel Core i5-1230U (4.40Ghz) or a i7-1250U (4.7Ghz) with 8 or 16GB of LPDDR4 memory. Additionally it comes in three storage sizes that include 256GB, 512GB or 1TB PCIe NVMe SSD that allows for rapid access to storage. Also supporting the user experience is its high quality 13" touch display with a resolution of 2880 x 1920, including Gorilla Glass for protection and even active pen support. It's also quite a bright display of 500-nits that makes using the screen a joy. Given that, Impulse Gamer had the opportunity of reviewing the higher end model.
XPS 13 2-in-1 Laptop Professional Gallery
Well packed from Dell, the XPS 13 is on the smaller form factor size that adds to its portable nature that measures at 7.40mm (height) x 292.50mm (width) x 201.20mm (depth) with a starting weight of 736 grams. The folio weight is 560grams that even matched with the weight of XPS makes it quite lightweight. The external chassis is made from aluminium and comes in a "sky" colour that translates to a dark sky blue.
Aesthetically it's a nice looking piece of tech and remove and attaching the folio backlit keyboard is super easy courtesy of its magnets. Of course as it attached my magnets, it makes using on your lap a little tricky at times as he can become detached. Further supporting the design is button and port placement which are all positioned well and quite accessible, particularly the volume buttons. However with that said, the folio also works well as a stand so you can watch films or engage in video conferencing easily.
Considering the specs, it is a very fast product that boots quickly and navigates the operating system (Windows 11) and software / apps quite well. As it is a hybrid, the portfolio keyboard attaches magnetically which works well. What about lapability? Lapability is how well it works in your lap and as the keyboard is separate, it is not as stable as a traditional laptop. Given how lightweight the keyboard is, it can cause the screen to topple forward on your lap so it is better to use it on a desk or putting a book / steady tray on your lap. So not the best lapability but then again, you can't use a laptop like a tablet either? As a tablet it works very well in your lap and unlike an iPad, it is considerably more powerful.
XPS 13 2-in-1 Laptop Unboxing Gallery

There are also two cameras on the XPS 13, a front facing 1080p camera with a rear facing 2160p camera that both support 30 fps. The front FHD RGB camera also supports 480p at 60 fps, including IR and there is are dual-array microphones to support the "webcam" for meetings and chats. It comes with a 3 cell 49.5Wh battery (up to 5 hours) that allows for fast charging courtesy of its USB Type-C 45w charger. As a keyboard, it is functionality, however as it is not a dedicated keyboard, it may take some time familiarising yourself with the buttons. Like all new keyboards, time is the goal in mastering the feel of the buttons.
Benchmarking
We trialled the XPS with a variety of benchmark programs with the first being CrystalDiskMark that tests the "hard drive"of this device. As you can see from the scores below, the read and write times of XPS 13 2-in-1 Laptop is exceptionally quick.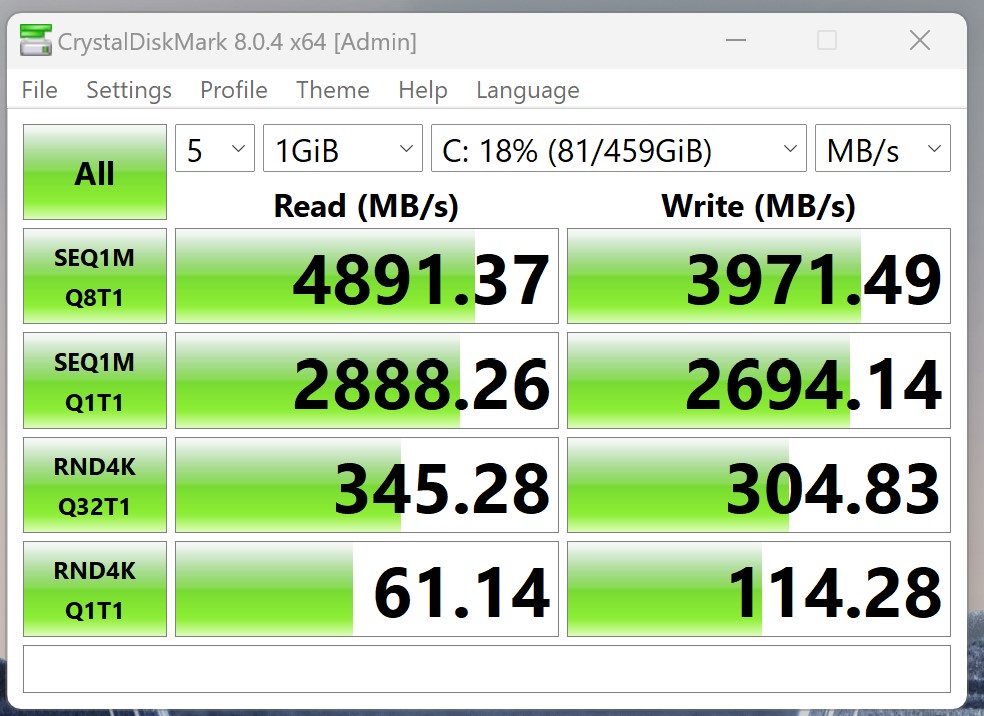 Next up was 3DMark, a gaming benchmark simulation and given the graphical capabilities of the system, it did score on the lower end of the spectrum. Even so, it still makes it perfect for casual gaming or if you want that console-like experience, you can connect to Xbox Cloud gaming or even wirelessly connect to the console or even a PlayStation and with the high quality screen which makes it a blast to play on both systems. For 1080p gaming on games such as Fortnite, Call of Duty or the latest Need for speed and with some tweaking, these games are still quite playable.
Another test was AIDA64 that tested the CPU capabilities of the system and for a mobile Intel processor, the scores were well placed as it compares it to powerful desktop systems.
Lastly the GPGPU benchmark mirrored the graphical capabilities of a mobile system that when matched with the high quality screen, perfect for visuals, streaming and of course casual gaming.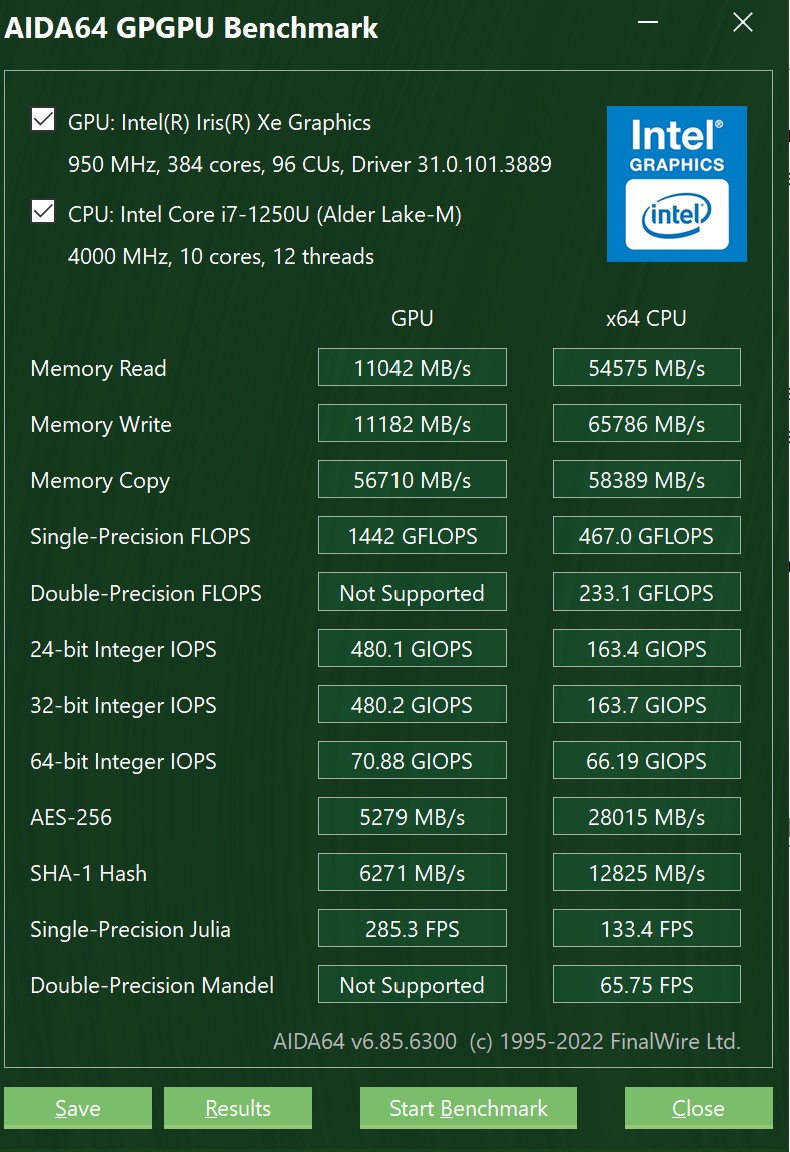 The last test in AIDA64 was the Cache & Memory Benchmark that complements the system specifications well, particularly with its integrated DDR4.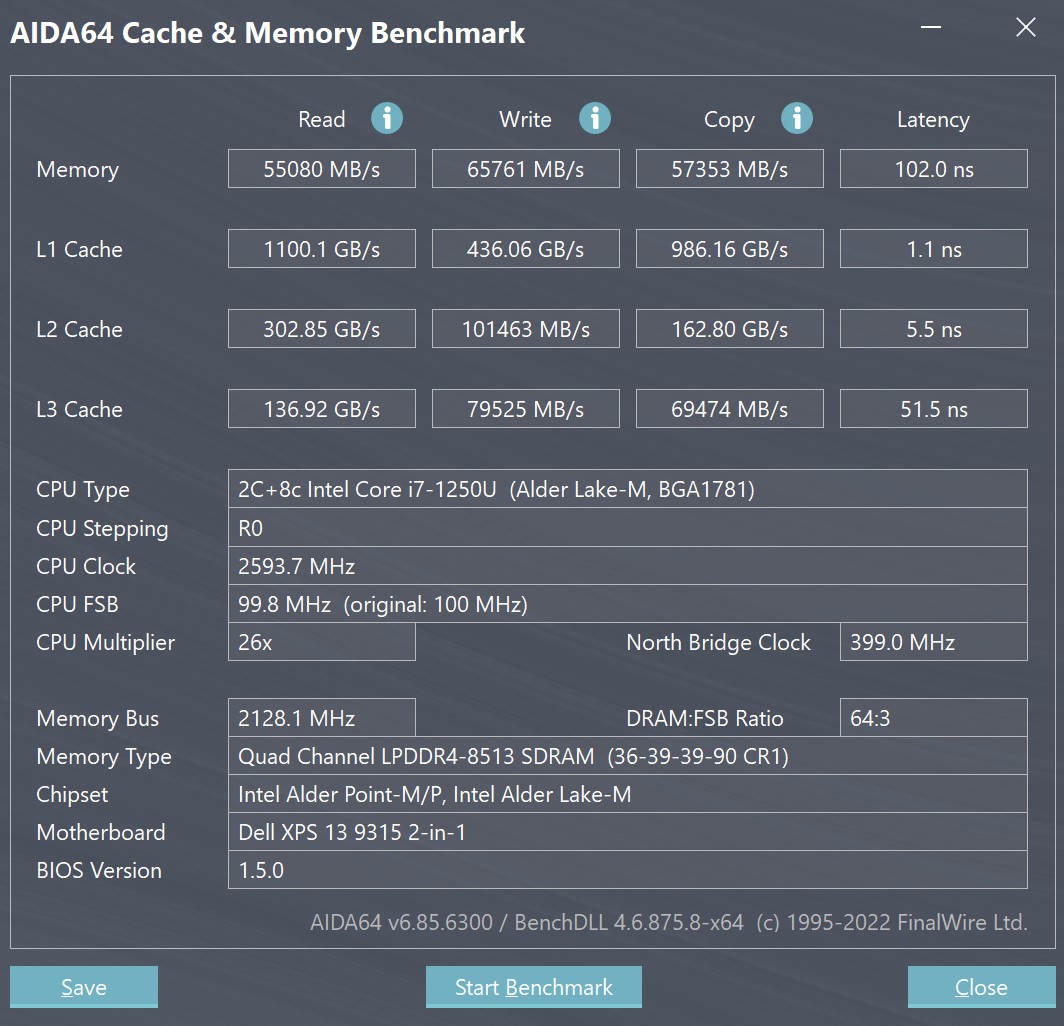 Final thoughts?
If you're looking for that dual laptop / tablet experience, then the XPS 13 2-in-1 Laptop nicely fits that criteria well. Of course, it's considerably more powerful than a tablet and depending on what model you purchase, it can be a powerhouse with certain elements. Additionally, it's a well-designed product from Dell with an excellent screen and 5G connectivity that allows you to access the net while on the go.
A perfect system for those looking for a hybrid PC!
XPS 13 2-in-1 Laptop Specs
Processor
12th Gen Intel® Core™ i5-1230U (12 MB cache, 10 cores, 12 threads, up to 4.40 GHz Turbo)
Operating System
Windows 11 Home, English
Video Card
Intel® Iris® Xe Graphics
Display
13″ 3:2 3K (2880×1920) Touch; AR+AS, GorillaGlass Victus, active pen support, 500-Nit Display
Memory *
8 GB, LPDDR4x, 4267 MHz, integrated
Hard Drive
256 GB, M.2, PCIe NVMe, SSD
Choose your colour
Sky
Security Software
McAfee® LiveSafe™ 12-month subscription
Support Services
1Y Premium Support with Advanced Exchange
Accidental Damage Protection
None
Keyboard
Folio Backlit Keyboard (US/International)- Dark Blue & XPS Stylus
Ports
2 Thunderbolt™ 4 (USB Type-C™) with DisplayPort and Power Delivery
1 USB-C to USB-A v3.0 adapter (included in the box)
1 USB-C to 3.5mm headset adapter (included in the box)
Slots
1 SIM-card slot (optional)
Dimensions & Weight
Height: 7.40 mm (0.29 in.)
Width: 292.50 mm (11.50 in.)
Depth: 201.20 mm (7.90 in.)
Starting Weight: 736 g (1.60 lbs.)*
Folio Weight: 560 g (1.23 lbs.)*Stylus weight: 16 g (0.035 lbs.)*
Camera
World-facing camera
2160p at 30 fps, RGB camera
User-facing camera
1080p at 30 fps, FHD RGB camera
480p at 60 fps, IR camera
Dual-array microphones
Audio and Speakers
Stereo speakers with Waves MaxxAudio® Pro Smart Amp, 2 W x 2 = 4 W total
Chassis
Color options
WiFi: Sky
Exterior Chassis material
WiFi: Aluminium
Wireless *
Intel® Killer™ Wi-Fi 6E 1675 (AX211) 2×2 + Bluetooth 5.2 Wireless Card
Primary Battery
3 Cell, 49.5 Wh
Power
45W AC Adapter Type-C