Hardware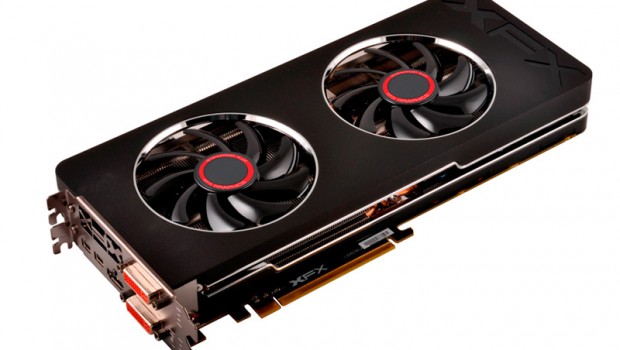 Published on August 13th, 2014 | by Admin
XFX R9 280 Double Dissipation Black Edition OC graphics card Review (R9-280A-TDBD)
Summary: The XFX R9 280 Double Dissipation Black Edition OC graphics card is definitely a great card for someone on a gaming budget
XFX R9 280 Double Dissipation Black Edition OC graphics card
Model: R9-280A-TDBD
Product: Graphics Card
Price: $279AUD (August 2014)
Reviewer: Peter Bourke
Welcome to the new AMD Radeon R9 280 graphics card from XFX that boasts a core clock speed of 1000Mhz, 1792 Stream Processors, 3GB 384-Bit DDR5 and a 5200 MHz Effective Memory Clock. It also includes AMD's GCN (Graphics Core Next) architecture that promises improved programing capabilities and more importantly, better results and tweaking for the end user. Add in the ability to overclock to 1080Mhz with factory settings and a unique dual-fan cooling system with Ghost Thermal Technology and your card will remain cool and quiet while playing heavy duty games.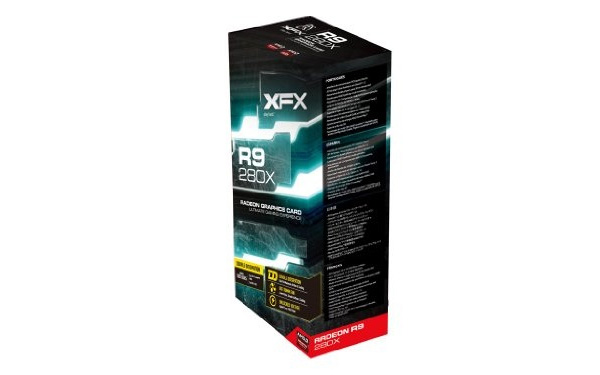 Features
PCI Express 3.0 x 16 bus interface
DirectX 11.2 Ultra-realistic 3D gaming
Bullet physics engine for real-time 3D
AMD Eyefinity multi-monitor reader
AMD GCB next gen compute architecture
PowerTune real-time speed optimization
OpenGL 4.3 & OpenCL 1.2 support
AMD HD3D Stereoscopic 3D ready
QuadHD / 4K Video 4096×2160 resolution
Blu-ray 3D support
AMD CrossFire multi GPU technology with Dual, triple or quad-GPU scaling
In terms of connections, the card supports a plethora of choices that includes DL-DVI-I, HDMI, mini DP (x2) and SL-DVI-D which is ideal in connecting multiple monitors thanks to the AMD tech used on the XFX. The card is also compatible with the mythical 4K resolution of 4096×2160 that in a few years time will probably become the standard video resolution… hopefully anyway. In terms of power, the card needs a power supply of at least 750 watts to give this monster the power needed to play.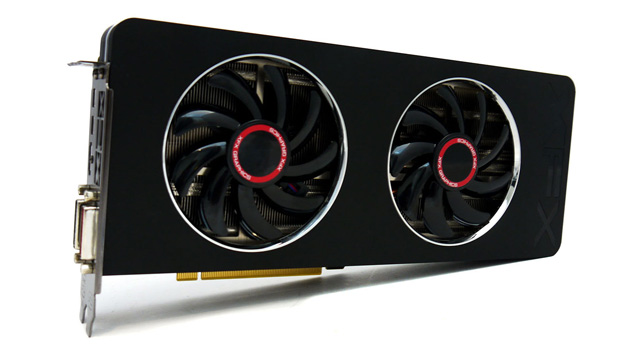 Processor & Bus
Bus Type : PCI-E 3.0
Chipset version : Tahiti Pro2
GPU Bus (bit) : 384
GPU Clock : 1000 MHz
Performance Category : Performance
Stream Processors : 1792
The card also comes with everything the user needs in connecting the R9 280 to their computer such as the drivers, power supply adapters and even a CrossFireX bridge. We tested the card on an Intel Core i7 3960X system with 16GB of Corsair memory. However with that said, all benchmarking is subjective as the slightest hardware change or driver issue can create bottlenecks. In order to minimize this, we test all cards on a fresh system with Windows 7 Ultimate.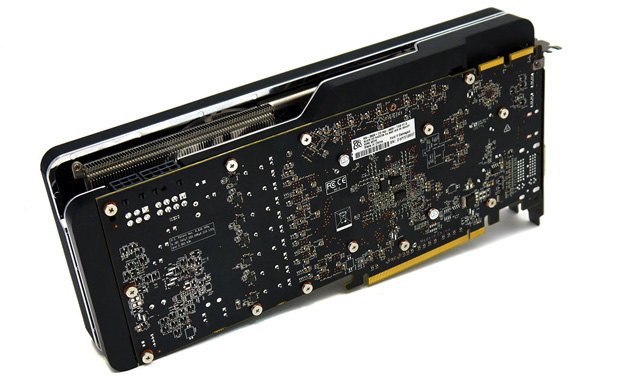 Memory
Memory Bus : 384 bit
Memory Clock : 5.2 GHz
Memory Size : 3 GB
Memory Type : DDR5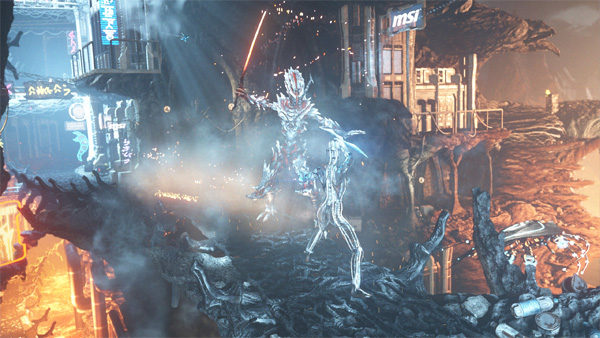 Benchmarks
3DMark 2013 is one of the definitive benchmarking tools for gamers and PC enthusiasts that test not just your graphics card but your entire system. We tested two of their popular tests, Fire Strike and Fire Strike Extreme that scored 7593 and 3811 respectively. Considering that cards almost twice the price of the R9 280, you're definitely getting some great value for money. Another benchmarking tool we used was Unigine Heaven which is similar to 3DMark and just as impressive visually. The XFX scored a very reasonable 38.6 frames per second at 1920×1080.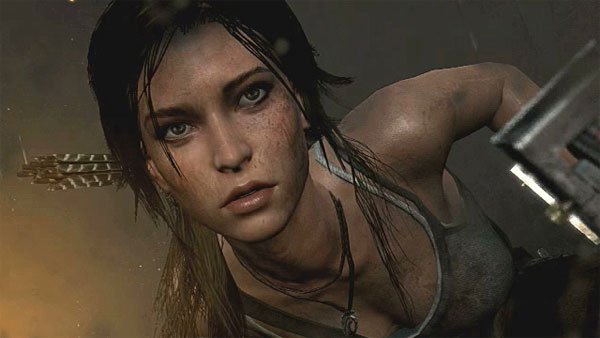 The first game we tested the R9 280 with was Tomb Raider, the 2013 reboot of the franchise that showcased some amazing graphics, almost flawless gameplay and one of the best stories of the year. The card scores a respectable 91 frames per second (fps) in Full HD (1920×1080) with high detail. Following Tomb Raider, we tested the card with Bioshock Infinite, a much different and lighter incarnation from the series that starred Booker DeWitt as the main protagonist that had him universe hopping in a strange yet highly entertaining first person shooter.
Display Outputs
Display Port ready : 1.2
Dual link Support : Y
HDMI Ready : 1.4a
Max Supported Resolution (ANALOG) : 2048 x 1536
Max Supported Resolution (DIGITAL) : 2560 x 1600(DVI);4096 x 2160(HDMI;DP)
Output – DL-DVI-I : 1
Output – HDMI : 1
Output – mini DP : 1
Output – SL-DVI-D : 1
With the same setting as Tomb Raider, Bioshock Infinite pushed 100 fps to create a flawless gaming experience. We also tested Sleeping Dogs, an action adventure title with similar parallels to Grand Theft Auto that has the player taking on the triad as Wei Shen which scored a whopping fps of 106. Sleeping Dogs really shined on the R9 280 due to the amazing detailed environment and realistic lighting.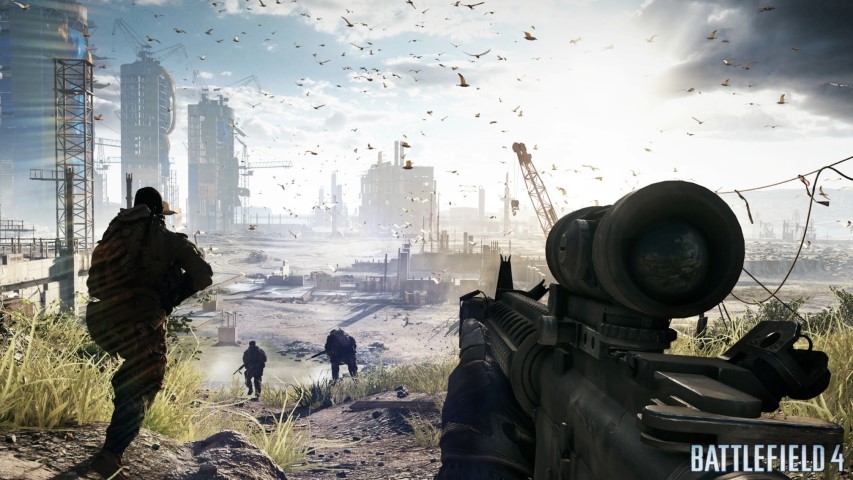 Battlefield 4 which uses the powerful Frostbite 3 Engine is considered by some, still the definitive first person shooter of the year which has some amazing interactive graphics. As a result, you do need quite a powerful PC to play this on maximum detail with a high resolution. The top score that we achieved in Battlefield 4 was between 59 to 61 fps. Although not as high as the previous games, anything close to 60 frames per second is still quite decent and extremely playable. BF4 did score a little lower due to the high detail graphics that the Frostbite 3 Engine can generate.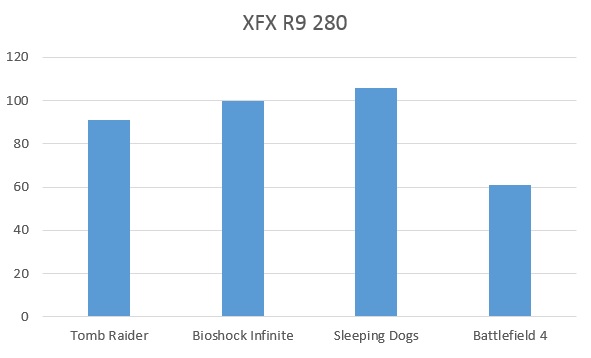 We also overclocked the card and managed to get an improvement from anywhere between 5 to 12% which was just with basic tweaking of the card. I've heard that other reviewers and testers have managed to get even better results. I must admit that unlike some other cards, the R9 280 is a very quiet card, even under stress and XFX state that their card is 13db quieter and 7 degrees cooler than its competitors.
This is due to the double dissipation design of the card which uses two larger fans at a slower RPM than single fan cards which assists with the exhaust airflow plus the heat pipes. It's a very well designed card and once again, I must admit that compared to some of the other cards I've reviewed, the R9 280 is very very quiet. Given this, the card also goes into idle mode when not being used and will only draw additional power when required. Another big tick, especially for the greens!
Physical
Card Profile : Dual
Thermal Solution : DD Fansink
Thermal Type : Dual Slot
Card Dimension (cm) : 29.5 x 14.3 x 4.2
Card Dimension (inch) : 11.61 x 5.63 x 1.65
Master Carton Dimensions (cm) : 51.5 x 33.7 x 37.1
Master Carton Dimensions (inch) : 20.28 x 13.27 x 14.61
Master Carton Weight (Kg) : 15.09 est.
Master Carton Weight (lb) : 33.27 est.
Package Dimensions (cm) : 16 x 33.6 x 9.8
Package Dimensions (inch) : 6.3 x 13.23 x 3.86
Package Weight (Kg) : 1.41 est.
Package Weight (lb) : 3.11 est.
Units/Carton : 10
Final Thoughts?
The XFX R9 280 Double Dissipation Black Edition OC graphics card is definitely a great card for someone on a gaming budget but more importantly, it successfully runs games at FULL HD without breaking a sweat. It also comes with everything you need to overclock the card and XFX should be commended on creating such as well made card using AMD's Tahiti Pro GPU.
Box Contents
6-pin to 4-pin power cable : 1
8-pin to 6-pin power cable : 1
Cross Fire Bridge : 1
Driver Disk Installation Guide : 1
Installation DVD : 1
Promotional Bundles : PSU Cross Marketing Insert
Quick Installation Guide : 1