Consoles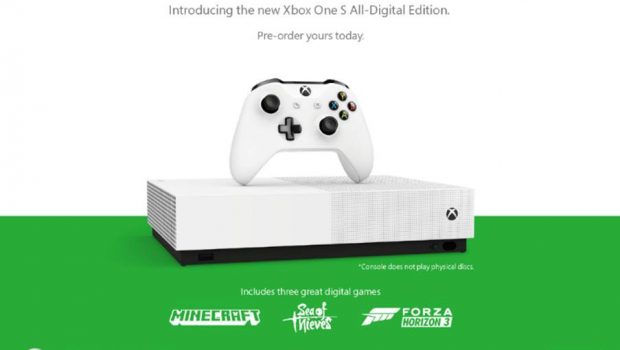 Published on July 22nd, 2019 | by Admin
Xbox One S All-Digital Edition pre-order available from today in ANZ
Guess who's coming to dinner? Welcome to the all-new DIGITAL ONLY (you heard correctly), XBox One S that is all digital content. Let's see what XBox have to say?
At Xbox, we're inspired by gamers – they're at the centre of everything we do. We're constantly listening to your feedback and looking for new ways to provide the best value and choice in gaming.
Today, we're excited to announce a new choice we're bringing to gamers – the Xbox One S All-Digital Edition.
Consumer appetite for digital content and experiences are stronger today than ever before. Gaming and technology have changed quite a bit since the first Xbox debuted in 2001. During this time, we've seen a digital transformation across gaming, music, TV and movies. And closer to home, the success of Xbox Game Pass, which gives members access to over 100 great games, is just another example of how consumers today have grown to expect great digital content.  The Xbox One S All-Digital Edition was created for those who prefer to find and play their games digitally and are looking for the most affordable way to play Xbox games.
The Xbox One S All-Digital Edition comes bundled with three of our most compelling and popular games – Minecraft, Forza Horizon 3 and Sea of Thieves. These critically acclaimed titles are sure to offer something for everyone in the family to enjoy.
Those new players joining us can get a head start on their digital collections and discover their next favourite game through Xbox Game Pass. If you haven't tried Xbox Game Pass yet, the Xbox One S All-Digital Edition comes with a special offer to get started with access to over 100 great games, and with new games being added all the time there will always be something new to queue in your digital library. Cord cutters will enjoy watching 4K HDR entertainment with Netflix, Amazon and more, and thousands of Xbox One games are available from the Microsoft Store digitally.
We're always grateful to our fans for their continued support and look forward to continuing to bring you a diverse line of best-in-class hardware to fulfil all your gaming needs.
Visit Xbox.com or your local retailer, including Microsoft Store, for more information.