Consoles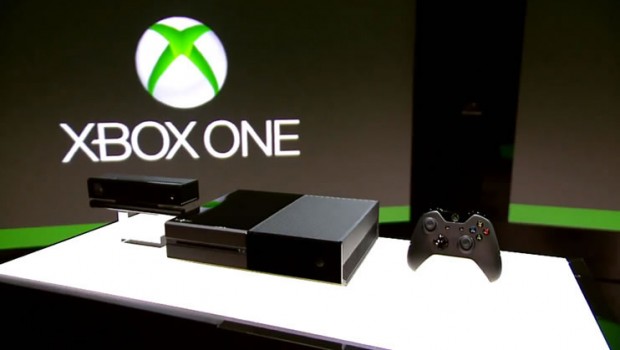 Published on December 8th, 2013 | by Admin
Xbox One Review
Summary: In terms of a new console, the Xbox One is an extraordinary piece of hardware that is not just a games console but also an entertainment machine.
Xbox One
The console wars have commenced again and Microsoft's latest champion is the Xbox One which creates an all-in-one home entertainment system. It's the next evolutionary step from the Xbox 360 that combines gaming, movies, social networking and a plethora of other entertainment options to create the definitive gaming console. It also gives a far superior Kinect experience that definitely surpasses the concept of motion gaming, especially with titles such as Xbox Fitness or Dead Rising 3. Another interesting titbit of the Xbox One is that they are not having the "launch" problems of the PlayStation 4 with extremely limited stock.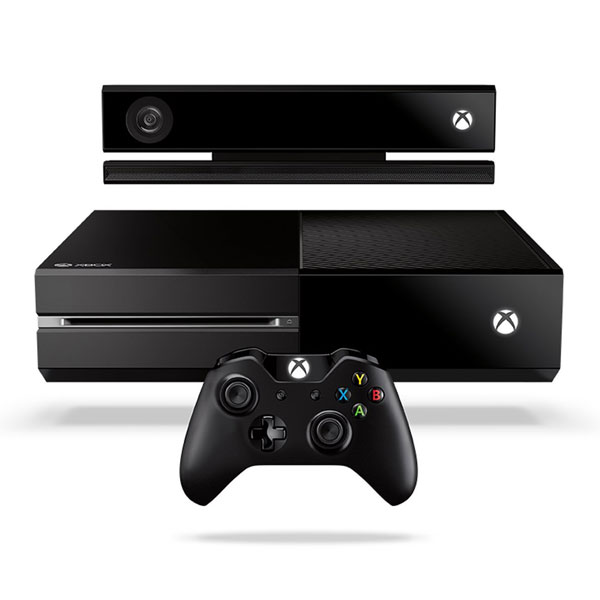 Xbox One System Specifications
8 Core AMD Processor with an 853Mhz GPU
8GB DD3 RAM
32MB ESRAM
500GB
Blu-ray Player
HDMI pass-thru
1080p Kinect HD Camera
Kinect & exploring the new Xbox One
So yes… Kinect is that good (well almost). Kinect can also be setup for multiple people and if it loses you in its vision, you simply put your hand above your head and it will find you again. The PS4 "eye camera" is an additional cost on that console so it's great that Microsoft included this in the initial purchase. However just like the XBox 360 launch, the Australian release of Kinect for the Xbox One has limited functionality and not all the Kinect voice commands work. Although it works well, I for one cannot wait until we get the full functionality of Kinect in Australia because it will take this console to the next level.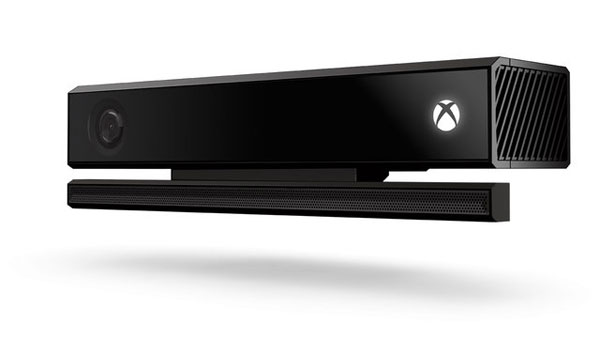 With that said, I was actually surprised at how accurate this feature was, especially its responsiveness to voice commands. Not only does it make gaming better but just general use of the Xbox itself, especially exploring the operating system. Another cool feature is that the Kinect has the ability to recognise different users. As soon as it saw me, the console welcomed me and it even said hello to my wife as well as she sat down. To learn all the new features of the console, Microsoft has two little tutorials called "Let us show you around" and "handy tips & tricks" which gives you the ins and outs of Microsoft's new console. These are great videos and tips to help give the new user a really good feel of what is available.
Box Contents
Xbox One console
Kinect
Power cable and adapter
Xbox One headset
HDMI Cable
Xbox One Controller (including two Duracell Batteries) &
14-day free trial of Xbox Live Gold
When you first open the packing of the Xbox One, the first thing that you may notice is the size of the console. It's quite large and measures at 274x79x333mm which is slightly larger than the original Xbox 360. The console almost looks like a video player from the 80's and for those readers who don't know what a video player is, it's the contraption people used before DVD's. Even so, the jet black colour and stylised grooves makes it look modern. It definitely would not look out of place in your entertainment cabinet.
Xbox One Specifications
There are two buttons on the front of the console, one to eject the disc (finally Blu-ray support) plus a white power button on the right with the Xbox logo. These are actually touch sensitive. On the back of the machine is where all the connections are that includes HDMI out, HDMI in (cable or TV), Ethernet, power, Sp/PDIF, dual USB 3.0 ports and IR out. There is even another USB port on the right of the console plus the new Kinect input on the back.
The Controller
The controller that comes with the Xbox One is perfect. It definitely takes the best parts of the 360 controller and creates a very user friendly device that more importantly feels perfect in your hands. The triggers are well placed, the analog sticks feel right, especially with the rubber ridges that allow for additional accuracy. It's great that Microsoft have also moved the Xbox button to the top of the controller as well so you cannot accidentally push it during gaming. The only downside to the controller is that you need to purchase a separate recharging kit for it and the force feedback is a little on the loud side. But apart from that, it's the perfect gaming controller.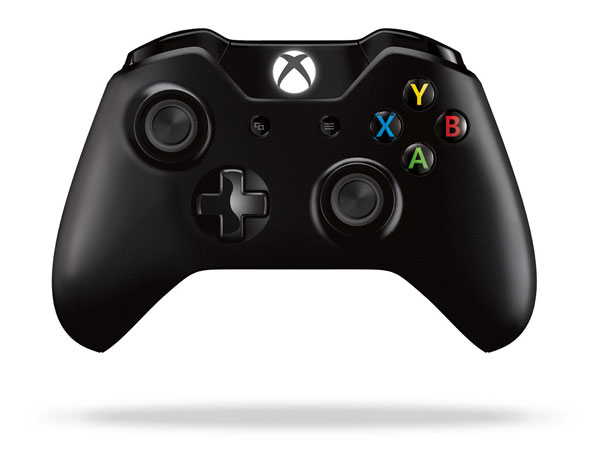 Connection and apps
Once you have connected your Xbox One to the power, your TV and the internet, it's time to setup the machine itself. However before you can start enjoying the Xbox One, the console needs to download its first patch and depending on your internet connection, this may take a little time. Once you have configured your Xbox One, including the new Kinect, you are ready to start your gaming experience but I suggest that you look around first as there's plenty of nifty new things to find in the Xbox One Operating System.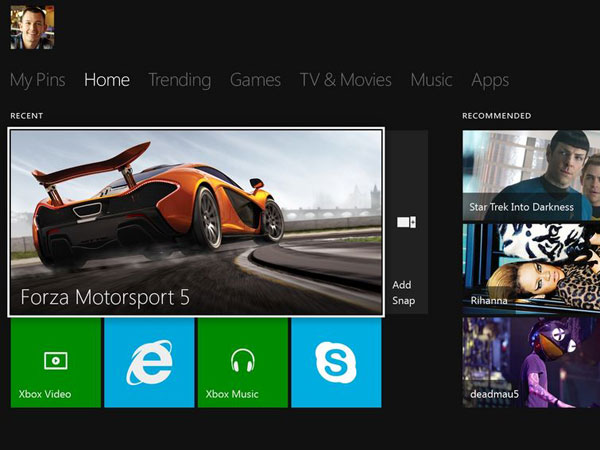 The operating system on the Xbox One is very reminiscent of Windows 8 and is extremely easy to navigate and use. Compared to the PlayStation 4 operating system, the Xbox One is considerably superior. As everything has icons, nothing is too hard to find and best of all, it's not convoluted with icons everywhere.
The biggest downfall to the operating system, especially when it comes to apps such as YouTube or Xbox Fitness is that you need an Xbox Live membership to experience these features. Sure, there should be a cost to play games, especially considering the sturdy Microsoft network but not for all apps. This should really be free.  The membership is also similar to the previous 360 version where you can play online games and chat with your friends. For updates to games, you don't need a membership.
Unlike our USA counterparts, the TV component of the Xbox One is unfortunately crippled. Although the console does support great apps like Tenplay and SBS on Demand, it does not support our Electronic Program Guide. You can however link your TV through the XBox One and even TiVo which works well. Hopefully Quickflix and ABI iView will follow soon. With that said, Tenplay had some great quality, especially for the high definition shows from Channel 10.
Other aspects
When it comes to multitasking, the Xbox One ticks all the right boxes, especially with the inclusion of snap. Snap basically allows you to run two applications at once such as playing a game in one screen while you use Internet Explorer to search for a cheat or even talking with someone over Skype on the other. It actually works well and if you want to go full-screen, you just highlight the screen and push the button on the controller. To get back to the home screen again, you just push the Xbox logo button on your controller or say "xbox home" and Kinect will automatically do this for you.
Users who purchase a subscription to Xbox Live also get access to one month free on Xbox Music. This even allows you to play this music while you are in a game which is kind of cool. With that said, the music library available on Xbox Music is rather impressive. Then you have movies and the movie library is also quite in-depth.
Another cool app is the Upload Studio which gives player's access to a Game DVR of up to 5 minutes of recording. If you don't run the app, you can still record the last 30 seconds of your game which records in 720p. You can also setup the app to record certain achievements and you can even edit and upload your videos via the Upload Studio and store them on SkyDrive. I really love how you can put your own commentary over these clips as well which is perfect for YouTube.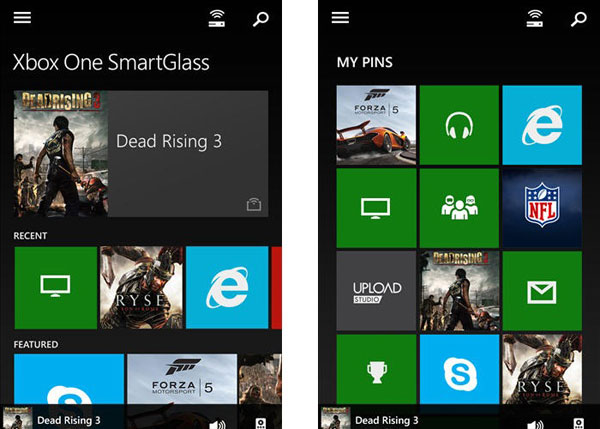 My favourite aspect of the operating system is Smartglass which is basically an app for your Smart Phone and allows you to navigate your Xbox One from this device. This is really great for typing as it is easier to type on your smartphone than use the virtual keyboard from the Xbox One. I just love using this to search the internet or access other elements on the Xbox One. Even games such as Dead Rising 3 support SmartGlass which allows you to use your phone like the in-game phone from the game. Smartglass is definitely the way of the future.
Games
Where the Xbox One shines is through its games that look and play amazing on this console. However before you can play a game, you first need to install the game onto the hard drive which can be a very lengthy process, especially if you have a limited internet connection. The reason is that the game needs to install onto the hard drive and then download whatever patches are available. It took Forza 5 almost an hour to install due to the connectivity of our internet. Thankfully if you lose connection, you don't need to start again. But once the game is installed, you can you play directly from the hard drive which is a bonus.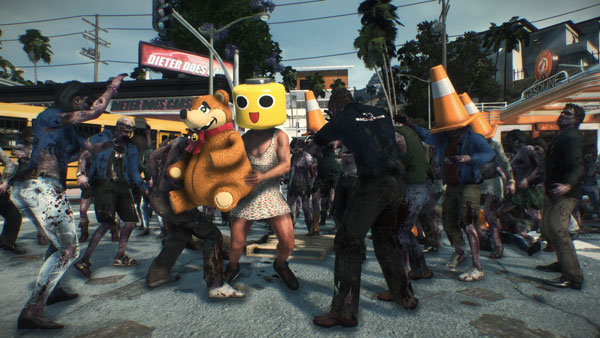 In terms of launch games, Dead Rising 3 and Forza are the stars of the line-up. Ryse Son of Rome is amazing, however it feels more like a tech demo due to the repetitive nature of the gameplay. Don't get me wrong, it looks amazing but unfortunately plays like a wounded Centurion. With your 14-day Gold trial, you can download Xbox Fitness which is far superior than the fitness games on the 360 and really gives you an extraordinary workout. Another "free" game, although not the full game is Kinect Sport Rivals which showcases the power of Microsoft's new Kinect.
Launch Games
Angry Birds Star Wars
Assassin's Creed IV Black Flag
Battlefield 4
Call of Duty Ghosts
Crimson Dragon
Dead Rising 3
FIFA 14
Fighter Within
Forza Motorsport 5
Just Dance 2014
Killer Instinct
LEGO Marvel Super Heroes
Lococycle
Maddel NFL 25
NBA 2K14
NBA Live 14
Need for Speed Rivals
Powerstar Golf
Ryse Son of Rome
Skylanders Swap Force
Xbox Fitness
Zoo Tycoon
Zumba Fitness World Party
Final Thoughts?
There are a few teething problems with the Xbox One but this is also true on the PlayStation 4. In terms of a new console, the Xbox One is an extraordinary piece of hardware that is not just a games console but also an entertainment machine. It's powerful, it's easy to use and the future is really looking bright for this console. So what are you waiting for, go check out this console now because the future has arrived!