Games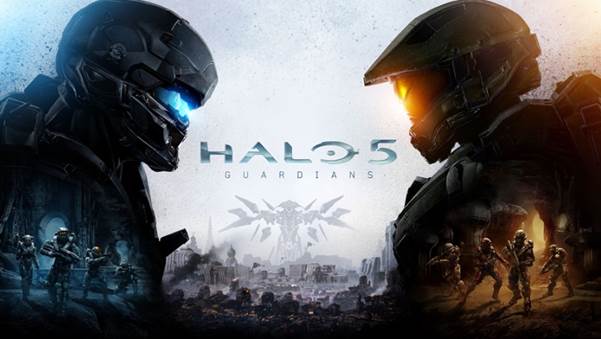 Published on May 1st, 2015 | by admin
Xbox Newsbeat W/C 27th April 2015
Halo 5: Guardians Cover Art Reveals New Spartans
On Oct. 27, the hunt begins with the worldwide launch of Halo 5: Guardians 
As we draw closer to the release of Halo 5: Guardians on October 27, 2015, fans around the world continue to unravel new details around the Xbox One exclusive.
As a continuation of the #HUNTtheTRUTH campaign that has captured the attention of fans through multiple live-action trailers ("All Hail" and "The Cost") and an episodic audio series available on HuntTheTruth.tumblr.com – Xbox fans around the world came together to reveal the cover art for Halo 5: Guardians.
Last week, several cryptic images were released to various online channels across the globe…no instructions, no explanation, no references to the Halo universe.  It didn't take long for Halo Nation to scour the Internet to piece together the mystery to reveal the cover art for Halo 5: Guardians.
Today, we're proud to release the final cover art for Halo 5: Guardians, including a special video version that highlights the Spartan fireteams that play a crucial role in the showdown between the Master Chief and Spartan Locke.
Who are these Spartans?  This and many more mysteries will be uncovered as we draw closer to the world premiere of Halo 5: Guardians at E3 2015.  Join us as we #HUNTtheTRUTH.
Be sure to check Halo Waypoint for updated Halo information and tune into the Xbox Wire for the latest media assets and information on Halo 5: Guardians, Xbox One and more.
State of Decay: Year-One Survival Edition Is More Than Another Brain-bashing Button-masher
State of Decay: Year-One Survival Edition is a zombie game worth dying for
Now available on Xbox One, State of Decay: Year One Survival Edition is a zombie apocalypse simulator for the ages. The game was (rightfully) a huge hit on Xbox 360 and Windows PC, and has only improved in its transition to the high-powered Xbox One hardware. Here are five ways Year One Survival Edition makes an amazing game even better.
1) Visual Delights
Right out of the box, players will notice that State of Decay: Year One Survival Edition significantly improves the game's visuals. The game has been remastered to run at 1080p (compared to the 720p of the original Xbox 360 version), and looks sharper and cleaner (aside from the still-copious amounts of blood, naturally). A host of new character animations help bring the undead action to life as well, and the game's draw distance is greatly improved, allowing players to see more of what's coming to get them. 
2) Tons of Content
Year One Survival Edition features the original game, plus both of its add-on content packs, Breakdown and Lifeline – which amounts to quite a bit of stuff to do. The original campaign tells a roughly 10-to-15-hour story, while Breakdown functions as something of an endurance mode, and Lifeline offers more of the focused story experience found in the original game. To summarise: There are many hours of zombie-killing fun to be found here, and every one of them is included in the Year One Survival Edition package. 
3) Everyday Carry
Developer Undead Labs has overhauled one of the most glaring shortcomings of State of Decay during the transition to Xbox One, by affording unarmed survivors with something fantastically useful: a knife. It may sound trivial, but this simple affordance allows players to silently take down a couple of wandering zombies; while it won't do much against an entire horde of them, this means you're not screwed if you're out of ammo (or if your melee weapon breaks).
4) New Challenges
In Year One Survival Edition, Challenges allow the developers to create time-limited objectives with in-game content attached as a reward. Anyone who participates in community challenges will unlock unique items if the goal is met. Each month, players will be presented with a new goal to complete before the month ends.
5) Don't Stop, Achieving
Year One Survival Edition builds on the original State of Decay, boasting an impressive 1500 total Gamerscore points across 26 Achievements, with rewards that encompass the main game itself, along with the two pieces of DLC. Achieve away!
State of Decay: Year-One Survival Edition is available now for Xbox One. Get in on the zombie-killing, post-apocalyptic fun now!
To keep up with all the latest Xbox news be sure to visit the Xbox Wire.
Make Room for Three Great Games in May
As the weather gets cooler there are plenty of great gaming options courtesy of Games with Gold
Games with Gold is adding CastleStorm: Definitive Edition, an awesome tower-defence brawler mashup title, for free, as well as extending Pool Nation in Games with Gold for another month on Xbox One. On the Xbox 360 front, two great games are coming free in May: Mafia II, a third-person action game that immerses players in the dark and unforgiving world of the Mafia in the 1940's and 50's, and F1 2013, a realistic, open-wheel racing sim. As usual, all games are available only for a limited time, as part of the ongoing Games with Gold program.
*         CastleStorm: Definitive Edition ($19.95) Available from May 1-31 on Xbox One
*         Mafia II ($29.95): Available from May 1-15 on Xbox 360
*         F1 2013 ($69.95): Available from May 16-31 on Xbox 360, more characters that we haven't announced yet.
On Xbox One, CastleStorm: Definitive Edition is a genre mash-up that combines medieval warfare with 2D physics-based destruction! Prepare to be challenged (in a good way) to manage a lot of battlefield elements at one time by controlling the battle in real-time, bombarding your enemy's battlements with ballista-projected artillery, managing a fearsome ground attack, and casting powerful spells in epic conflict between Knights and Viking warriors! CastleStorm: Definitive Edition features a story-driven single-player campaign, a custom castle editor, online multiplayer and co-op modes, and more. Building castles and knocking them down has never been so much fun! In addition to the original CastleStorm campaign, the Definitive Edition includes two expansions, "From Outcast to Saviour" and "The Warrior Queen" for the most complete CastleStorm package available.
Over on the Xbox 360, Xbox Live Gold members get treated first to Mafia II, which puts you in the shoes of Vito Scaletta, an Italian immigrant to America who finds himself wrapped up in an increasingly complex series of criminal plots in post-World War II America. As Vito, you'll drive period cars all around Empire Bay, based on a pastiche of America's biggest burgs, and blast your way through a variety of challenges, from bank robberies to ambushing rival gangs to sweet-talking your favourite molls. This is an enormous game with a lush, evocative narrative, and plenty of excellent writing and voice-acting to get you involved in the characters and the time period.
But when you feel like dropping out of the 1950s and into the cockpit of a more modern machine, you've got F1 2013 coming at the end of May on Xbox 360, which features all the cars, drivers and circuits from the 2013 FIA Formula One World Championship plus all-new classic content from the 1980s. If getting behind the wheel of the most sophisticated automobiles on the planet is your thing, then F1 2013 has you covered. Praised for its realism and its presentation, this game is an absolute must have for racing fans through Games with Gold, so don't hesitate to press that download button when it comes up later in the month!
May is a great month, and Games with Gold is just trying to make it even better. With so many great titles coming at you for free, it's pretty hard not to smile, after all.
Check out the full details on our Games with Gold program on the Xbox Wire and make sure you get in on the action while you can!