Games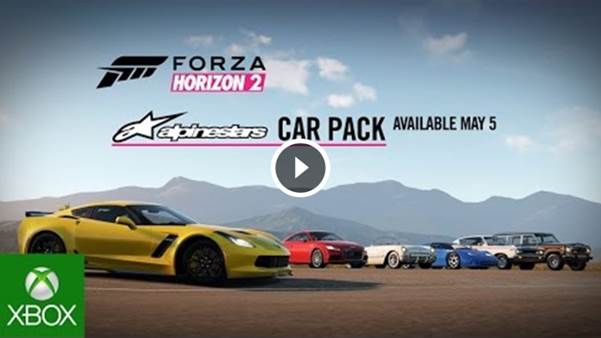 Published on May 9th, 2015 | by admin
Xbox Newsbeat w/c 04.05.15
Forza Horizon 2 Alpinestars Car Pack Available Now on Xbox One
Spring has sprung and, with it, six amazing new vehicles have arrived in the release of the Alpinestars Car Pack
 The highlights of the Alpinestars Car Pack for Foza Horizon 2 on Xbox One include two examples of Chevy ingenuity – the 1953 Chevrolet Corvette and the 2015 Corvette Z06. The 1953 Corvette is a pivotal part of American sports car heritage, and the modern Z06 showcases exactly the kind of power and precision that Chevy is capable of today.
In addition, if you need a new beast for those Extreme Cross Country events in Forza Horizon 2, the 1991 Jeep Wagoneer is ready to roll. Tune up a new Audi TTS Coupé and take on anything you encounter. If classic American muscle is your thing, AMC's "The Machine" is waiting to be unleashed.
This month's free car, the 1992 Bugatti EB110 SS, is as elegant as it is extraordinarily fast. One blast down the highway in this elegant example of French engineering is all it will take to convince you of the EB110's power and Bugatti's ongoing supercar legacy.
The Alpinestars Car Pack for Forza Horizon 2 for Xbox One is available from the Xbox Live Store for $6.65. Here's a closer look at the cars in the pack:
2015 Chevrolet Corvette Z06
With the C7 Corvette, GM set a new bar for what to expect from America's heartthrob. With the 2015 Z06, they have smashed that bar and have given the Corvette undeniable supercar status. For starters, the supercharged LT4 puts out 650 horsepower and 650 pound-feet of torque. That's enough juice to destroy almost anything on the road, regardless of its price tag. Straight-line speed and breathtaking acceleration have always been the forte of American muscle, but the Z06 is as deft in a corner as anything out of Europe. Finally, just take a moment to consider its looks and you will agree that this Corvette has checked all the boxes. The highways and byways of Forza Horizon 2 are just waiting for you to leave your mark in this inevitable classic.
1953 Chevrolet Corvette
Most legends come from humble beginnings, and the story of the Corvette is no different. In an era where the only true sports cars were built in Europe, Chevy saw an opportunity. The company went about building a dream team to design a car that would appeal to a younger market, give the brand some flash, and keep it ahead of Ford in sales. Harley Earl—GM's then design chief—let fly with an idea he had been coveting for more than a year after watching European sports cars at Watkins Glen: a low to the ground, two-seat roadster. Driven by practicality, the 1953 Corvette uses mostly off-the-shelf components such as the "Blue Flame" 160hp, 235-cubic inch in-line six-cylinder engine and two-speed Powerglide transmission. The only options available were a heater and an AM radio. All 300 that sold in 1953 had both options. The 1953 Corvette didn't even have rollup windows. All the cars were hand-built, and all were Polo White with red interiors. The use of fiberglass was not only a weight-saving innovation but was a necessity due to the Korean War and a limited availability of steel. The 1953 Corvette's dramatic and bold exterior was just what the public wanted and it forever changed the course of American car history.
1991 Jeep Grand Wagoneer
The Jeep Grand Wagoneer saw few changes over its 29-year production run, despite being produced by three different manufacturers: Willys-Overland, AMC and finally Chrysler. This alone is a testament to the functional and purposeful design of what was certainly the first SUV long before the term was coined. The Wagoneer replaced the Willys Jeep Station Wagon that dates back to the mid-1940s. It is rugged yet provides a luxurious ride and amenities that no other off-road vehicle could offer. In its wood-panelled trim, the Grand Wagoneer is reminiscent of the woodies of the past, but this rig is built to take on the rigors of any adventure its owner may choose.
2015 Audi TTS Coupé
Finally, a new Audi TT is available in Forza! The TTS is an elite example of VW's MQB platform (a strategy designed to reduce costs and shorten production times) but, at its heart, it's a thrilling, eminently drivable Audi experience. Featuring more than 300 horsepower from its turbo four-cylinder, the TTS delivers acceleration that is nearly on par with a Porsche 911 Carrera. Coupled with all-wheel-drive, it will beg you to push its considerable limits to their max. 
1970 AMC Rebel "The Machine"
AMC was notorious for taking on the big three in its own way. When it came to the muscle car market the AMC approach was unique, with performance that could give the big boys a run for their money. "The Machine" came with a flamboyant red, white, and blue paint scheme that made as much of statement as its 340-horsepower V8. From the factory this Rebel was poised as a street legal drag race car and could run mid-14s in the quarter mile. The distinctive ram-air hood scoop and hood-mounted tachometer contributed to the car's performance-minded attitude. "The Machine" was no poseur; developed in collaboration with Hurst Performance, it could put down the power via the "Twin-Grip" Postreaction style differential.  AMC always did things delightfully different, and this definitive muscle car is a perfect example. 
May Free Car – 1992 Bugatti EB110 Super Sport
Built to honour Ettore Bugatti on his 110th birthday and to celebrate the rebirth of the car company he founded, Bugatti's EB110 is nothing short of spectacular. In Super Sport dress, the already lithe supercar drops some weight and gains even more power. Under the aluminium body penned by Marcello Gandini of Bertone is a carbon fibre chassis. Impressive? Yes, but what really makes the EB110 SS phenomenal is the 12-cylinder, 60-valve, quad-turbo motor that turns all four wheels and delivers a top speed of more than 200 mph. The EB110 SS saw only 31 models produced, making its ownership list one of the world's most exclusive clubs.
To view the video and gain access to the media assets please visit the Xbox Wire.
Wolfenstein: The Old Blood Injects More New Life Into the Series
Wolfenstein: The New Order stands tall as one of the biggest, most exciting surprises of last year
Wolfenstein: The New Order's take on alternate World War II history was both emotionally engaging and viscerally entertaining, a particularly rare feat for a resurrected franchise. Today, Wolfenstein publisher Bethesda is released Wolfenstein: The Old Blood – a smaller, standalone prequel – to Xbox One. Developed by Sweden-based MachineGames (the same studio behind The New Order), Wolfenstein: The Old Blood takes players back to 1946, with the Nazis on the brink of winning World War II.
The events take place before the rather disastrous raid on Deathshead's compound, which comes at the beginning of The New Order. In a "hail Mary" attempt to stop the Nazi war machine in its tracks, protagonist B.J. Blazkowicz has been dispatched on a covert mission deep inside Bavaria. The first part of the game, entitled "Rudi Jäger and the Den of Wolves," sees Blazkowicz busting back into the classic Castle Wolfenstein and going up against a crazy prison warden in order to discover the coordinates of General Deathshead's compound.
Part two, "The Dark Secrets of Helga Von Schabbs," brings Blazkowicz to the city of Wulfburg, where – according to Bethesda – an "obsessed Nazi archaeologist is exhuming mysterious artifacts that threaten to unleash a dark and ancient power." Expect plenty of Nazis trying to kill you, paired with creepy occult forces and other horror elements.
Wolfenstein: The Old Blood features plenty of new gameplay elements as well. One new feature the studio is Blazkowicz's new pipe, which allows you to take down tougher soldiers with melee attacks, and also presents some new traversal options. In terms of weapons, there's a new pistol (which looks completely insane, and not unlike a rocket launcher that fits in your pocket), along with a sawed-off shotgun and a bolt-action rifle.
To boot, Wolfenstein: The Old Blood is a standalone product on Xbox One. Much like the excellent Far Cry 3: Blood Dragon, you won't need to own the base game to play this installment, so this is the perfect entry point for anyone looking to dive back into this storied franchise. May is already a lot of bloody fun!
To keep up with all the latest Xbox news be sure to visit the Xbox Wire.
Disney Infinity 3.0 Puts the Power of the Force at Your Fingertips
The latest instalment of everyone's favourite toy-powered video game
Disney, Pixar, and Marvel are back with Disney Infinity 3.0 Edition, which brings the "Star Wars" saga home for hours of multiplayer adventures, just in time for the theatrical release of "Star Wars: The Force Awakens."
For the uninitiated: You can purchase a huge assortment of figures from across Disney, Marvel, and Lucasfilm's beloved properties – and they can then be transferred into the game utilising a special reader attachment. A wide range of themed adventure Play Sets are on offer, allowing hours of action-packed exploration and fun.
Disney Infinity 3.0 ups the ante with those Play Sets, too. When the Starter Pack launches for Xbox One and Xbox 360, you'll also be able to purchase two all-new "Star Wars" Play Sets set in the classic Episode I-III and Episode IV-VI timelines. A Play Set based on Pixar's upcoming film "Inside Out" is also on deck, as well as an "Avengers: Age of Ultron"-inspired Play Set featuring Hulkbuster Iron Man and the titular villain Ultron. A fifth Play Set is due to be announced this winter, for a December release (if we might grossly mix our Disney universes for a moment: Our Force-sense is definitely tingling).
This edition will also debut the 3-D Toy Box Hub, which makes it easy to choose from a wide selection of gameplay experiences, including platforming, racing, and nurturing. The Toy Box features two multiplayer games – the action-themed "Villain Takeover," and the "Speedway" kart racer – which bring all of your favourite characters together to battle it out. Who would win in a battle between Darth Vader vs. Iron Man? You decide!
And, not to worry: All of your existing Disney Infinity 1.0 and 2.0 figures are compatible with this new version. If this is your first time jumping into the action, the Disney Infinity 3.0 Edition Starter Pack includes everything you need to start playing, including a figure base, the "Star Wars: Twilight of the Republic Play Set," and Ahsoka Tano and Anakin Skywalker character figures.
We'll definitely be bringing you more information on Disney Infinity 3.0 Edition as we get closer to June's E3 video game trade show, but hopefully this is enough to get you excited about the next wave of awesome, universe-melding Infinity stuff. Just remember: With great power comes great responsibility, and the Force is with you. Heigh-ho!
Check out the full details on the Xbox Wire and make sure you get in on the action!