News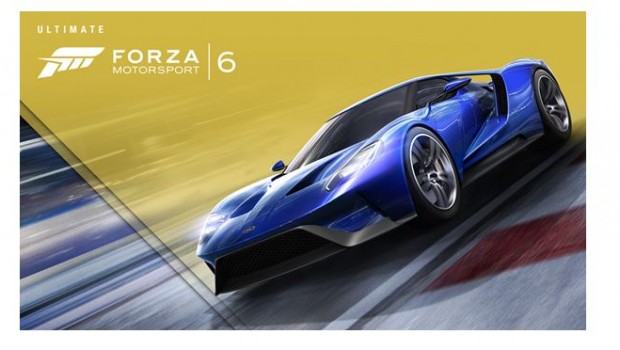 Published on September 11th, 2015 | by admin
Xbox Newsbeat – September 11, 2015
Play Forza Motorsport 6 Today with Ultimate Edition Early Access
DLC passes included
Forza fans, we're just a few days away from the launch of Forza Motorsport 6 on Sept. 15. But if you can't wait to get behind the wheel, the Forza Motorsport 6 Ultimate Edition is available now featuring early access to the game! In addition to early access to Forza Motorsport 6, Ultimate Edition owners will also receive the Forza Motorsport 6 Car Pass, VIP membership, Ten Year Anniversary Car Pack, and Fast & Furious Car Pack at no additional cost. If you haven't had a chance to check out Forza Motorsport 6 yet, the Forza Motorsport 6 demo is also still available for download for free via the Xbox Store, which offers players the opportunity to live out their ultimate car fantasies with the Ford GT, as well as a selection of the 460 Forzavista cars available in the full version of the game, all with working cockpits and full damage. As a reminder, everyone who plays the Forza Motorsport 6 demo will automatically get the new Ford GT delivered to their garage in Forza Motorsport 6 for free. So, what are you waiting for? Experience all that Forza Motorsport 6 has to offer today.
Xbox Announces Forza Motorsport 6 'Drive to Win' – Ten fans from around the world will join Xbox Racing for Australia's "Great Race"
A once in a lifetime opportunity!
Xbox has this week announced a unique contest for racing fans around the world that will see ten gamers score a trip to one of the most challenging and iconic races in the world, the Super Cheap Auto Bathurst 1000 in NSW Australia. Forza Motorsport fans will compete for a money-can't-buy experience and the chance to participate in a live, in-game time trial to be crowned the champion of the Mount Panorama circuit.
To celebrate the launch of the highly-anticipated Forza Motorsport 6 on Xbox One, players will be invited to take part in an in-game challenge. Winners will travel to Australia to experience one of the biggest days in the international touring car calendar, as racing legend Marcos Ambrose and Xbox Racing Team lead driver Scott Pye, challenge the V8 Supercar field in the Xbox Racing #17 Ford Falcon FG X.
To earn a chance to win, players must complete the 'Forza Drive to Win/Xbox One Bathurst Challenge' rivals event in-game, racing the 2015 Xbox Racing #17 Ford Falcon FG X around Mount Panorama by 11.59pm on September 29th, 2015, AEST. Those lucky few will then go on to compete live at the Super Cheap Auto Bathurst 1000 for the fastest lap of the track on Forza Motorsport 6, the most realistic racing experience available. The high speed, iconic street circuit is considered to be one of the world's most challenging courses for its combination of narrow sections and steep grades, both of which have been laser-scanned and built from the ground-up for Xbox One.
Ten fans from around the world that complete the in-game rivals event will be drawn at random to attend the Super Cheap Auto Bathurst 1000, October 11-15, 2015, including two from the United States, two from the United Kingdom, one from New Zealand, and five from Australia. Winners will receive a trip for themselves and a friend to the Super Cheap Auto Bathurst 1000, and the chance to score USD$5,000 in prize money, as well as have their Gamertag emblazoned on the official Xbox race car and the track itself.
Winners will also get the chance to meet Ambrose and Pye and challenge their Super Cheap Auto Bathurst 1000 qualifying times on Forza Motorsport 6.
Forza Motorsport 6 is available worldwide now for owners of the digital 'Ultimate Edition'; September 15th in the Americas, Australia, and New Zealand; and September 18th in Europe, exclusively for Xbox One.
With new features including night driving and wet weather racing, V8 Supercars fans can also get behind the wheel of ten cars from the 2015 season, including cars from all five constructors, whilst listening to in-game commentary from Australian racing legend, Mark Skaife.
The 2015 #17 Xbox Racing Ford Falcon FG X, backed by the experience of DJR Team Penske, will compete in the V8 Supercar Pirtek Enduro Cup, including the Super Cheap Auto Bathurst 1000. Xbox fans in Australia can catch the action live on the Foxtel Play app on Xbox One.
For all the latest details and information, Visit Here.
Xbox Celebrates a Legacy of Innovation in Forza Motorsport 6 TV Ad
Celebrating 40 years of achievements in racing games.
Titled "Legacy," the spot is a celebration of the videogame racing genre, tracing over 40 years of breakthroughs in technology and design that have moved the medium forward in its evolution.
The propulsive ad accelerates through the pixelated worlds of Gran Trak 10 (Atari, 1974), Pole Position (Bandai Namco 1982), RC Pro Am (Rare, 1987), Chase HQ (Taito, 1988), and Ridge Racer (Bandai Namco, 1993) before breaking through to today's photorealistic Forza Motorsport 6.
The ad stars the 2017 Ford GT, the all-new ultra-high-performance supercar that will appear exclusively in Forza Motorsport 6.
To place the photorealistic car inside the pixelated game worlds, Xbox photographed a real-life, multimillion dollar prototype of the Ford GT that was suspended within a motion-controlled hydraulic rig. Tracking markers were used in-camera so that shots of the real car fit perfectly into the simulated environment of the earlier generation games. The spot concludes with actual Xbox One footage featuring the in-game Ford GT within Forza Motorsport 6.
The ad was developed by creative agency 'twofifteenmccann' and directed by Michael Spiccia. The song featured in the ad is "Danger! High Voltage" performed by the band Electric Six from Detroit, Michigan.
The ad will be seen on TV around the world during this weekend's telecast of the Formula One Italian Grand Prix.
Forza Motorsport 6, featuring 460 Forzavista cars, 26 world-famous environments, and an all-new 70+ hour career mode, is available starting today for owners of the digital 'Ultimate Edition', and September 15th for everyone else. Until then, be sure to check out the Forza Motorsport 6 demo, available now on Xbox One. As an added bonus, everyone who plays the Forza Motorsport 6 demo will automatically get the new Ford GT delivered to their Forza 6 garage at no additional cost!
To view the trailer, please visit the Xbox Wire.
This November, Your Xbox One Experience Gets Faster and More Social than Ever
Mark Ybarra outlines the features contained in the new experience
This fall marks an important moment in the history of Xbox as Xbox One readies for its biggest update yet – a completely re-imagined Xbox One, inspired by your feedback, brings the fastest and most social Xbox experience ever. You will also be able to play your Xbox 360 games on Xbox One at no additional cost. The New Xbox One Experience is releasing alongside the greatest games line-up in Xbox history, making it an incredible holiday for our fans. As director of program management on the platform team at Xbox, I wanted to share an update of what to expect with the transformation in November. At Xbox, we put games and gamers at the centre of everything we do. We are inspired by your passion and continue to listen to your input. The New Xbox One Experience will be powered by Windows 10, elevating the gaming experience on Xbox One. Integrating the speed of Windows 10, the New Xbox One Experience will get you to popular gaming features up to 50 percent faster. Instantly start a party, see what your friends are playing, and get updates to your recently played games from Home with no wait time. We'll also be delivering your most requested feature – Xbox One Backward Compatibility.
To see a full list of new features and the roll-out details, please visit the Xbox Wire.
Microsoft Movies & TV Now Supports Disney Movies Anywhere
Available on your Xbox One today
Recently, the Xbox Video tile changed to Microsoft Movies & TV, an update that will also hit Xbox 360 in the coming month. But that's not the only thing changing. We are very happy to announce that Microsoft Movies & TV now supports Disney Movies Anywhere.
When you connect your Microsoft Movies & TV account with Disney Movies Anywhere, all of your eligible Disney, Disney Pixar, Marvel and Star Wars digital movies currently in your Disney Movies Anywhere collection will be added to your account. All of your movies will be viewable in the Movies & TV app on your Windows, Windows Phone and Xbox devices – at no extra cost.
Similarly, when you buy eligible movies from Microsoft, your movies are automatically added your Disney Movies Anywhere collection where you can view them across your favourite devices.
Just in time for today's early digital release of one of the biggest movies of the year, "Marvel's Avengers: Age of Ultron", you can now connect to Disney Movies Anywhere to watch it across your Xbox and Windows devices as well as the Disney Movies Anywhere ecosystem. Even better, connecting your Microsoft account to your Disney Movies Anywhere account will add "Monsters, Inc." to your digital collection for free! This offer begins today, September 8, for a limited time, so sign up now!
You can enjoy Microsoft Movies & TV whether you're on your console, Windows 10 devices, or the web. You can start a movie on one screen and finish on another, or download it for offline viewing. We have everything from the latest blockbusters (even before DVD) to next-day TV, as well as the ability to pre-purchase the movies you love so you don't have to think about it later. There are even weekly deals in our sales & specials (in select markets) and unique ways to earn Xbox Live Rewards through your purchases.
We're excited to share the Movies & TV experience across all of your Microsoft devices and look forward to more improvements to come.
For more information, please visit the Xbox Wire.