Games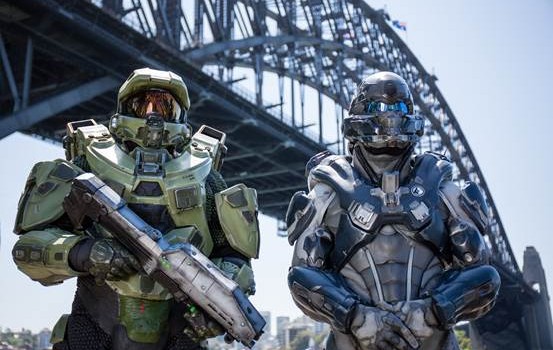 Published on October 30th, 2015 | by admin
Xbox Newsbeat – October 30, 2015
Critically Acclaimed Halo 5: Guardians Launches Worldwide With Global Celebration
'Halo 5: Live' stream showcases the global festivities
Halo 5: Guardians, the latest addition to Microsoft's $4.6 billion USD  Halo sci-fi franchise, launched worldwide on Tuesday. Fans tuned in to YouTube Gaming yesterday to take part in Halo 5: Live, a one-of-a-kind live broadcast celebration spanning multiple continents with exclusive gameplay reveals, celebrity appearances, international events and more. The six-hour event drew views worldwide, as fans came together to experience what makes Halo truly special.
"Halo 5: Guardians is the culmination of more than three years of hard work, passion and dedication, and we could not be more excited to celebrate with our fans," said Bonnie Ross, corporate vice president, head of 343 Industries. "Last night, Halo Nation came together from around the world like never before, and we are thrilled to see fans jumping into the most ambitious game we've ever launched."
To get a full recap of the global activities, please visit the Xbox Wire.
New Xbox Experience Launch Date Announced
Only two weeks until an entirely new experience hits your Xbox One
This week during the Halo 5: Live celebrations, Head of Xbox Phil Spencer unveiled the launch date of the highly anticipated New Xbox Experience and Backward Compatibility, which will begin releasing for all Xbox One owners on November 12.
We're passing along some materials that might be helpful if you're working on any stories or reviews. Here is a digital version of the New Xbox One Experience Guidebook. This walks through the new updates, has helpful tips for navigating the new layout, highlights useful and common scenarios, includes stats on speed improvements, and more.
We will be in touch in the coming weeks with additional assets, including screenshots, b-roll footage, and more. In the meantime, please let us know if you have any questions!
For all the New Xbox Experience assets that you may need, please visit the Xbox Wire.
Xbox One Games With Gold Doubles in November With Backward Compatibility
Four free titles coming for Xbox One users in November! 
Exciting news for Xbox Live Gold members, starting in November all future Games with Gold titles for Xbox 360 will be playable on Xbox One, giving Xbox One owners double the free games to play each month.
When Xbox One Backward Compatibility launches on November 12, play multiplayer with your friends no matter which console they're on and enjoy Xbox 360 games with the advanced features of your Xbox One, including Game DVR, Screenshots, and in-home streaming to Windows 10.
Xbox One owners can download their free Xbox 360 Games with Gold from the Games With Gold site, or from their Xbox 360 console. The games will automatically show up in the "Ready to Install" section of "My games & apps".
Holiday surprises are coming early in November with a great line up on Xbox One and Xbox 360. Xbox One Gold members get the first-person adventure game Pneuma: Breath of Life and the multiplayer swords-and-silliness action game Knight Squad. On Xbox 360, two fantastic titles, DiRT 3 and Dungeon Siege III, round out the Games with Gold offering – and both will be playable on Xbox One when Backward Compatibility begins rolling out on November 12.
To read more about November's Games With Gold, please visit the Xbox Wire. 
A Halo 5 Primer: The Story So Far
Catch up on the events leading into Halo 5: Guardians
On October 27, one of the most iconic names in first-person shooterdom makes its return when Halo 5: Guardians releases worldwide, exclusively for Xbox One. But are you a series newcomer who's completely clueless about the difference between a Forerunner and the Flood? Worry not; the Master Chief was, too, at one point!
So, why has Halo hooked fans so thoroughly over the past decade-and-a-half? A big factor is the chemistry between stoic, no-nonsense leading man the Master Chief and Cortana, his A.I. companion who's equal parts sassy and resourceful.
The overarching story is also intriguing in its own right, however, and we've put together a primer that spans Halo: Combat Evolved through Halo 4, to let you know exactly where the Master Chief stands going into Halo 5: Guardians. Now, this contains a copious amount of spoilers throughout, so you really have two choices: You can either pick up Halo: The Master Chief Collection on Xbox One – which includes Halo: Combat Evolved Anniversary, Halo 2: Anniversary, Halo 3, and Halo 4 – or you can read through the following and get up to speed on everything before Halo 5: Guardians. Or, heck, you can do both!
To read the full rundown, please visit the Xbox Wire.
Xbox App on Windows 10: Social Updates Available Now in Beta
Mike Ybarra, Director of Program Management, gives us the run down  
At Team Xbox, we want to make it easy to connect with your friends on any device where you play games. This week, we're excited to start previewing two more ways to expand your social gaming network and share your gaming content with your friends on Xbox Live.
Facebook friend finder: a top requested fan feature, we're bringing two of your favourite social networks together—Facebook and Xbox Live—and making it easier than ever to find more people to play games and have fun with.
In the Windows 10 Xbox beta app (available in the Windows 10 Store here), look for the Facebook icon in the Suggested Friends area or Settings. Click it to link your Facebook account to your Xbox Live account and start seeing suggestions for friends on Facebook who you can add on Xbox Live. As your friends link their Facebook accounts to their Xbox Live accounts, you'll see increasing numbers of Facebook friend suggestions, so be sure to spread the word!
Record your voice in your Game DVR clips on your PC: Windows Insider Program and Xbox beta app participants can now plug in a headset and narrate their Windows 10 game clips with their own voice using Game bar and Game DVR hotkeys.
To see the full breakdown of all the new features, please visit the Xbox Wire.