News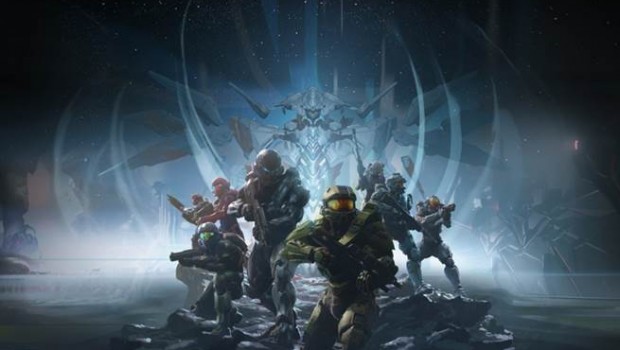 Published on October 23rd, 2015 | by admin
Xbox Newsbeat – October 23, 2015
Listen to the Entire Halo 5: Guardians Soundtrack Right Now
An epic game deserves an epic soundtrack
Whether it's the slow string build-up in "Jaws" or the grand blast of fanfare in "Star Wars," music can not only inspire and captivate fans, but often help define entire franchises in entertainment. However, few franchises in entertainment – and even fewer in gaming – approach the level of prestige and cultural relevance as Halo, with millions of fans growing up to the sounds of Gregorian Monks chanting mysteriously in the background, and heart-pounding cellos pushing players to dive into battle.
It's those epic gameplay moments paired with exquisitely crafted music that defines what Halo means too many fans, and Halo 5: Guardians has these moments in spades. If you can't hold out to launch, 343 Industries is making the entire Halo 5: Guardians soundtrack available to stream for an entire week.
Composing a Halo soundtrack is an incredible challenge for many reasons, such as the pressure to deliver on fan expectations for a franchise so well-known for its music and the unique technical challenges of video game music composition. This is only amplified by developer 343 Industries' vision to build the biggest and most ambitious Halo game ever in Halo 5: Guardians.
That challenge has definitely been met by composer Kazuma Jinnouchi and the audio team at 343 Industries, as these two episodes of the Halo 5: Guardians behind-the-scenes series, "The Sprint: Making of Halo 5: Guardians," demonstrate.
On October 30, you can own your very own copy of this landmark soundtrack. To be able to listen to it right now, be sure to visit the Xbox Wire.
"Rise of the Tomb Raider" dev diary series "Woman vs. Wild" Kicks Off
Get Wild!
For the next three weeks, we'll be premiering episodes of a new "Rise of the Tomb Raider" video series called "Woman Vs. Wild". Each instalment will offer a deep dive into the gameplay mechanics in Lara Croft's journey to become the Tomb Raider.
In the first episode, "Harsh Environments", we explore how Lara utilizes all-new skills to survive in hostile landscapes filled with dangerous wildlife, allies and enemies.
You can watch the episode at on the official Tomb Raider YouTube channel.  We look forward to sharing more details on "Rise of the Tomb Raider" leading up to launch.
The Xbox Elite Wireless Controller is Just Around the Corner
Pre-order now to avoid disappointment! 
Since we announced the Xbox Elite Wireless Controller at E3 2015 last June, we've gotten a ton of overwhelmingly positive feedback from fans. In fact, there's so much buzz and demand around the upcoming controller, that we're expecting the availability to be pretty tight this holiday season. It hits shelves in Australia on Nov 6, and eager Xbox fans have pre-ordered almost our entire initial shipment! Don't worry though: we're making more as quickly as we can, and our goal is to get these controllers into your hands in time for you to enjoy the greatest games lineup in Xbox history this holiday season. The best way for you to ensure that you'll get the Xbox Elite Wireless Controller soon is to pre-order yours from your favourite gaming retailer. If you're in the market for an Xbox One, be sure to check out the Xbox One Elite Bundle, which includes the Xbox Elite Wireless Controller, but also a spacious 1TB solid state hybrid drive (SSHD), giving you tons of storage for your games.. At $599 AUD RRP, the Xbox One Elite Bundle is an amazing value in precision, personalization and performance.
To read more about the features introduced by Elite controller and console, please visit the Xbox Wire. 
Halo 5: Guardians Lands This Week on Minecraft for Xbox
Pixel renditions of Chief and Locke Square Off
Well, the fun begins in Minecraft first, and starting Oct. 23 you can play as the Master Chief along with Blue Team and Fireteam Osiris from Halo 5: Guardians for Minecraft: Xbox One Edition and Minecraft: Xbox 360 Edition.
This free update to the Minecraft: Halo Edition mash-up pack will bring new characters from Halo 5: Guardians to Minecraft on Xbox and include all of the content from the original pack for those purchasing for the first time.
The mash-up pack, expertly crafted by 4J Studios, includes a Halo-themed texture set, themed menus and user interface, craft-able items and 31 music tracks across the Halo franchise. Also available are 40 pixel-perfect character skins depicting beloved Halo characters such as the Master Chief, Cortana, Sergeant Johnson, the Arbiter and more. For fans looking to fully immerse themselves into the Halo universe, the Halo Mash-up pack also features pre-made worlds such as Silent Cartographer, Sandtrap, Valhalla, Blackout, Guardian, Blood Gulch and plenty of well-known Halo vehicles and features.
To visit the full list of characters included in the pack, please visit the Xbox Wire.
Prepare for Scares with the Halloween Mashup Pack for Minecraft: Console Editions
Minecraft is about to get spooky! 
The good folks at 4J have created an entire mash-up pack dedicated to the eeriest time of the year. Not only does this pack include a whopping 43 skins, a creepy texture pack you can apply to your other Minecraft worlds and ghostly music, it comes with an entire world that's guaranteed to scare you senseless. Well, that's not actually true, but it is kinda freaky. There's even a rollercoaster that you and your friends can ride on as many times as you like for no additional charge. The ride doesn't feature boring things like height restrictions or tickets, you'll be happy to hear. The skins on offer have something of an old-school Halloween vibe. Here are some examples: Grim Reaper, Bride of Frankenstein, Wicked Witch, Tree Face, Mad Doctor, Swamp Monster and, of course, Dr. Jekyll and Mr. Hyde. As with all our packs, you'll be able to download a few of them for free.
To see the full list of Halloween skins, please visit the Xbox Wire.
Windows 10 and ID@Xbox Hits Joining Xbox at PAX Australia 2015
The best Windows ever for gaming joins us at PAX, alongside some huge ID@Xbox titles
Microsoft is excited to announce Windows 10, the best Windows ever for gaming, will be featured on the Xbox booth this year at PAX Australia 2015.
PAX Australia represents a great opportunity to connect with fans and attendees in order to showcase Windows 10's capabilities, highlighting why it's the best Windows ever for gaming. With new features such as Xbox streaming on Windows 10, DirectX 12 for unparalleled graphics, and soon Windows 10 on the Xbox One console, we are giving gamers the best of both worlds with Windows 10.
At the event, four gaming PC builders, including: MSY Technology, Mwave Australia, PLE Computers and Scorptec Computers will submit a premium custom built gaming PC to be voted on by attendees at PAX as the best of the pack. The company that builds the most voted for PC will be awarded the "Windows 10 Australian Gamer's Choice PC" award and live on in glory. Also, out of all the attendees that voted for the winner, one lucky voter will win that very PC!
Be sure to come to the Xbox booth to see these Windows 10 PCs and vote for your chance to win!
In addition to this, a huge selection of our hottest upcoming ID@Xbox titles also join the booth, such as 'Below', 'Superhot' and 'The Long Dark' all playable for the first time in Australia, alongside fan favourite 'Cuphead'.
These join the greatest games lineup in Xbox history, as 'Forza Motorsport 6', 'Halo 5: Guardians' and 'Rise of the Tomb Raider' will all also be playable on the show floor.
For everything Windows 10 and Xbox, please check out the Xbox Wire.