News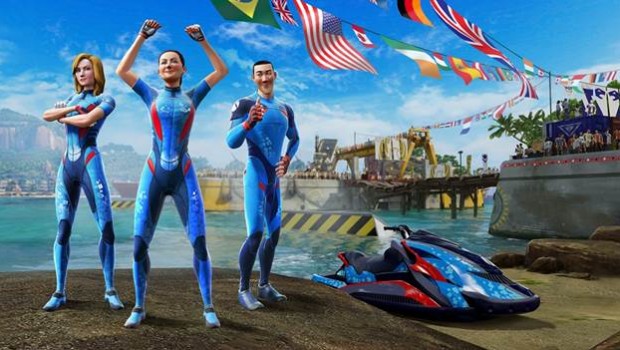 Published on February 13th, 2014 | by admin
Xbox Newsbeat: Feb 7- Feb 13
"World of Tanks: Xbox 360 Edition" Now Available Globally
Wargaming announced that "World of Tanks: Xbox 360 Edition" is now available globally. Custom built specifically for the Xbox 360, "World of Tanks: Xbox 360 Edition" brings World of Tanks' trademark team-based tactical online tank warfare action and free-to-play accessibility to the 48 million Xbox Live gamers around the globe.
Published by Microsoft Studios and developed by Wargaming West (formerly Day 1 Studios), "World of Tanks: Xbox 360 Edition" is digitally downloadable and free-to-play for Xbox Live Gold account holders, with an additional 7-day timed trial for all other Xbox Live account holders. The title features all new intuitive controls, integration of Xbox Live features like Friends, Parties, Achievements and a custom user interface designed for the large screen experience. "World of Tanks: Xbox 360 Edition" also features in-game purchases such as premium tanks, consumables and premium accounts to boost experience and currency accrual rates.
At launch "World of Tanks: Xbox 360 Edition" features more than a hundred iconic tanks from three separate nations – the United States, Germany and the United Kingdom, as well as seven different maps. The title will also be further expanded with future content download consisting of new tanks, nations, and more.
"World of Tanks: Xbox 360 Edition is a tremendous leap forward for Wargaming," said Victor Kislyi, CEO of Wargaming. "Not only does this release mark the company's very first title on console it also presents us the opportunity to bring World of Tanks to a tremendously passionate new audience of gamers around the world."
For a limited time, two special "Founder's Packs" of content will be available from launch through February 28th – each containing special tanks, resources and items at a reduced price.
Founders Pack 1 will contain the US Tier VII T23 medium tank, an extra garage slot, 17 premium ammo rounds, 100% crew, ten small repair kits, ten small first aid kits, ten manual fire extinguishers, an exclusive gold star emblem and 30 days of premium account status for the price of 6,700 gold, a savings of 40 percent.
Founders Pack 2 will contain the German Tier V PzKpfw V-IV medium tank, an extra garage slow, 19 premium ammo rounds, 100% crew, five small repair kits, five small first aid kits, five manual fire extinguishers, an exclusive black star emblem and 7 days of premium account status for the price of 3,400 gold, a savings of 40 percent.
Players who purchase both packs will also receive a bonus Russian T-127 light premium tank.
For more information on "World of Tanks: Xbox 360 Edition," please visit www.worldoftanks.com/xbox.
Multiplayer and Party Updates for Xbox One Coming in March
Authored by Marc Whitten, Chief Product Officer
Since we first launched Xbox One, we have been thrilled to see our fans spending millions of hours on Xbox Live. Your enthusiasm reinforces our commitment to making Xbox One and Xbox Live the best place for gamers and entertainment fans.
This week marks a big week for Xbox One as we will start to roll out our first product update for Xbox One. As previously shared, this update offers many new improvements – including lots of behind-the-scenes updates for developers building apps and games for Xbox One, several new features we believe Xbox fans will love, stability and product updates to improve the customer experience, and continuous improvements to the quality of Kinect voice so commands become more fluid and responsive over time.
This is step one on our journey and commitment to deliver continuous innovation to Xbox One customers. Xbox One is a platform designed to offer the best games and entertainment experience and we are committed to delivering more and more features to our customers.
While we're thrilled to launch the February update this week, we're already looking ahead to March. We've prided ourselves on having the best multiplayer service for Xbox 360 and we've listened to your feedback about the features you want to see on Xbox One and Xbox Live. We've heard your feedback and the team has been working overtime to deliver updates that will significantly improve the multiplayer and party experience on Xbox One.
Here are more details on what's coming for parties and multiplayer in March:
Get to your friends list faster. The friends list will be front and center on the homepage of the Friends app. Click the Social tile on Home, or say "Xbox, go to Friends" to see who's online and what they're up to. From there you can quickly send messages and get into a party.
Party chat will be turned on by default. When you party up, chat audio will be turned on by default.
Chat with friends playing different games. Party chat will be separated from people playing your game, so you can chat with your friends who are online or you can chat with everyone playing the game.
We're adding an "Invite friends to game" option to your multiplayer titles moving forward. Similar to Xbox 360 titles, this will appear inside a games' menu and offer a simple and quicker way to set up your multiplayer battles. Selecting "Invite friends" will let you invite friends to your game and party.
We're adding "Recent Players." This is a simple list that shows you Xbox Live members you've recently played with, making it easier to stay in touch with people, or add new friends after your multiplayer battles.
Our March Xbox One system update will start rolling out in early March. We're excited to get these multiplayer and party improvements out in time for the March 11 launch of "Titanfall," the highly anticipated team-based online multiplayer game.
The March update includes many more great features. The improvements to multiplayer and parties are just a few of the features that will be included, and we'll continue to share more details in the days and weeks ahead, including in-depth videos so you're all ready to take advantage of the new features in March. We're lucky to have a passionate community that shares feedback. Thanks for helping us make Xbox One even better.
 Xbox 360 Special Edition Chrome Series Purple and Black Wireless Controllers
We are excited to announce additional colours to the Xbox 360 Special Edition Chrome Series Wireless Controllers: black and purple. The controllers feature a transforming D-pad and coloured chrome design for AU$69.95   – available worldwide beginning in March. Both Xbox 360 Wireless Controller Special Edition Black Chrome & Special Edition Purple Chrome, will be available channel wide within managed retailer network.
Xbox One Stereo Headset and Adapter Coming in Early March
We've all been there: You want to play Xbox One games while your family sleeps soundly just down the hall or your roommates study for exams. That's why we're so excited to announce the Xbox One Stereo Headset, which will allow fans to immerse themselves in their games and play at whatever volume they'd like.
Releasing across Xbox One markets worldwide in early March, the Stereo Headset will offer a premium audio experience for both game and chat audio. Offering a full-range (20Hz – 20kHz) audio spectrum to ensure fans can enjoy the deepest bass and the clearest high frequencies, the Stereo Headset will also feature a unidirectional microphone for clear voice capture and over-the-ear speakers to keep you comfortable during long sessions with your Xbox One. The Xbox One Stereo Headset will ship with a detachable Stereo Headset Adapter that puts all of the audio controls right at your fingertips.  You can balance the game and chat audio levels to hear just what you want, control the master volume, and mute the microphone each with the touch of a button.
For our fans that already have a set of stereo gaming headphones they can't live without, we're happy to reveal that the Stereo Headset Adapter will also ship separately worldwide in early March.  Volume controls on the adapter let you adjust chat volume levels and mute your headset's microphone without taking your hands off the controller.  Simply plug the adapter into your controller and connect your compatible stereo headset to enable fantastic chat audio – thanks to integration with Skype's audio codec.  Add in-game audio by connecting your headset to the back of the Xbox One or to your TV.*
The Xbox One Stereo Headset will retail for AU$99.95and the Stereo Headset Adapter will be available for AU$39.95 .
*For use with stereo headsets with 3.5mm audio jack, or Xbox 360 gaming headsets with 2.5mm chat cable. Game audio available in stereo headsets by connecting directly to Xbox One via optical cable or TV via RCA cables (cables not included). Additional requirements may apply for full functionality, see xbox.com/xboxone/compatibleheadsets. Voice chat requires Xbox Live; in-game requires Xbox Live Gold (sold separately).
"Kinect Sports Rivals" Launches this April, Which Team Will You Choose?
Microsoft and Rare are excited to announce that "Kinect Sports Rivals" will be available exclusively on Xbox One on April 8, 2014 Australia and New Zealand. Whether fans are looking to tackle the new sports – climbing, wake racing and target shooting – or experience the re-imagined fan favourites – soccer, tennis and bowling – the power of Xbox One and the new Kinect will deliver next-gen motion sports gameplay like never before.
"Kinect Sports Rivals" is the first title to take full advantage of all the new Xbox One capabilities, including, the new Kinect sensor and Xbox Live, and is beautifully rendered 1080p HD. "Kinect Sports Rivals" is built entirely from the ground up to take advantage of all that Xbox One has to offer to create a more tailored and immersive experience than was never possible before. For the first time in motion-based games, subtle movements and timing are tracked with precision –now every move you make matters and every decision is critical to secure your victory. Additionally, players have an all new way to get in the game with Champions, a stylised on-screen version of themselves that participates in each of the challenges and continues to compete with friends, even if the player isn't there
To take the competition to the next level, "Kinect Sports Rivals" is bringing a new level of depth to the game with the introduction of teams and captains. For the first time in franchise history, players will choose one of three epic teams, each with a unique identity, ethos, and equipment attributes that can prove valuable in competition. Each team will also provide players with gameplay tips, and motivation, and will join in certain challenges to take on rivals. Led by c Vargu, Wolf Clan are island natives with a primal and uninhibited nature and a culture that prizes excellence. Eagle Legion is a loyal and honourable group that, under the leadership of c Blake, have formalised the various events on this island and defeated countless teams in the process. And lastly, Viper Network, led by c Zara, is the newest addition to the island, bringing with them a crafty and ambitious drive coupled with corporate sponsorship. Each of these teams will issue unique challenges and invite players to join their team. It's YOU versus the world. Which team will you choose?" Fans can pre-order "Kinect Sports Rivals" beginning now!