News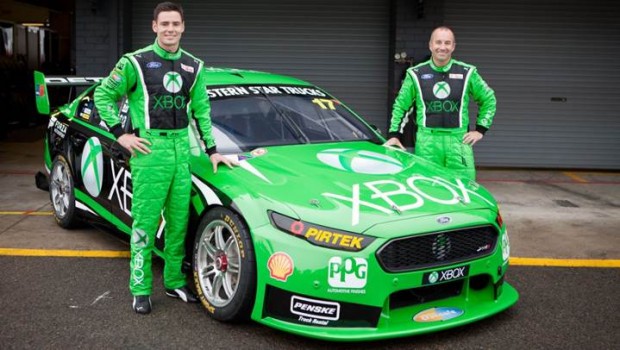 Published on October 9th, 2015 | by admin
Xbox Newsbeat 9 October 2015
Top Gear's 'The Stig' Joins DJR Team Penske and the Xbox Car this Weekend at the Supercheap Auto Bathurst 1000
Xbox returns to The Mountain
The legendary Supercheap Auto Bathurst 1000 is on this weekend from October 8-11 and will feature the 2015 #17 Xbox Racing Ford Falcon FG X, driven by Marcos Ambrose and Scott Pye for Team DJR Penske.
Before the big race kicks off however, a selection of lucky fans from around the world will compete in the final 'Drive to Win' Forza Motorsport 6 competition, where they will race in-game for a chance to win a world-first hot lap around Bathurst with Top Gear's The Stig', the infamous, anonymous driving ace. In addition, they will also win an official driver suit from the weekend, as well as having their Xbox gamertag emblazoned on the #17 Ford Falcon FG X racing car, and on the Bathurst raceway itself!
Since the launch of Xbox One and the track's first inclusion in Forza Motorsport 5 and now Forza Motorsport 6, racing fans from around the world have clocked up over 48,000,000 laps of the Bathurst track – considered to be one of the world's most challenging courses for its combination of narrow sections and steep grades – with over four million players racing it annually, amounting to a total of 250 years of gameplay!
With new features including night driving and wet weather racing, the inclusion of ten cars from the 2015 V8 Super Car season and in-game commentary from Australian racing legend, Mark Skaife, Forza Motorsport 6 is available to buy now, exclusively for Xbox One.
Xbox fans in Australia can catch the action live on the Foxtel Play app on Xbox One.
Xbox One is Part of the New Era of Windows 10 Devices
No better time to jump ahead!
This week, Microsoft's Terry Myerson and members of his team appeared onstage in NYC to unveil a new era of Windows 10 devices. Myerson shared that there are more than 110 million devices already running Windows 10 and over 1.25 billion visits to the new Windows Store, and that a varied group of partners have been hard at work creating more great new devices and Windows apps.
In addition to announcing new Surface, Band, and Lumia devices and sharing the latest from Microsoft HoloLens, Myerson also discussed the latest updates from Xbox. An upcoming free update will bring Windows 10 to Xbox One, making it the fastest and most social Xbox experience ever. You'll even be able to play some of your favourite games from the previous generation thanks to Xbox One Backward Compatibility. Combine that with the greatest games lineup in Xbox history this holiday season, and it's clear that there's no better time to jump ahead.
For more information, be sure to head over to the Windows Blog to read the full post that details all of the exciting Windows 10 device announcements, or to pre-order one of the upcoming devices, please visit the Microsoft Store.
Halo 5: Guardians Goes Gold
Josh Holmes, Studio Head at 343, gives us his thoughts
This is the culmination of an incredible three-year journey for our team. Together we set out to accomplish an ambitious vision and deliver a Halo game built from the ground up for the Xbox One. Now as we near the release of the game on October 27, we couldn't be more excited to share the results with you, the fans.
Halo games have always been about epic scale, and Halo 5: Guardians is no exception. From our multi-character campaign to the robust suite of multiplayer experiences included with Halo 5: Guardians, this game is packed to the gills with loads of exciting content.
We will have a multiplayer content update, prior to launch, that will supplement the online multiplayer goodness with map content for Arena Multiplayer and our all new massive-scale 12v12 Warzone Multiplayer. Make sure you have the Power Setting for your Xbox One set to "Instant On" so that you'll automatically download the online multiplayer update prior to October 27th and be ready on launch day. Those that buy a physical copy will download the online multiplayer update automatically after you install the game on your Xbox One. Next week, the game will be available to pre-download for digital customers, so follow @Halo and we'll keep you posted when that is ready to go.
Of course launch is just the beginning. Our dedicated live team will be focused on supporting the game with monthly releases of new content and experiences… such as new REQ content and more than 18 free multiplayer maps.
We can't wait for you to experience Halo 5: Guardians.
For further information, check out the Xbox Wire and until then, thank you for your support and we'll see you all online on the 27th!
New Halo 5: Guardians Television Commercial Revealed
Following on from last week's epic trailer
Last week, the first Halo 5: Guardians TV commercial signalled something big was going on in the Halo universe. Now, a second ad spot sheds new light on the hunter and the hunted. Check out the latest video at the link below! In case you missed it, last week's commercial is available here on Xbox Wire and fans have been contributing to a real-time social conversation visualizer about Halo 5: Guardians here. The hunt begins when Halo 5: Guardians launches worldwide on October 27, only on Xbox One. Pre-order the game at www.xbox.com/halo, and be sure to stay tuned to Xbox Wire and Halo Waypoint for the latest updates.
To view the all-new TV commercial, please visit the Xbox YouTube page.
Building the Biggest Forge Yet in Halo 5: Guardians
343 Studio Head Josh Holmes gives us a rundown of the new 'Forge' mode 
When the original Forge mode was released back in 2007, who could have known the impact it would have on Halo? More than just a map editor, Forge allowed players to collaborate with one another and create brand-new, unique experiences in a multiplayer session. For the first time, friends could test a map live while it was being built. This empowered creativity, allowed for rapid iteration and led to the discovery of all sorts of happy accidents. Best of all, building in Forge could be as fun as playing the game. Halo players embraced this new tool, letting their imaginations run wild. Since then, some of the most fun and creative ideas in Halo have come directly from the community, via Forge.
For Halo 5: Guardians, we knew we wanted to take a giant leap forward with Forge. The creativity of the Forge community knows no bounds and our goal was to give them more power and control than ever before. We wanted to remove as many constraints as possible so they can create high quality maps that rival the ones that we are shipping with the game.
Last month, we brought a group of five Community Cartographers (Forgers) to the studio to spend time with the Forge team and get hands-on with the new tools. Over the course of a week, each cartographer worked on a new map. It was amazing to see how much they were able to accomplish in such a short amount of time. Throughout their visit, the cartographers provided feedback and feature requests that were then turned around in nightly updates from the Forge team. We had a camera crew on site to document this week-long collaboration and we'll be sharing that footage in the near future. In it, you'll see many of the new Forge features in action. For a small preview of what's to come, check out the below video. 
To get a whole lot more info on Forge mode, and to see the new Forge trailer, please visit Halo Waypoint.
Rise of the Tomb Raider Season Pass and Game Mode Details Revealed
The game is now available for digital pre-order in the Xbox Store 
Unless you've been living in the mountains of Siberia for the past few weeks, you've likely seen the waves of gameplay footage and in-depth hands on preview coverage of Rise of the Tomb Raider, including our time with the game.
Xbox and Crystal Dynamics have announced that the game is now available for digital pre-order in the Xbox Store with two great offers one featuring Rise of the Tomb Raider with an exclusive bonus downloadable content pack called the Remnant Resistance Pack, the other featuring Rise of the Tomb Raider, plus the Remnant Resistance Pack and the game's Season Pass.
We recently had the chance to sit down with Rise of the Tomb Raider's Creative Director Noah Hughes to follow up on what we know about the game thus far, and more importantly, talk about everything from the digital pre-order offers and new modes to their plans for post-launch content available with the Season Pass.
XW: We've heard a lot about the single player campaign in "Rise of the Tomb Raider," but can you tell us a bit about any other modes you have planned for the base game?
NH: In Rise of the Tomb Raider, we have a variety of extra modes that will let you extend the single-player campaign. Score Attack lets you replay levels from the game with a new set of rules, as you race the clock to post the best time and earn medals. Chain together attacks, movements, and collectibles to keep your multiplier high. Next, we have Remnant Resistance, which is a mode that lets you replay Hub spaces with a new set of goals. You can craft your own missions by choosing the objectives, enemies, and more. Once you've mastered the mission, challenge your friends and the community to beat your high score. You can include the Expedition Cards you want featured, and others can use these Cards even if they don't have them in their collection. Finally, you can replay the game in Chapter Replay, which will let you keep the skills and equipment that you acquired on your first play-through. When combined an estimated 30+ hours to gain 100% completion on the single-player story, and our four difficulty levels including the brutally challenging Survivor difficulty, we're confident there's enough replay value for all of our fans.
XW: There has been some discussion about multiplayer, and you clarified by saying that players will be able to extend their single-player campaign and compete with their friends.  Can you elaborate? 
NH: We've taken a new approach to competing against your friends in Rise of the Tomb Raider with the introduction of Expedition Cards. In addition to offering the ability to customize your experience in extra modes, they let you craft missions and challenge your friends to reach the top of the leaderboards.
To read the full interview and get the lowdown on the new mode, be sure to visit the Xbox Wire.
Speed through October with the Logitech G Car Pack, Now Available for Forza Motorsport 6
The first monthly car pack hits the streets
Since September, gamers have been conquering the pavement in Forza Motorsport 6, the most beautiful and comprehensive racing game of this generation
If you haven't had a chance to play the game, now is a great time to jump in with race fans from all over the world. As we head into another great month of racing, we're excited to announce that beginning today, the Logitech G Car Pack is available as the next great add-on pack for Forza Motorsport 6. With seven incredible cars that have each carved their own place in motorsport history, the pack offers a new way to enjoy the best racing experience on Xbox One.
Leading the pack is an ultimate track toy – the 2013 Caparo T1, which is just begging to tackle the circuits of Forza Motorsport 6. In addition, we have four different eras of historic racing represented, with the 1939 Mercedes-Benz W154 (a pre-WWII Grand Prix champion), the 1967 Honda RA300 known as the "Hondola," a turbocharged Nissan IMSA racer from the 1990s, and one of the latest Le Mans prototype cars.
The remaining cars of the pack offer equally unique driving experiences. The 1967 Volvo 123GT has its own on- and off-road race-bred roots and the 2013 Cadillac XTS Limousine – well, we know you'll have fun with it.
The Logitech G Car Pack is just the first great pack of monthly DLC cars that players can expect in Forza Motorsport 6. If you want to be on top of all the latest car content in the game, there's no better way than the Forza Motorsport 6 Car Pass, which brings you six monthly car packs with seven cars each. That's 42 amazing cars total, all waiting to be collected, customized and raced, for one low price!
To see the list of the cars, please visit the Xbox Wire.