News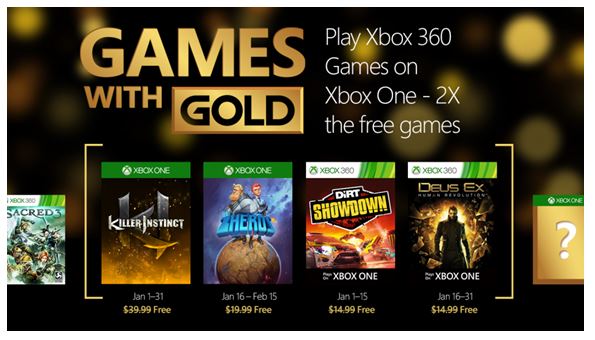 Published on January 8th, 2016 | by admin
Xbox Newsbeat 8/1/2016
Start the New Year off Right with January's Great Games with Gold Titles
Another four free titles coming this month to Xbox One!
You've probably dropped a bunch of holiday cash on gifts for yourself and others, and heck, maybe you've thrown a lavish new year's party. We know how it is. But dang it, you still want to play some hot new games. Well, don't worry: Games with Gold is coming to the rescue! On Xbox One, Killer Instinct: Season 1 Ultra Edition – the premier, combo-based, butt-kicking, mano-e-mano extravaganza – is first among your free offerings, followed by a brand new title to Xbox One, Zheros, an indie beat-em-up with an incredible art style.
On Xbox 360, Games with Gold gives gamers a gearhead's dream with DiRT Showdown, the most recent off-road racing experience from the well-known Colin McRae series. As well, Xbox 360 gamers get Deus Ex: Human Revolution, the outstanding, multi-award-winning action RPG title that took the world by storm with its cyberpunk setting and deep, multi-pathed gameplay.
As usual, all games are available only for a limited time, as part of the ongoing Games with Gold program, so don't let the New Year slow you down. Get downloading!
To find out more about the four titles on offer, check out the Xbox Wire.
Greatest Games Line-Up in Xbox History Fuels Record Holiday, Extends to 2016
Corporate VP of Marketing, Mike Nichols, gives us an update on 2015 stats
With the arrival of the New Xbox One Experience with Backward Compatibility and the most critically-acclaimed fall line-up of exclusives ever on Xbox, you set new records for global engagement on Xbox Live this holiday. On Dec. 28 there were more gamers using Xbox Live than any other day in Xbox history, and the number of hours spent gaming on Xbox One and Xbox 360 during Christmas week 2015 were up compared to last year. Thanks to you, Xbox One continues to outpace Xbox 360 at the same point in time in the Xbox 360 generation, making it the best-selling console in Xbox console history.
2015 was a monumental year for Xbox – the biggest in our history – and we owe it all to our gaming community. We saw record global engagement and sales fuelled by high demand for our greatest games line-up and hardware and accessories like the best-selling Xbox One Gears of War: Ultimate Edition Bundle and our Elite Controller. Every title in our exclusive 2015 holiday games line-up – Halo 5: Guardians, Rise of the Tomb Raider, Forza Motorsport 6 and Gears of War: Ultimate Edition – sold over 1 million units, and the number of Xbox One gamers who played Microsoft Studios-published titles more than doubled compared to 2014.
Before we look to the year ahead, we want to share a quick snapshot of some other great things we accomplished together in 2015
To see the line-up of impressive stats and figures, check out the Xbox Wire.
Rise of the Tomb Raider is coming to Windows Store on Jan 28
The critically-acclaimed adventure comes to PC, with 4K support and more! 
Professional danger-seeker Lara Croft delved her back onto Xbox last holiday season in Rise of the Tomb Raider – and now, she's getting back into the swing of things on Windows 10. Square-Enix and Crystal Dynamics' high-octane open-world adventure hits the Windows Store, Steam and other major retailers on January 28, bringing all of the exploration, excitement and beautiful scenery of Lara Croft's latest quest to a whole new audience.
In Rise of the Tomb Raider, Lara journeys into the heart of Siberia in search of the lost city of Kitezh – but the nefarious Trinity organization is in a no-holds-barred race to uncover Kitezh's legendary secret of immortality. Lara's myriad survival skills and penchant for guerrilla combat will serve her well in this outing, as she turns the tables on Trinity and becomes the hunter instead of the hunted.
"The PC release of Rise of the Tomb Raider continues the positive momentum from our highly successful partnership and collaboration with Microsoft for the launch on Xbox One and Xbox 360," said Scot Amos, Co-Head of Studio at Crystal Dynamics.
To hear more about the exciting new features in Rise of the Tomb Raider for Windows 10, please visit the Xbox Wire.
Celebrate the New Year with New Xbox One Bundles
Options for every kind of gamer
During the holidays, we announced more bundles than we ever have before, delivering an unprecedented number of choices for every gamer. While the holidays are now behind us, we're excited to ring in the New Year with even more value and choice for our fans to experience the greatest games line-up in Xbox history well into 2016. Today we're announcing two new Xbox One bundles: the Xbox One Tom Clancy's Rainbow Six Siege Bundle and the Xbox One 500GB Name Your Game Bundle.
Xbox One Tom Clancy's Rainbow Six Siege Bundle
In partnership with Ubisoft, we're thrilled to offer the new Xbox One Tom Clancy's Rainbow Six Siege Bundle, shipping to retailers in most regions starting today and featuring a 1TB hard drive, a copy of Tom Clancy's Rainbow Six Siege and full-game downloads* of Tom Clancy's Rainbow Six Vegas and Tom Clancy's Rainbow Six Vegas 2. With the Xbox One Rainbow Six Siege Bundle fans can join Counter-Terrorism Unit Operators from around the world and engage in close-quarters combat between attackers and defenders within the highly destructible arenas of the Siege. Fans looking for even more classic tactical shooter game glory can also try their hands at Rainbow Six Vegas and Rainbow Six Vegas 2 through Xbox One Backward Compatibility.
Xbox One 500GB Name Your Game Bundle
We're always looking for more ways to offer value to our fans so, for the first time ever, fans have the option to choose one of four blockbuster titles with the new Xbox One 500GB Name Your Game Bundle. The bundle comes with a 500GB hard drive and a full-game download of one title from the greatest games line-up in Xbox history – Forza Motorsport 6, Rise of the Tomb Raider, Gears of War: Ultimate Edition or Rare Replay. The choice is yours.
For further details on the new bundles, head over to the Xbox Wire 
Dress Up Your Forza Motorsport 6 Garage with the Ralph Lauren Polo Red Car Pack
The first car pack of 2016 is available now! 
Forza Motorsport 6 fans looking to grow their garage now have seven more cars to choose from thanks to the Ralph Lauren Polo Red Car Pack. This pack presents new and vintage cars that broaden the Career experience and offer more weapons to take to battle on the track.
The W Motors Lykan HyperSport's outrageous lines and beastly performance turned heads in movie theatres this past spring in Furious 7 and it heads off this cadre of new vehicles to collect, customize and race. The remaining cars of the pack were handpicked from three different racing disciplines, alongside a trio of vintage classics from three different continents.
The Ralph Lauren Polo Red Car Pack is included at no additional cost to owners of the Forza Motorsport 6 Car Pass, which brings six car packs featuring seven cars each month. That's 42 cars in total, all ready to be instantly added to your garage to customize, tune and race!
To see a trailer and a breakdown of each of the new vehicles, please visit the Xbox Wire.