Games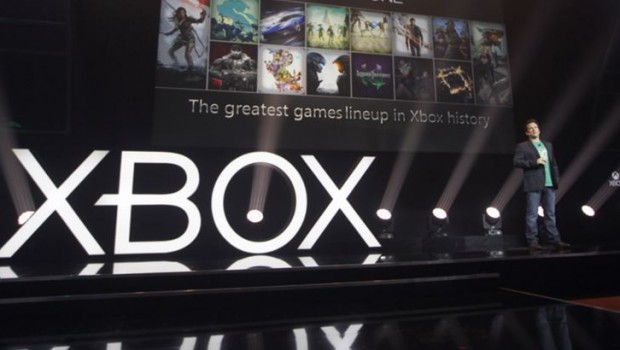 Published on August 7th, 2015 | by admin
Xbox Newsbeat 7 August 2015
Xbox Unveils More of Its Greatest Games Line-up in History
The line-up could be the strongest ever!
Xbox opened gamescom 2015, the world's biggest interactive games and entertainment expo, with new game reveals for Xbox and Windows 10, extending the company's greatest line-up in Xbox history into 2016.
The company debuted world-premiere gameplay of anticipated exclusives Crackdown 3, Scalebound and Killer Instinct Season 3, alongside a new gameplay demo of the heavily anticipated Quantum Break.
Xbox also announced Halo Wars 2 – an exciting new strategy game packed with fast-paced action, massive battles and an all-new Halo story, coming to Xbox One and Windows 10 in fall 2016.
Shawn Ashmore, lead actor for Remedy Entertainment's Quantum Break, surprised fans as he took the stage with Remedy's Creative Director Sam Lake to discuss and showcase the game's latest time-amplified gameplay features.
By popular fan request, Xbox announced DVR for Over-the-Air TV is coming to Xbox One as a subscription-free service1 in 2016. Once Xbox One is set up for over-the-air TV, Xbox One owners will be able to record their favourite TV shows, movies and sporting events and store them onto a hard drive, so the amount of recorded content is only limited by the size of the drive.
For the full list of announcement from the Xbox Briefing at gamescom 2015, check out the Xbox Wire.
Xbox One Backward Compatibility Launches in November with Over 100 Xbox 360 Titles
We're committed to giving you more out of the investment you've made in your game collection 
As we announced at E3, Xbox One Backward Compatibility is all about giving you the ability to play the games you love and own for Xbox 360 on your Xbox One at no additional cost. Onstage at the Xbox gamescom 2015 Briefing, we shared more of our vision for Xbox One Backward Compatibility's place in the greatest games line-up in Xbox history.
Beginning this November, for free, you'll be able to play over 100 Xbox 360 titles on your Xbox One, with hundreds more on the way. The Xbox One is the only next-gen console to offer backward compatibility, and allows you to utilize some of your favourite next-gen features like Game DVR, Snap, screenshots and more.
We're also happy to announce our plan to make all future Xbox 360 Games with Gold titles playable on Xbox One starting when backward compatibility launches in November. This will mean that all Xbox Live Gold members get even more free games to play each month.
In addition to first-party support from franchises like Halo, Fable, and others, leading third-party publishers, including: Electronic Arts, Bethesda, Ubisoft, 2K and more (see the full list below and note that publisher participation is subject to change) have announced their participation in the program, with more details on titles to follow.
Support for Backward Compatibility is also unlocking new value for Xbox fans.  For example, gamers who purchase Ubisoft's Rainbow Six Siege on Xbox One will exclusively receive both Rainbow Six Vegas and Rainbow Six Vegas 2, playable via Xbox One Backward Compatibility. Bethesda is offering Fallout 4 fans even more opportunities to explore their post-apocalyptic open-world, as anyone who purchases the game for Xbox One will exclusively receive Fallout 3. Or, if causing mayhem on a massive scale is more your speed, you'll be happy to hear that you'll exclusively receive Just Cause 2 for purchasing Just Cause 3 on Xbox One. This follows yesterday's news that anyone purchasing Gears of War: Ultimate Edition by December 31, 2015 would receive Gears of War, Gears of War 2, Gears of War 3, and Gears of War: Judgment via Xbox One Backward Compatibility.
Speaking of Gears of War, we're also excited to announce that the original Gears of War is available now in back compat for preview members and that all Gears of War titles will be supported when it launches publicly this fall. This means if you own Gears of War, Gears of War 2, Gears of War 3 or Gears of War: Judgment on Xbox 360, you'll be able play it on your Xbox One soon.
This is just the beginning of the news we have in store for this week, as we share more on both Xbox One Backward Compatibility and the greatest games line-up in Xbox history. So stay tuned for more exciting announcements coming out of gamescom!
Oh, and remember we mentioned that growing list of publishers supporting Xbox One Backward Compatibility awaiting you at the end of the story? Here it is!
2K
Bandai Namco Games
Bethesda
Capcom
Codemasters
Deep Silver
Disney Interactive
Electronic Arts
Koei Tecmo Games
Majesco
Sega
Square Enix
Ubisoft
Warner Bros.
For further news and updates about Xbox One Backward Compatibility, be sure to check out the Xbox Wire.
Halo 5: Guardians Goes Big with Premium Hardware
Get locked, loaded, and ready for Halo 5: Guardians with these premium, limited edition Xbox One goodies.
The Xbox One Halo 5: Guardians Limited Edition Bundle
Our Xbox One Halo 5: Guardians Limited Edition Bundle is headlined by a 1TB custom-designed Xbox One console and controller, inspired by Spartan Locke and UNSC technology. It features two-tone panelling, blue metallic accents, graphics on the vents, and in-game sounds, including the Plasma Grenade charging up when turning the console on, smart-link activation when hitting the eject button and more. The sleek design details extend to the included Limited Edition wireless controller – which complements the console with chrome and metal details, and a honeycomb pattern and insignias. It also includes a 3.5mm audio jack, allowing you to plug your favourite gaming or audiophile headphones directly into the controller, making it perfect for Halo 5 multiplayer sessions. And, the mono Xbox One Chat headset is included, featuring mute switch, rotational volume dial and adjustable mic boom. The bundle is truly a one-of-a-kind collector's item.
The bundle includes a full game download of Halo 5: Guardians. You'll also get the Warzone REQ Bundle, which packs in 14 premium Requisition Packs, FOTUS-class armour, and exclusive multiplayer emblem. As if that wasn't enough, the bundle also includes an alloy Guardian model designed by Metal Earth, the Halo: The Fall of Reach animated series, team dossiers for Blue & Osiris, and Spartan Locke's classified orders. The bundle is available in most major markets worldwide starting on 20 October, priced at $599.99 AU.
For further information about these, be sure to check out the Xbox Wire.
Introducing the Halo World Championship
Brush up on those Arena skills, so you can show the world how good you really are!
The Halo series has always been synonymous with console eSports and online competition. And with Halo 5: Guardians, we're fully embracing that legacy with the announcement of the inaugural Halo World Championship – which launches later this winter, and features a prize pool starting at $1 million dollars.
The Halo World Championship will focus on Halo 5: Guardians' hyper-competitive Arena multiplayer experience. During our gamescom 2015 briefing this week, we showcased through the new Spectator Mode a thrilling match-up between two of the best pro teams in the world, Team Epsilon and OpTic Gaming, on a brand-new Arena multiplayer map: Coliseum.
Coliseum has everything that makes a great competitive arena experience: It's a symmetrical, two-base map that includes a unique mix of elevation and sight lines, and it's purposely built for a wide variety of fast-paced multiplayer modes. The map's story harkens back to the first incursions of the Flood into the Forerunners' outer territories signalled the beginning of a centuries-long war. Although they immediately summoned the full strength of their navy, most Warrior-Servants recognized that this conflict would be won or lost on the ground. Hidden safely in the shadows of the Burn, this military compound provided a necessary proving ground, strategically honing those who were destined for sacrificial glory.
Also this week, the Halo 5: Guardians gamescom Invitational 2015 will take place on Friday, August 7 (Germany time) in the ESL Arena on the gamescom show floor. The Invitational will feature a first look at high-stakes Arena gameplay – which focuses on pure, skill-based 4v4 combat, and features four of the top teams in the world: Epsilon Esports (EU), Supremecy (EU), CAZ.Esports (EU) and OpTic Gaming (NA). Gamescom is the perfect place to demonstrate the excitement and calibre of Halo eSports that we'll see coming to the World Championship later this year.
Microsoft and 343 Industries will be working with major pro game leagues and partners worldwide, and we'll have more details to share on that front later this year. Make sure you pick up your copy of Halo 5: Guardians – launching worldwide on October 27 for Xbox One.
For more on Halo eSports check out the Xbox Wire.
"Forza Motorsport 6" Celebrates gamescom with New European Rides Added to the Garage
As gamescom takes place in Germany, we welcome a European contingent of radical rides to the Forza Garage.
As we head into August, the Forza Garage continues to bring Forza fans new cars for Forza Motorsport 6 that will astound and excite. This week, as gamescom takes place in Germany, we welcome a European contingent of radical rides to the Forza Garage.
Heading off the European fleet of cars that will be waiting to hit the grid in Forza Motorsport 6 are a pair of BMW race cars, each with their own remarkable racing achievements. Each car marks the poignant success of BMW Motorsport in eras of racing past and present.
Joining the mix of cars from Europe are some a slew of amazing open-wheel racers of IndyCar. The full list is worthy of inspection and will delight race fans of any order.
Now here is deep dive into both of our spotlight cars for this edition of the Forza Garage.
1975 BMW #25 BMW Motorsport 3.0 CSL
If its flamboyant BMW Motorsport livery and audacious body kit don't convince you this car is truly something special, then its history surely will. First, the 3.0 Coupe Sport Lightweight – better known as the CSL – debuted the official red, purple and blue colours of BMW Motorsport. Then it made its mark on nearly every major race series around the world. Deemed the "Batmobile" by worldwide fans, the CSL earned its lightweight moniker with a lithe aluminium body that helped make it a crowd and driver favourite.
2014 BMW #55 BMW Team RLL Z4 GTE
When Team Rahal Letterman Lanigan (RLL) brought the Z4 GTE to bear, it marked both the end of one era and the dawn another for one of BMW Motorsport's most successful teams. Having seen much success with its BMW M3 GT, Team RLL embarked on a new road to glory with its Z4 GTE – in a bold new BMW Motorsport livery – in the Tudor United Sportcar Championship's GT LeMans (GTLM) class. At their first GTLM race, drivers Bill Auberlin, Andy Priaulx and Joey Hand took the #55 Z4 to a second-in-class podium at the 2014 24 Hours of Daytona. It was the beginning of a very successful year for Team RLL in the newly-married conflagration of the American Le Mans Series and Grand Am racing series.
Have a look at the rest of the cars being announced and download the latest media assets on the Xbox Wire.
Four Easy Tips to Power up Your Windows 10 PC for Gaming
Try these out, and happy gaming! 
So you've got Windows 7 or Windows 8.1 installed, and you're ready to download and install your free Windows 10 upgrade. Or maybe you're one of the lucky ones who's gotten Windows 10 already and you've been tooling around with it, checking out the latest and greatest features. Whatever the case, if you're reading Xbox Wire, you're a gamer – and that means you'd probably love to know how to get the best performance out of your PC. Well, we've got a few quick and easy tweaks that should help you get a few more horses worth of power out of that box, without too much elbow grease. 
Tip #1: NEVER Defrag Your Solid State Drive (SSD)
You are better of installing your games onto an SSD, and you should seriously consider putting your Windows 10 installation onto an SSD (not the same one, though) as well. Solid state drives are just so much faster than rotational media – you'll spend far less time waiting around for things to load.
On top of that, you don't need to defragment them. Ever. In fact, defragmenting an SSD is just going to unnecessarily reduce its lifespan. So don't do it!
Tip #2: Get Rid of Unnecessary Apps and Memory Resident Junk
There are some quality third-party applications that can help you streamline your Windows 7 and/or 8 installations before you move up to Windows 10. The idea here is to get rid of the vestiges of old, or disused programs, or stuff that's booting up when you start your PC that you never, ever use. You'll free up memory by not booting that stuff at all.
MAGIX Software makes a program called PC Check & Tuning that can really dig deep into your Windows installation and make it easy for you to update drivers, streamline installations, and get rid of the stuff you don't need. SUPERAntiSpyware is an absolutely fantastic, free tool to get rid of any little nasty bugs and spyware that might have found a way into your system (and could be slowing it down, or worse). And CCleaner by Piriform is an awesome free alternative to MAGIX PC Check, which can clean out your dead files and installs – as well as your Windows registry – safely. AVG makes an all-in-one "Uninstaller" and "Program Deactivator," too, which can quickly and easily track down and kill anything you want to get rid of.
Tip #3: Slightly Overclock Your System
Note that this one entails a little bit of risk – if your system is already running hot or if you're uncomfortable with overclocking, skip this step entirely. That said, most modern gaming rigs (especially if you've bought them from a reputable manufacturer) are more than capable of a 5-10% overclock with zero ill effects. Still, understand that overclocking always entails a risk.
If you've got a gaming-focused video card and/or motherboard, it should have come with some software that you can use to affect the clock speed. If so, go ahead and use that if you've got it. If not, check your video card manufacturer's website for their recommended software. You can also use AMD OverDrive, which is AMD's overclocking tool, if you have one of their chips. Intel makes an excellent stress-testing tool called Intel BurnTest that we recommend you use, to see just how much pressure you're putting on your system with any given overclocking setting that you decide to use. You don't need to be using an Intel processor to use it – but it works best with one.
However you decide to implement your overclock, we recommend not going over about 5-10% of the default setting (at most) for your CPU and memory clocks. Remember that overclocking adds heat to your entire system, not just the CPU and memory clocks. You don't want to push things too much! 
Tip #4: Install User Mods to Your Favourite Games to Improve Performance
You might be surprised to find out that a whole mess of folks have already created modifications to your favourite games that make them run faster, look better, and do all sorts of weird (but cool) stuff. These mods are available, often for free, from all sorts of places on the web. Check them out at the Windows Store, on Steam, or through your favourite communities and social media sites. Applying mods to games like The Elder Scrolls V: Skyrim or Dark Souls II: Scholar of the First Sin can greatly improve not only the games' loading speeds, performance, and stability, but also the graphical fidelity and even the user interface.