News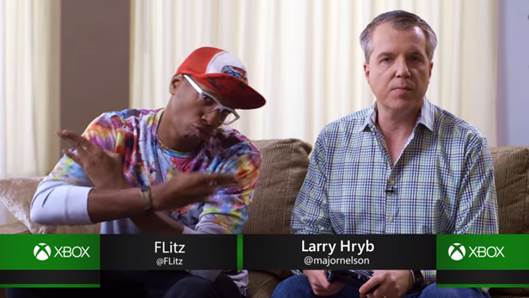 Published on November 7th, 2015 | by admin
Xbox Newsbeat – 6 November 2015
Now is the perfect time to take a closer look at one of its coolest features: Xbox One Backward Compatibility
With the New Xbox One Experience just 8 days away, now is the perfect time to take a closer look at one of its coolest features: Xbox One Backward Compatibility. This awesome feature gives you the ability to let Xbox One owners play Xbox 360 games on the console. Xbox One is the best place to play Xbox 360 games, whether you're playing them for the very first time or finishing games you've already started. Recently, Xbox's own Larry "Major Nelson" Hryb sat down with Flitz from Smosh Games to dive deeper into what fans can expect when Xbox One Backward Compatibility rolls out starting Nov 12.
Flitz has some great questions for Larry, on topics ranging from where to find the full library of Back Compat games, how Xbox 360 saves will work, and quick way to take Screenshots of your Xbox 360 Games. So, if you're dying to know more about Xbox One Backward Compatibility and don't want to wait until it launches next week, give the video above a watch!
To check out the full video, please visit the Xbox Wire.
Yeah Yeah Yeahs Frontwoman Karen O Writes and Records "I Shall Rise" for Rise of the Tomb Raider
Extra special music to accompany Lara's journey
Action-adventure fans, rejoice: Rise of the Tomb Raider is just one week away, making its long-awaited debut on Xbox One and Xbox 360. Lara Croft's latest adventure finds her journeying to the ends of the Earth in search of the secret of immortality – and she's getting some extra-special music to accompany her journey. Xbox and developer Crystal Dynamics collaborated with Yeah Yeah Yeahs' frontwoman and Academy Award-nominated musician Karen O on an original song for the game, titled "I Shall Rise."
"They wanted an emotional song that captures the intensity of the moment Lara Croft transforms into the Tomb Raider, the theme of a young woman becoming an icon," said Karen O. "I was very intrigued by the challenge, and I guess I was amidst a significant transformation of my own being pregnant at the time I wrote it. Now that I have a brought a life into the world, I have no trouble relating to a character like Lara's – who pushes past her own limits to prevail under extreme circumstances. I love me some melodrama!"
You can hear "I Shall Rise" in Rise of the Tomb Raider's official launch trailer above, and download it on iTunes, Apple Music, Spotify, Amazon, and a variety of other music streaming and download services. This is Karen O's first original song for a video game, and follows her successful integration within popular films such as her Academy Award-nominated original Moon Song for Spike Jonze's "Her," the soundtrack of "Where the Wild Things Are," and her cover of Led Zeppelin's "Immigrant Song" for the David Fincher adaptation of "The Girl with the Dragon Tattoo."
"Nothing's more satisfying than writing an against-all-odds song of survival," Karen O remarked. "'I Shall Rise' is kind of like my less groovy nod to Gloria Gaynor's 'I Will Survive.' I'm excited by the artistry of video games; they're inspired. It's no surprise that there's a whole culture of kids who just like to watch people play them. There's plenty of storyline, character, and tone to sink your teeth into. Writing a song for the game felt pretty much like writing a song for a film. I had a lot of fun writing for it."
Rise of the Tomb Raider features plenty of epic, high-octane action moments set in the most beautiful – yet hostile – environments on the planet. Join Lara Croft on her cinematic survival action-adventure when the game launches for Xbox One and Xbox 360 on November 10.
For all the latest Rise Of The Tomb Raider news ahead of release next week, please check out the Xbox Wire.
Here's a Closer Look at the New Xbox One Experience's Game Hubs
Experience it all starting November 12
The New Xbox One Experience is just around the corner, and those who have not experienced it in Preview will be able to experience it officially starting November 12. Faster navigation and a more social experience are at the heart of what is our biggest Xbox One update yet. Today, we're giving you a peek at the New Xbox One Experience's redesigned Game Hubs, with a video walkthrough by Major Nelson and Partner Group Program Manager for Xbox One, Richard Irving. They'll also highlight improvements to Achievements and the new Community section.
Now, Game Hubs themselves have been part of Xbox One for a while, but we've re-imagined them from the ground up, to bring everything you want to know about a game into one place. For starters, our new Game Hubs are always at your fingertips: The Game Hub for each game in your recently played games list is just a button press away, enabling gamers' frictionless access to contextual game information.
You can also follow your favourite games to receive updates and posts from the game developer, which will be delivered right to your Activity Feed. This makes it much easier to stay up-to-date on what's going on with your most-played games. You can also quickly see which of your friends play the games that you own, and join them in a Party or multiplayer session, right from the Game Hub. And you can even view the community's most popular Game DVR clips and screenshots for each game. We're pretty thrilled with all of this improved social connectivity; our mission with the new Game Hubs is to make it as easy as possible for you to keep current on your favourite games, and easily find friends to play them with.
For all the latest updates on the New Xbox One Experience, please visit the Xbox Wire.
Fallout 4 Owners Get Fallout 3 via Xbox One Backward Compatibility Next Week
All the post-apocalyptic goodness on your Xbox One
As you get ready for the awesome, post-apocalyptic goodness that is Fallout 4 on Xbox One, don't forget that for a limited time it comes with its direct predecessor, Fallout 3 –available first on Xbox 360 and then on Xbox One after November 12 when Xbox One Backward Compatibility becomes available. Whether you pre-order or purchase the game physically, digitally, or as part of the Xbox One Fallout 4 Bundle, you'll definitely want to pick up Fallout 4 now if you haven't already to grab your free copy of Fallout 3 for a limited time.
While both Fallout 3 and Fallout 4 are thematically similar, Fallout 3 remains one of the seminal steps in the role-playing genre, revolutionizing a series that was previously PC-based by introducing it to the Xbox 360 console. This modern classic took a massive, open-world approach, and included a slew of new, clever gameplay systems designed to work smoothly on both PC and Xbox 360. After great success and a large fan base on Xbox 360, Fallout 3 will now be available on Xbox One through Backward Compatibility for the newest generation of gaming.
First among these systems was the Vault-Tec Assisted Targeting System, or V.A.T.S., which has become an icon of the Fallout series since. While Fallout 3 is presented as a traditional first-person shooter, the truth is that its combat system goes far deeper than that. Whenever you're aiming, the game is calculating a variety of factors: how good your gun/ammo is, how high your accuracy stats are, and what kind of defences your enemy is packing. Most games keep this info in the background, but triggering V.A.T.S. changes that.
Toggling V.A.T.S. stops time, and presents you with a series of percentage points and highlighted targets on the enemy's body: limbs, torso, head, even their weapon. Hitting each of these requires a trade-off: The torso is easier to hit, but does less damage, and doesn't (usually) come with any critical bonuses. Hitting a limb or a weapon is tougher, but may disable it if you do it right. And then, of course, the head is a kill shot – but it's also the hardest to hit, especially at long range. V.A.T.S. takes all those familiar FPS shooting mechanics and adds in an RPG element, putting fine-tuned control at your fingertips.
Of course, V.A.T.S. returns in Fallout 4, too, and since you get Fallout 3 for free with Fallout 4, now is a great opportunity to check out the continuity between the two systems. In Fallout 4, V.A.T.S. has been even more refined to work seamlessly with the shooting – not stopping time entirely, but slowing it down and flowing directly from the player's other shooting. The difference in Fallout 4, too, is that using V.A.T.S. is limited by a rechargeable bar; you can only use it so often, but the good news is that you can choose when and where a critical hit will score, so it's even more powerful than it used to be.
Thanks to Xbox One Backward Compatibility, you only need a single console to experience V.A.T.S. and the rest of the awesomeness of both Fallout 3 and Fallout 4, with no extra work. Heck, you can even use the excellent Xbox One Elite Wireless Controller, if you really want to have a leg up on the old-school wasteland before you jump into Fallout 4's post-nuclear Boston. However you choose to play, you'll get the most out of your Fallout experience on Xbox One.
For all the latest Xbox news, please visit the Xbox Wire.
Forza Motorsport 6 Gets Pair of Halo 5: Guardians Inspired Mustangs, eBay Motors Car Pack and Two Special Edition Fallout 4 Cars
Cars, cars, cars and some more cars!
Great news, racers – a range of new vehicles are coming to Forza Motorsport 6 to celebrate this week's launch of Halo 5: Guardians, the upcoming Fallout 4 and range of legendary motorsport cars, thanks to the eBay Motors Car Pack.
Designed in partnership between 343 Industries and Turn 10 Studios, the Spartan Locke 2015 Mustang GT and Master Chief 2015 Ford Shelby GT350R are the latest in a series of Xbox collaborations with Ford, including the Xbox Elite Ford GT controller concept, the Ford F-150 Halo Sandcat unveiled at E3 2015, and the 2011 Ford F-150 SVT Raptor Halo Edition featured in the Forza Horizon series.
All players can experience the Spartan Locke 2015 Mustang GT at no additional cost, while the Master Chief 2016 Ford Shelby GT350R will be available to Forza Motorsport 6 VIPs. Both cars will be gifted to Forza Motorsport 6 players today available for download from the game's message centre.
Whether you're a car collector, a painter, a tuner, or you play Forza Motorsport 6 for the sheer thrill of racing, the eBay Motors Car Pack – available on Tuesday, Nov. 3 – has something for you. After all, more is almost always better and, in the case of this pack, you'll experience legendary racing cars and unforgettable classics with an all-star automotive lineup that spotlights the breadth and depth of the Forza Motorsport 6 experience.
When Lewis Hamilton got the chance to drive Ayrton Senna's Formula One car he said it was the best day in his life. Now is your chance to experience the winningest car in Formula One history, the McLaren MP4/4. The other six cars of the pack have made their own marks on racing and car culture as well. The wild and wily #31 Lancia will give you respect for the drivers of Group 5 racing; the #35 MC Trofeo will show you what new Maserati owners can experience through its factory race program; and the Holden Torana A9X will show you how they go fast "Down Under." Need to let the sun shine in? The Plymouth Prowler and the Datsun 2000 Roadster are a pair of "verts" that are raring to show you their stuff.
The eBay Motors Car Pack will be available exclusively for Forza Motorsport 6 on Xbox One. The pack is included at no additional cost to owners of the Forza Motorsport 6 Car Pass, which brings six car packs featuring the best seven new cars coming to the game each month. That's 42 cars in total, all ready to be instantly added to your garage to customize, tune, and race! All other racers can purchase the pack separately or buy cars from the pack individually.
Players in Forza Motorsport 6 will soon be able to race in post-nuclear style thanks to two new Fallout 4-themed cars coming to Forza 6 on Xbox One. Turn 10 Studios and Bethesda Game Studios, the makers of the highly anticipated Fallout 4, today announced a partnership that will give fans the chance to experience Fallout in the Xbox One-exclusive racing game.
Starting today, all Forza Motorsport 6 players will receive an exclusive Fallout 4-themed version of the 1956 Ford F100 in the game. With a retro-futuristic Vault-Tec theme, the Fallout 4 F100 will be sent to Forza 6 players in celebration of the upcoming Nov. 10 launch of Fallout 4 on Xbox One.
Also coming soon, for a limited time, all players of Fallout 4 on Xbox One will receive the super sleek Chryslus Rocket 69 coupe – the future of speed!
For the latest new on Forza Motorsport 6, please visit the Xbox Wire.
Halo 5: Guardians Smashes Record with Biggest Halo Launch in History
Halo 5: Guardians has made history, including a GUINESS WORLD RECORD!!
One week after launching worldwide, Halo 5: Guardians has made history as the biggest Halo launch and fastest-selling Xbox One exclusive game to-date, with more than $400 million in global sales of Halo 5: Guardians games and hardware, pushing the franchise to over $5 billion lifetime. With the highest week one attach rate for a Microsoft first party title on Xbox One, the game was the most played of any game on Xbox One, as well as the most played on Xbox Live.
Fans have logged more than 21 million hours of total gameplay, including 12 million hours in campaign mode alone. The widely praised multiplayer modes have also led to nine million total hours played with nearly seven million multiplayer matches played across Arena and the all-new Warzone mode.  In addition, Halo fans are taking to the new Requisition System in a big way, with over 45 million REQ Packs acquired, totalling more than 568 million REQ Cards.
Last week's Halo 5: Live earned a GUINNESS WORLD RECORDS™ title for the most watched video game launch broadcast, setting a precedent with more than 330,000 unique streams on the evening of the broadcast. Additionally, content from the broadcast generated 5.5 million total views throughout the week. This resulted in a spike in digital sales of Halo 5: Guardians, leading to it becoming the best-selling digital game ever in the Xbox Store for an opening week.
For the latest new on Halo 5: Guardians, please visit the Xbox Wire.