News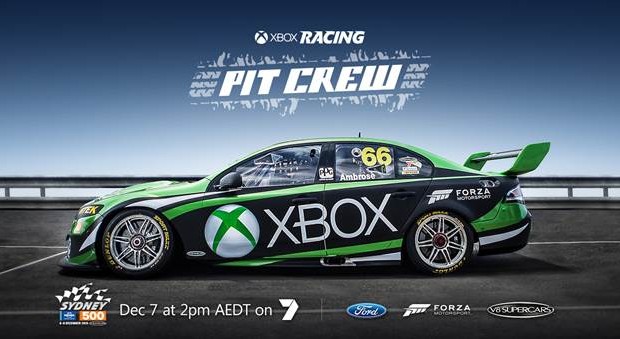 Published on December 6th, 2014 | by Admin
Xbox Newsbeat – 5/12/2014
Catch the Xbox Racing V8 Supercar in Action This Sunday!
Marcos Ambrose returns to action at the Sydney NRMA 500
This Sunday at the Sydney NRMA 500 V8 Supercars race, Marcos Ambrose makes his long-awaited return to Australia in the Xbox Racing Ford Falcon FG.
A former two-time V8 Supercars champion and Australian racing legend, Marcos returns after eight years in the US NASCAR circuit.
You can catch all the action live at 2PM, this Sunday on Channel 7.
In addition, don't forget you too can drive the new Xbox Ford Falcon right now, exclusively in Forza Motorsport 5! Get in quick though, as the car will only be available until December 22nd.
For more information about how to acquire the Xbox Racing Ford Falcon FG in Forza Motorsport 5, please visit the Xbox Australia Facebook page
Forza Horizon 2 NAPA Chassis Pack Now Available
Six gorgeous new vehicles ready to rip through Forza Horizon 2
The roads and countryside of Forza Horizon 2 beg for you to leave your mark on them. The NAPA® Chassis Car Pack for Forza Horizon 2 on Xbox One has arrived, bringing five amazing new cars to blaze trails, break records, or just enjoy a casual cruise in. First off, the new McLaren 650S Coupe's uncanny acceleration and preposterous top speed will satisfy the elitist in you. If you want get away from it all, there's no better way than in the Supercharged Land Rover. Need muscle? Take the classic form of the Buick GSX or the later model Monte Carlo SS for a spin. We all need more wagon in our lives and the Audi RS6 is ready to run around town or serve up surprises at the track. The NAPA® Chassis Car Pack for Forza Horizon 2 on Xbox One is available today for $6.65 AUD in the Xbox Live store. Starting today, also available this month for free for all Xbox One players is the 2002 Lotus Esprit V8.
To see the full list of new cars and view the all-new trailer, or for any assets you may require, please visit the Xbox Wire.
Hands-on: The Many Ways to Play Evolve
Available in Australia on February 10th, 2015 
Turtle Rock Studios' upcoming shooter Evolve is one of the best shooter experiences we've ever had with a controller (and I've played a lot of shooters). Part of that slick functionality is about how well-designed the control system is, but a lot of it has to do with the kind of game Evolve is. Unlike some other shooters – which reward accuracy combined with speed – Evolve tasks its four monster hunters with shooting at a gigantic target that can be seen coming from quite a distance. It's not about snapping the aiming reticule instantly to a single pixel; it's about timing, controlling space, and teamwork. And that's just when you're playing the hunters. As the monster, it's even more fluid on Xbox One. "We thought of Street Fighter," said Phil Robb, co-founder of Turtle Rock Studios and creative director on Evolve. "It's about launching the right moves at the right time – not twitchy reflexes." For the uninitiated: Evolve is an asymmetrical first-person shooter, in which a team of four hunters take on a single, gigantic monster in a series of maps and game modes. One player chooses the monster, and the others pick one of the four classes of hunter: Trapper, Assault, Medic, and Support. The Trapper is responsible for tracking and ensnaring the monster (at least temporarily), while the Assault is the frontline damage dealer. The Medic is just what it sounds like, and the Support characters have various abilities that buff other hunters or debuff the monster. Only one player can play any given class, but there are several different individual hunters to fill each role, all of whom have a unique set of abilities and weapons.
To read more about Evolve and the experience that it brings, please visit the Xbox Wire.