Games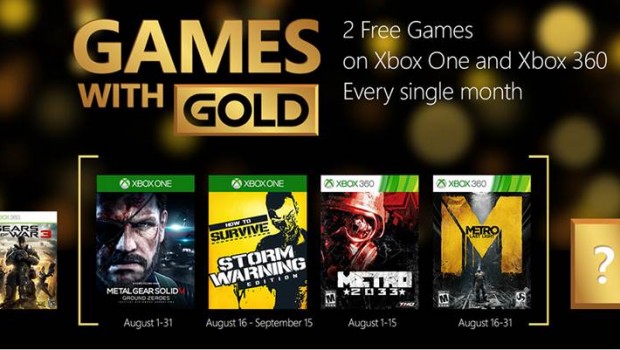 Published on July 31st, 2015 | by admin
Xbox Newsbeat 31 July 2015
Four Action-Packed Free Games with Gold Coming in August 2015
August line-up is looking great!  
It's always exciting when we get to announce the new Games with Gold each month, but August sports a really fantastic line-up, across Xbox One and Xbox 360. First, Metal Gear Solid V: Ground Zeroes, the compelling prologue to the hotly anticipated Metal Gear Solid V: The Phantom Pain which launches in September, comes to Xbox One – followed by the open-world, tongue-in-cheek survival title How to Survive: Storm Warning Edition. On Xbox 360, fans get treated to two of the best first-person survival-horror shooters ever with Metro 2033 and its sequel Metro: Last Light. As usual, all games are available only for a limited time*, as part of the ongoing Games with Gold program.
Metal Gear Solid V: Ground Zeroes ($26.95) Available from August 1-31 on Xbox One
How to Survive: Storm Warning Edition ($26.95) Available from August 16-September 15 on Xbox One
Metro 2033 ($19.95) Available from August 1-15 on Xbox 360
Metro: Last Light ($26.95) Available from August 16-31 on Xbox 360
* Titles are available as free downloads for a limited time, for qualifying paid Xbox Live Gold members in all markets where Xbox Live is available. Some regions may offer different titles depending on market availability.
For further information about each of the games, be sure to check out the Xbox Wire.
The British Racing Invasion Arrives in the "Forza Motorsport 6" Garage
New additions to the Forza Garage bring us another week closer to launch 
It's hard to believe we are in our fifth week of car announcements for "Forza Motorsport 6," bringing us closer to the game's release on Sept. 15.
Leading off this week's Forza Garage is a pair of 2014 British Touring Car Championship racers. Both cars are built to the Next Generation Touring Car specifications. The #67 Audi was helmed by driver Robb Holland and the #80 Toyota by Ginetta racer Tom Ingram.
Don't forget to give the rest of this week's line-up their due as well. There isn't a piece of tarmac in the world these rides wouldn't be happy to lay down some rubber.
Here's a closer look at our BTCC racecars:
2014 Audi #67 Rotek Racing S3 Saloon
Notable Jalopnik contributor Robb Holland was the first American driver to ever compete in a full season of the British Touring Car Championship. With the help of Rotek Racing based at the Nürburgring, the ultimate proving ground for anything with wheels, the team fielded this Audi S3 Saloon. Holland's goals for the season were humble given each race of the season would be the first time he had seen each track. The team placed in the top twenty more than once and, despite some unfortunate on-track incidents that ended their chances early, earned points by the end of the season. For Forza fans, this BTCC racer is ready to relive its track time at Brands Hatch or anywhere else you choose to race.
2014 Toyota #80 Speedworks Motorsport Avensis
Speedworks Motorsport has seen success in the Ginetta G50 Cup, British GT4, and the British GT Championship to name a few notable series. The husband and wife team of Christian and Amy Dick debuted the first Next Generation Touring Car in 2011 and since climbed the steep learning curve. By 2014, the team doubled in size and had taken on promising young Ginetta driver Tom Ingram. A mostly trouble-free 2014 season saw the #80 to nine point finishes out of twelve races run, including two top-ten placings. The Toyota Avensis is a large four-door saloon that is not available in North America. In its BTCC racing dress, you can experience what has made it a success in Europe and Japan.
For more information related to this announcement and for a closer look at the cars, please visit the Xbox Wire.
How to Stream Games from Your Xbox One to Your Windows 10 PC or Tablet
Easy steps to get you streaming your favourite games 
By now, you've surely heard that you can play Xbox One games on any Windows 10 PC or tablet. You're probably eagerly asking: "How!?" The answer is: "It's actually surprisingly easy, to be honest." There's really not much to it. Check out Major Nelson's tutorial video, and let's walk through it:
Step 1: Plug in and set up an Xbox One controller on your Windows 10 PC or tablet
Windows 10 PCs already have native support for Xbox One controllers. Just plug the controller in via the USB cable that came with it, wait for the drivers to install, and you're good to go. It'll vibrate when it's ready to use. Easy!
Step 2: Launch the Xbox app for Windows 10.
It's free, and built into Windows 10. Also easy!
Step 3: Create an Xbox Live account, or sign into your existing account.
After launch, you should see the Home screen, and a prompt to either log into your account or create a new account. It's a simpler process than ever, as well as free. Just follow the steps you're given; you should hopefully have some experience logging into accounts for things, if you're on the Internet reading this!
Step 4: Turn on your Xbox One.
It might be easier to set it up in the same room as your Windows 10 PC so you can see both at once – but it's certainly not necessary, if you don't mind moving back and forth should you need to double check any info.
Step 5: Connect your devices.
Make sure both your PC and your Xbox One are on the same wired or wireless network (wireless networks should have the same name). Then, on your Xbox One, navigate to the Preferences section of the Settings menu, and make sure the "Allow game streaming to other devices" box is checked.  Next, in the Xbox app on your PC, go to the left-hand navigation and click on "Connect." You should see your Xbox One listed as a connection option (in certain circumstances, it will already be connected – for example, if you've previously connected in the past). Simply click on your console's listing, and the app will handle the rest. If you're having trouble connecting, try restarting the app.
Step 6: Stream those games!
Go to the Xbox app's Home menu, then select a recent Xbox One game from the Recently Played list, then "Play from Console" to start streaming.
You can also access all Xbox One menus, talk to friends via Xbox Live, play online (if you have Xbox Live Gold on Xbox One)… heck, you can even play Xbox 360 games through Xbox One Backward Compatibility, all on your PC!
To watch the video and learn more, please visit the Xbox Wire.
Five ID@Xbox Windows 10 Titles We're Excited About
Ashen, Cuphead, Pit People, Swordy and Wasteland 2 all coming soon!
With Windows 10 right around the corner, some of that ID@Xbox love is coming to even more gamers: From deep role-playing games to pulse-pounding brawlers, we're taking a closer look at a few of our favourites, coming to Windows 10 (and Xbox One!) in the coming months.
Ashen
Aurora44's Ashen is set in a world without s sun, where natural light comes from spontaneous eruptions that cover the land in ash. The game is about forging relationships with other characters in this harsh, open world. Players will be able to guide others they trust to their camp in an effort to survive together.
Cuphead
Cuphead has you playing as a teacup that can shoot enemies by clicking his fingers to release drops of water. You'll take on a series of platformer-style challenges (including boss battles) in environments ranging from vegetable gardens to beaches and pirate ships, and it won't be easy: Cuphead is designed to be old-school challenging.
Pit People
Developer The Behemoth created one of the earliest (and best) downloadable Xbox games, in the form of the classic co-op beat-'em-up Castle Crashers. Now, the developer is back at it with Pit People (formerly codenamed Game 4), a turn-based strategy game that streamlines the genre into a game of positioning and efficiency.
Swordy
Developed by Frogshark, Swordy is a single-screen brawler where players find medieval melee weapons – think swords, axes, ball-and-chains – and try to kill one another with them. Players spawn on the map as unarmed knights and go bolting for their weapon of choice. Swordy is physics-based, so each weapon type has its own weight and feel, and momentum from swinging differs based on a given weapon's mass.
Wasteland 2
InXile Entertainment's post-apocalyptic RPG Wasteland 2 took gamers by storm in its initial incarnation, whereby players control a squad of Desert Rangers, a militia that protects whatever humanity has survived after the apocalypse. It's an affair filled with turn-based combat and significant choices: You'll choose between some survivors at the expense of others, for instance, and you can move, attack, reload, unjam weapons, and perform surgery on a wounded squad mate on any turn.
For further information about these loved titles, be sure to visit the Xbox Wire.
"Minecraft: Windows 10 Edition Beta" Now Available
There's no limit, not even the sky, to what you can create with Minecraft's ever-growing toolkit.
In conjunction with the launch of Windows 10, the "Minecraft: Windows 10 Edition Beta" is now available for download in the Microsoft Store.
If you're one of the 20 million players who have the PC edition of Minecraft (referred to by techy people as the Java version) you'll be able to download Windows 10 Edition Beta from the Windows 10 store for free. Other players can get it for the paltry price of $12.29AU during the beta period (the length of which is still being decided).
"Minecraft: Windows 10 Edition Beta" is a new version of Minecraft built to take advantage of everything Windows 10 has to offer. The beta is in early stages and we are inviting players to share their feedback with us in order to help craft the newest version of Minecraft.
Find out more about Minecraft and other amazing games available on Windows 10 on the Xbox Wire.