News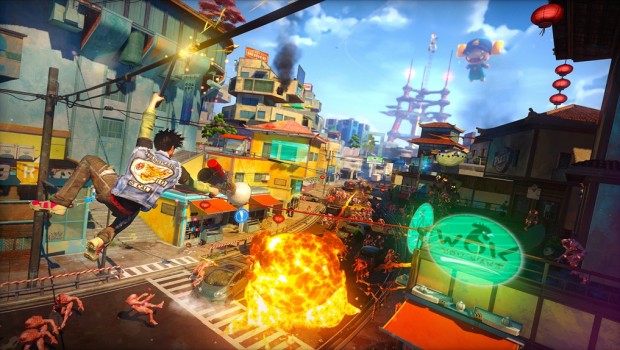 Published on July 4th, 2014 | by admin
Xbox Newsbeat 30th June – July 4th
'Sunset Overdrive' Video Showcases New Footage of Chaos Squad
New Co-op gameplay footage for Sunset Overdrive Unveiled
At E3 Microsoft and Insomniac Games unveiled the first look at "Sunset Overdrive's" 8-player co-op multiplayer, and today have released an action-packed video which gives us even more of a sneak peek into what all the excitement is about. Choose Your Chaos Wisely – The amount of Chaos is what determines the difficulty of your team's final Night Defence. The higher your Chaos – the tougher your Night Defence is going to be, but you'll get more chances to receive cool rewards at the end. The amount of Chaos you have will depend on which missions you voted for leading up to Night Defence. Take a mission with high amounts of chaos to increase difficulty and potential rewards? Or take a mission with a team boost to make the group more likely you succeed?
Go straight from campaign to chaos-squad, in game – So, you're leaping around Sunset City in single-player and your friend/acquaintance invites you to join her Chaos Squad. You drop off a grind rail, strut up to the nearest future photo booth, and enter.  You'll go straight into multiplayer with the same clothing, same amps, same everything as your character from the single-player campaign.
Vote on missions in the open-world – At the start, you and your rag-tag band are going to get two mission options to vote on. You conquer it, two new ones crop up. And they'll have different objectives and be in separate locations from the first round. So, the result is that each Chaos Squad experience feels unique as you're going through the open-world. After a few rounds of voting and slaying and Chaos or boost getting – it's time for your team to face the main event: Night Defence.
For more information visit Xbox Wire.For a direct link to the new trailer, click here.
"Forza Motorsport 5" Hot Wheels® Car Pack Announcement
Turn 10 releases the Hot Wheels Car Pack for 'Forza Motorsport 5', containing 10 new vehicles.
Turn 10 Studios brings the Hot Wheels® Car Pack to "Forza Motorsport 5," available for download now. The pack features a collection of vehicles built from the ground up for the new generation that car fans can collect and customize while putting their virtual driving skills to the test.The car pack includes a total of 10 beautiful vehicles, seven of which are all new to "Forza," including the Lamborghini Veneno, the Lotus Type 49, Audi Auto Union Type D. Players can experience Lamborghini's 50th anniversary car, the dramatic 2013 Lamborghini Veneno – a "First in Forza" exclusive — or travel back in time with the 1939 Audi Union Type D, the pinnacle of pre-war racing, or the 1952 Ferrari 375, the car that started Enzo Ferrari's post-war racing dynasty. And if you're craving something brand new, try Audi's latest offering for the everyday enthusiast, the all-new 2015 Audi S3 Sedan. The rest of the pack includes additional appearances of your favourite cars from Toyota, Mazda, Ford, and more.
For more information visit Xbox Wire.
'Every Street United' Episode 4 Debuts Sunday, July 6th
Episode 4 of the new hit series debuts this Sunday
Just a reminder that the fourth episode of the hit new interactive series'Every Street United' will debut this Sunday, July 6th.
Tune in to see whether all of the sweat, sacrifice, practice and passion will begin to pay off for eight talented street soccer players.
And remember, you can watch virtually anywhere on Xbox Video, or download the "Every Street United" app on Xbox One or Xbox 360 to access the interactive features, only on Xbox. An Xbox Live Gold membership is not required.
As a bonus, watch as two of the stars from the show – Jose and Nabil – show off their moves ahead of this Sunday's episode right now on Xbox Wire.
For more information, visit Every Street United.