News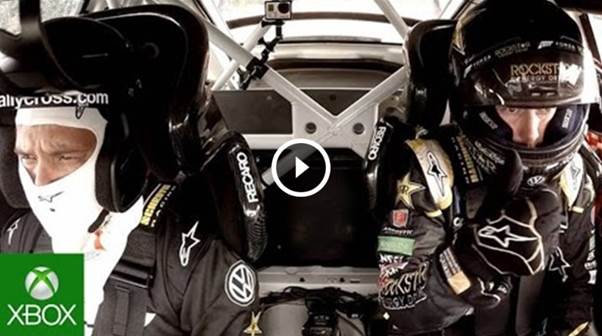 Published on March 27th, 2015 | by Admin
XBox Newsbeat 27/03/15
Phil Spencer Experiences Tanner Foust's Rally VW Beetle
Dive into the cockpit to get an exclusive look as Phil gets the ride of his life! 
Head of Xbox, Phil Spencer recently had the chance to ride shotgun with professional rally driver, world-record holder and Xbox ambassador Tanner Foust during the Red Bull Global Rallycross event at Dirt Fish Rally School in the foothills of the Cascade Mountains, which is about an hour from Xbox HQ in Redmond, Washington, US.
The vehicle was Tanner's 504 horsepower 2014 Volkswagen Beetle GRC, which is also the hero car of the Rockstar Energy Drink Car Pack from Forza Horizon 2, available now on the Xbox Live store.
To view the video, visit the Xbox Wire. 
Forza Horizon 2 Presents Fast & Furious Expansion Available for Free for a Limited Time
The latest Forza experience has arrived!
Starting today you can download Forza Horizon 2 Presents Fast & Furious for both Xbox One and Xbox 360. The standalone expansion doesn't require any previous Forza game to play – you simply find it in the Xbox Store, download it, and you're off to explore the amazing cars and action-packed challenges that make Forza Horizon 2 Presents Fast & Furious such a one-of-a-kind experience. Best of all, this standalone expansion is available for FREE until April 10. So get in on the action now at no additional cost!
In Forza Horizon 2 Presents Fast & Furious, you're recruited by the Fast & Furious' Tej Parker (voiced in the game by Christopher "Ludacris" Bridges) to help him acquire ten special cars for his Fast & Furious crew – the same cars you see in the film Furious 7.
Your goal is to acquire each of these cars by taking part in a series of automotive challenges inspired by the Fast & Furious films. From the 900-hp 1970 Dodge Charger to an armored 2013 Jeep Wrangler Unlimited and more, each of the cars in the Forza Horizon 2 Presents Fast & Furious standalone expansion is both stunningly accurate and amazingly fun to drive.
For Assets related to the expansion, please visit the Xbox Wire. 
Why You Should Dive Into Dragon Age: Inquisition – Jaws of Hakkon
No surprise – it's well worth picking up
More than a few of you likely considered BioWare's Dragon Age: Inquisition one of the finest games of 2014, what with its beautiful world, engaging story, and dynamic combat system. This week, BioWare dropped an unexpected jewel on us in the form of Dragon Age: Inquisition – Jaws of Hakkon, the first downloadable content pack for the award-winning, role-playing game. It's available first exclusively on Xbox One and PC at this very moment.
Jaws of Hakkon is set in an overgrown wilderness populated by the Avvar hunter people, and tasks you with exploring an ancient Tevinter fortress that hides some rather intriguing secrets. Curious about the fate of the last Inquisitor and the powerful dragon he hunted? Well, you're in the right place: It's your job to find the final resting place of said Inquisitor, who bit the dust some 800 years prior.
You get to face off against new enemies, as well as gather new legendary armour and weapons across roughly a half-dozen hours of adventuring. Make it to the finish line, and you'll a battle against an ancient god of war, hell-bent on destroying the world. Oh, and you'll wipe out a cult in the process.
One thing worth noting is that Jaws of Hakkon is aimed at those who have played a fair amount of the main Inquisition story. You should be at least level 20 before diving in, and you'll need eight power points to open up the expansion's new area, Frostback Basin. Indeed, in many ways, Jaws of Hakkon definitely feels like a fresh sandbox for high-level adventurers to play in – a huge new area in which you can wander around and complete a pretty epic main quest, while also uncovering plenty of side-quests.
We've been having a great time exploring all of this new content and are already looking forward to checking it out with our other character.
Pick up Dragon Age: Inquisition – Jaws of Hakkon on Xbox One today and be sure to visit the Xbox Wire for any relevant news. 
The World of Minecraft Just Got Brighter with the Pattern Texture Pack for Xbox
Happy Mining!
Looking for new ways to brighten your blocky Minecraft world? The "Pattern Texture Pack" could be just what you need.
Now available for all Minecraft console editions for $1.35 AUD, the "Pattern Texture Pack" allows players to decorate their Minecraft worlds with bright colours, beautiful patterns and knitted animals.
The pack also provides a pattern-themed UI and stylised texture set that can be applied to new or previously created Minecraft worlds.
To download media assets and receive more Xbox news, please visit the Xbox Wire. 
ID@Xbox Spotlight: Classic Platform-Shooting Returns in Mighty No. 9
One of the first successful Japanese crowdfunded video games
Mighty No. 9 is an incredibly exciting proposition for those who appreciate the classic era of platforming games. Designed by Keiji Inafune – the man behind the iconic Mega Man series – Mighty No. 9 brings Inafune's decades of expertise and boundless imagination to a new generation of gamers.
In the game, players take on the role of Beck, the ninth in a series of combat androids called "Mighty Numbers," which have been given powerful abilities to help bring security and stability to their world. The problem is that the other eight Mighty Numbers – along with tons of other, lesser combat droids – have been infected with a virus that has turned them against the good guys and set them on an evil path. It's up to Beck and his female counterpart Call to navigate through some tricky levels, blast their way through some tough baddies, and take down the evil forces behind the viral outbreak.
As Beck progresses through Mighty No. 9, he can assimilate his defeated opponents' powers, and then use these powers to reach new areas or more easily bypass tough obstacles in later levels. For example, defeating an enemy who has heavy armour may allow Beck to transform into a tank, allowing him to traverse spikes with no damage. Or, defeating an enemy with many limbs may allow Beck to add new ones to his own body, making it possible to climb to formerly inaccessible areas.
And this isn't just the result of killing bosses, either: Beck can assimilate skills and forms from regular enemies and mini-bosses, too. Since the levels can be played in any order (with the exception of the very last one), this means that Mighty No. 9 has many different possible paths to victory, and players may wish to retrace their steps through previously completed levels once they've gained new powers, to see if they can reach any new, secret areas.
Although it uses some 3D textures, Mighty No. 9 is, at its core, a classic 2D platformer that incorporates modern techniques into an immediately recognisable, old-school style. Fans of platformers from yesteryear, as well as folks who love today's sidescrollers, will find plenty to dig into here. Moreover, the team behind the game has added new campaigns, audiovisual content, and side missions throughout the development process, thanks to continued funding from its very dedicated community of fans.
So, whether you're new to sidescrolling shooters or you're a die-hard fan of the old-school ways of robotic destruction, you ought to be excited for Mighty No. 9. This is a classic design fused with modern techniques, and it will bring the best of both world to your Xbox One later this year via ID@Xbox.
To find out more, visit the Xbox Wire.