News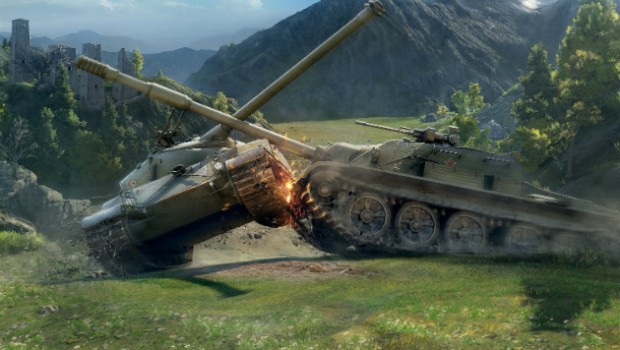 Published on May 30th, 2014 | by admin
Xbox Newsbeat 26-30 May 2014
Warface Xbox 360 Edition" Expands Operations with New Content Pack
Crytek releases new battlegrounds, maps, weapons and gear to continue the fight against Blackwood 
Crytek and Microsoft Studios released1 European Clash, a new content expansion pack for the online first-person shooter "Warface Xbox 360 Edition," available for download in the Xbox Game store. Fans of the free-to-play game will access a new Co-op battleground set in Eastern Europe, as well as a full range of Versus engagements set mostly in the Balkans.
The new "Warface Xbox 360 Edition" content pack expands the areas of operation and enables players to team up for the next chapter in the fight against Blackwood, experiencing intense gameplay and engaging in explosive battles and fierce new Versus maps. Players can experience various tactics with new readily purchasable primary weapons2 for each class. New gear like the Superior Helmet and Light Gloves will also be available2 for all classes.
"Warface Xbox 360 Edition" is rated T (Teen) by the RSRB and 16 by PEGI and USK. It is available exclusively on Xbox 360 as a free-to-play with Gold title3. For more information, please visit www.warfacexbox.com.
1 "Warface Xbox 360 Edition" is available in the following countries: Argentina, Australia, Austria, Belgium, Brazil, Canada, Chile, Colombia, Czech Republic, Denmark, Finland, France, Germany, Greece, Hong Kong, Hungary, India,  Israel, Italy, Japan, Mexico, Netherlands, New Zealand, Norway, Poland, Portugal, Republic of Ireland, Russia, Saudi Arabia, Singapore, Slovakia, Spain, Sweden, Switzerland, Taiwan, Turkey, United Arab Emirates, United Kingdom, and the United States.
2 Primary weapons and outfits will be available at a 20 percent discounted price for one week
3 "Warface Xbox 360 Edition" requires an Xbox Live Gold membership and Xbox 360 (each sold separately).
To receive in-game incentives to experience a broader swatch of the game more quickly, please respond with you gamertag and we will update your account.
Read more details on Xbox Wire here: http://news.xbox.com/2014/05/games-warface-content-update
To download media assets, please visit: http://news.xbox.com/media/?Category=xbox-360-games&SubCategory=warface
World of Tanks: Xbox 360 Edition to Be Updated With Soviet Steel and Combat Ready Starter Pack
Largest tank release to date and special retail package on the way.
Wargaming announced details for its upcoming Soviet Steel update for World of Tanks: Xbox 360 Edition, as well as information on the Combat Ready Starter Pack that will offer players a tremendous value and exclusive items for the console free-to-play title.
Representing the largest single content update so far for the title, the Soviet Steel, slated to go live on June 3rd, will enrich the game's roster with 29 iconic USSR tank destroyers, light, medium, and heavy tanks, bringing the in-game vehicle total to over 150. The intimidating IS-3; a brutal close quarters and urban combat icon, the ISU-152; a high tier tank destroyer, and more will clash on two new battlegrounds—Komarin and Ensk.
For more information on the Soviet Steel update, visit:
For more information about World of Tanks: Xbox 360 Edition and to create a free account, please visit:
Work Out with Friends through Skype
Sticking to your workout routine is always easier when you have someone else to motivate you. With the recent Skype* for Xbox One Snap upgrade, you and your workout buddy can train together with Jillian Michaels, Tracy Anderson, Tony Horton of P90X®, Shaun T of INSANITY® and more. Just Snap a Skype video or voice call into your Xbox Fitness app, and you're ready to break a sweat with your friends, no matter where they are.
For more information visit the Xbox Wire.
"Forza Motorsport 5″ Car Pass Expanded; Now Includes 90 Next-Gen Cars
Turn 10 Studios released a letter to fans from Community Manager Brian Ekberg, announcing two additional monthly car packs will release in "Forza Motorsport 5" in June and July. The extension will also apply to Car Pass owners, who will now receive eight total DLC car packs, and brings a total of more than 90 cars to Car Pass owners at no additional cost.
Read the entirety of Brian's letter here  and check out more news and updates from the world of "Forza" on the official Forza Motorsport website.
Remedy Gives Fans a Sneak Peek at "Quantum Break" Before its Major Unveil at gamescom
Launching in 2015, "Quantum Break" will deliver an unprecedented fusion of cinematic gameplay and high-quality, live-action storytelling 
Remedy Entertainment, the critically-acclaimed creators of "Max Payne" and "Alan Wake," will showcase "Quantum Break's" signature, time-amplified gameplay for the very first time in August at Europe's largest gaming show, gamescom. To give fans a sneak peek at what they can expect later this summer, Remedy Entertainment released a new "Quantum Break" video narrated by Creative Director Sam Lake that provides new story details and never-before-seen footage from the game.
New "Quantum Break" screenshots can be accessed on Xbox Wire.
Powerstar Golf Gets Bigger (and Free-er)
If you've been waiting to try out "Powerstar Golf" on Xbox One, now is the perfect time: It's received a big new update featuring a new course, new achievements, and a new Free Trial mode for all you newcomers.
Try it for Free
If you've played "Killer Instinct" on Xbox One, then you might be familiar with how the Free Trial system works. You can download "Powerstar Golf" for free and play a series of free events with one character. It includes a training event, as well as two different events that sample a hole from each of the game's five courses.
New Course
For those of you who already have the full version of "Powerstar Golf," the update includes new free course: Coyote Canyon.
What makes Coyote Canyon cool, aside from its scenic desert locale, is the new shortcut feature. Skilled players who can make blind shots over large rocks, technical drives between crevasses, and trick shots off stones have some amazing opportunities. Rack up some Double Eagles and earn some of the new Achievements that come with the Coyote Canyon course.
The update for "Powerstar Golf" is available now. If you've never played it, now's your chance to try it for free!