News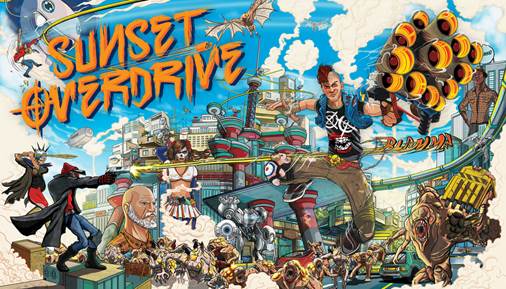 Published on October 24th, 2014 | by admin
Xbox Newsbeat – 24/10/2014
Sunset Overdrive Launch Trailer and "Week of Explosions" Ignite the Awesomepocalypse
The Awesomepocalypse is nigh
BOOM. Are you ready? The Awesomepocalypse is nigh and the mutant-infested open world of Sunset Overdrive is almost here, with hyper-agility, over-the-top weaponry and factions to boot. Xbox and Insomniac Games invite you to dive in deep with a launch trailer that was released this week, giving fans a final sneak peek at the game that rewrites the rules of traditional shooters and delivers an explosive, irreverent, stylish, and totally unique adventure exclusively to Xbox One starting Oct. 30: http://youtu.be/W5ddpEO1CK4. Eager to whet your appetite with more explosive Sunset Overdrive videos? Stop, drop and scroll down some more to check out the "Week of Explosions" which kicked off this week.
Xbox and YouTube Stars Celebrate Launch with "Week of Explosions"
Have you ever seen a crazy explosion in a video game and thought, "wouldn't it be cool to see that in real life?" Well, Xbox and Insomniac Games fans, daydream no longer. The Xbox marketing team drank a little too much Overcharge Delirium XT, and are teaming up with Discovery Digital Networks' SourceFed, SourceFedNERD, RatedRR and The Vloggity to launch "Week of Explosions": a series of videos featuring your favourite YouTube stars exploding a variety of real-life objects inspired by Sunset Overdrive, from cans of Overcharge to TNTeddies to a massive Fizzie parade balloon or a full-size Mutant Transportation Vehicle filled with terrifying mutants. Check out the first one HERE.
For the full launch trailer and to keep updated on the week of explosions, please visit the Xbox Wire.
Halo Nightfall trailer and HaloFest Livestream, November 8-11
Bringing you new and exciting ways to watch TV and interact with the Xbox Live gaming community 
On Nov. 11, the next step in the Halo journey begins with the release of Halo: The Master Chief Collection and Halo: Nightfall. In the days prior, Microsoft and 343 Industries invite fans to join the celebration as they broadcast special sneak peeks, interviews and exclusive gameplay to the world on Xbox Live, Xbox.com and Twitch – including the first look at the Halo 5: Guardians Multiplayer Beta and the world premiere of the first episode of Halo: Nightfall.
HaloFest: A Celebration Fit for a Spartan Halo: The Master Chief Collection is Microsoft and 343 Industries' tribute to long-time fans, the culmination of more than 13 years of storytelling, adventure and gameplay. For the first HaloFest, 343 built a living museum of Halo history, but this time, the history is encapsulated in its purest form, the Master Chief's epic saga. So this year, in celebration of those memories and the future that lies ahead, Halo will take over the Avalon Theatre in Los Angeles on Nov. 10, the day before Halo: The Master Chief Collection arrives worldwide.  Fans all over the world are invited to join the festivities via a live broadcast on Xbox Live, Xbox.com and Twitch, beginning at 8p.m. PT. (3p.m. AEST Tuesday 11th November) Tune in to the HaloFest Livestream to see:
First look at Halo 5: Guardians
World premiere of Halo: Nightfall
Interviews with 343 Industries and more
The global Halo Tournament
Halo: Nightfall Trailer Debut
Can't wait for HaloFest? Check out the new Halo: Nightfall trailer above for a sneak peek at the live-action series. Led by world class talent, including executive producer Ridley Scott, Scott Free TV President David Zucker, and award-winning director Sergio Mimica-Gezzan, Halo: Nightfall will take full advantage of Xbox One's rich interactivity, connecting the games and the series in innovative new ways. The next chapter in your Halo journey begins soon, and you can get ready by pre-ordering and pre-downloading Halo: The Master Chief Collection today. Be sure to tune in, beginning with the tournament on Nov. 8-9, followed by the HaloFest broadcast at 8 p.m. PT on Nov. 10 (3p.m. AEST Tuesday 11th November)! Enlist today.
For the full Halo Nightfall trailer, information around HaloFest and everything else Halo, please visit the Xbox Wire.
Xbox One November System Update: Personalisation and SmartGlass Features Now in Preview
Bringing you new and exciting ways to your Xbox One profile and interact with the Xbox Live gaming community 
We're bringing you new and exciting ways to watch TV and interact with the Xbox Live gaming community in this month's Xbox One system update preview. This week, we will begin rolling out a ton of new features to members of the Xbox One preview program. We've got the full breakdown of features listed for you right here. Show Who You Are – Some of the most requested features being released this month include the ability to customize your Xbox One background and showcase and share some of your favourite achievements and game clips.
Custom Backgrounds – The #1 fan-requested feature is making its initial debut for preview members. For the first time, each account on your Xbox One can have a customized background.  You can choose a custom colour or achievement art as your background on Xbox One, with more customization options coming down the road.
Gamer Profile – You can now share your location and bio as part of your profile. You can set these options on your Xbox One console and use Xbox One SmartGlass to browse to other people's profiles and check out their showcase items. Additionally, you can now select a set of showcase items that are displayed when other gamers look at your profile on an Xbox One console. You can use Xbox One SmartGlass or Xbox One console to add or remove up to six game clips or achievements that will be displayed in a carousel format.
Tweet about your Favourite Game Clips – You can now share your favourite Xbox One game clips with your followers on Twitter. Use the Share button on any game clip you have created and select Twitter to compose the Tweet.
For more information the latest update and everything Xbox, please visit the Xbox Wire.
Five Reasons We're Excited for Fantasia: Music Evolved
Bright, colourful, musical, multiplayer, rhythm party game experience we're really excited for. 
One of the most enjoyable things about showing friends your Xbox One is giving them a look at something they've never seen before. Fantasia: Music Evolved is that never-before-seen thing. It's a bright, colourful, musical, multiplayer, rhythm party game experience we're really excited for. And here's why: 
It's a unique Kinect experience.
Fantasia: Music Evolved is a completely new way to play a video game. Using the power of Kinect, players embody the character and spirit of the Sorcerer's Apprentice from the 1940 Disney classic Fantasia. Believe us when we say you've never experienced a game quite like this before. 
The set list is freaking amazing.
Pop icons like Lady Gaga, Nicki Minaj, and Lorde join up with indie sensations Fun, Kimbra, and The Flaming Lips… who meet up with classical gods Mozart, Tchaikovsky, and Bach. And that only scratches the surface. If this game's soundtrack was your phone's playlist, you would have the best taste ever.
A new party game… finally!
It's been a while since a new party game IP has come around, and we're really excited about it. When it comes to music-based party games, Fantasia: Music Evolved developer Harmonix's track record is flawless. They pretty much defined the genre, so it's exciting to see a new game from this team.
Even the hub worlds are awesome.
The hub realms in Fantasia: Music Evolved are where the story happens. As you play more songs and explore new areas, you transform the hub realms from drab, lifeless zones into vibrant, music-filled environments. The art and colour and music combine to make some incredible audio visual art onscreen.
As soon as you play it, you'll get it.
We can keep telling you how awesome Fantasia: Music Evolved is, and we can even show you video of it – but because this game is so unique and tactile, you really have to play it to fully appreciate its beauty and depth. Five out of five rhythm game doctors recommend doing so as soon as possible.
Fantasia: Music Evolved is available now on Xbox One and Xbox 360, just in time for any and all holiday parties you might have!
For more information, news and media assets, please visit the Xbox Wire.