News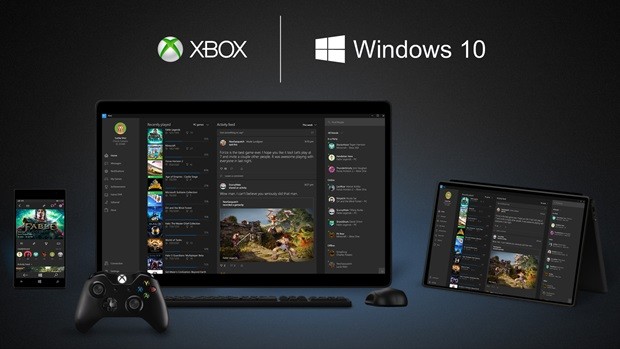 Published on January 23rd, 2015 | by Admin
Xbox Newsbeat 23 January 2015
Phil Spencer Unveils New Experiences for Xbox One and Windows 10 Gamers
Even more ways to play your favourites games with friends
Millions of people use Windows every day, and they spend countless hours playing all kinds of games – from World of Warcraft and League of Legends to Minecraft and Minesweeper – on a variety of devices, whether they are PCs, laptops, tablets, or phones. Gaming with Xbox has always been inherently personal and social – your games, your friends, your triumphs, your stories. But moving from your console to your PC or phone is a challenge. We saw an opportunity to bring your gaming networks on the console and PC together. Most commonly, the game you play on Xbox doesn't allow for multiplayer play with someone on the PC. And your gaming legacy only lives on one device or the other. That's about to change…
Let's take a closer look at what this means for gamers. Here are some highlights of the news announced today at the Windows 10 media briefing.
The Xbox App. Whether you only game on the PC, the console or both, the Xbox app brings together the most important aspects of your gaming life: Games, Friends, Messages, Activity Feed, your gaming legacy with Achievements, and much more.
Xbox Live and multiplayer across devices. Xbox Live is social, interactive, and seamlessly integrated directly into Windows 10, bringing gamers the experiences they love across devices, like multiplayer gaming on Windows 10 against players on an Xbox One, and messaging and chat with friends. And developers will get full access to the Xbox Live API, making it easier to create more powerful gaming scenarios across devices.
Game Streaming. Thanks to the deep integration of Xbox on Windows 10, games on Xbox One can be streamed through your home network to your Windows 10 PC or tablet, anywhere in your house. Xbox One gamers will now be able to play many of their favourite console games on their PC. And many Xbox One accessories will work interchangeably on the console and PC (with more on the way), so you can customize your experience in whatever way you see fit.
DirectX 12. We've enhanced our graphics technology to squeeze every ounce of performance out of your supported hardware and open up a new wave of innovation for high-end graphics. Delivering greater complexity and detail on your current PC, games authored or updated for DirectX 12 are able to run faster and have richer visuals. And this technology is already in the hands of developers today. The engines used to power hundreds of games are implementing DirectX 12, including Unreal Engine 4 from Epic and, as we announced today, Unity.
Game DVR. On Xbox One, one of the most popular features used by gamers is Game DVR, which gives simple access to recording, editing, and sharing out your most epic gaming moments. It's not easy or consistent to do that for PC games today. We're bringing this beloved feature to Windows 10, now accessible by simply pressing Windows+G. With the games you love playing – whether on Xbox Live, Steam, or other services – you can record, edit, and share game clips with all your social networks.
Fable Legends. Today we announced that we are bringing Fable Legends to Windows 10 PCs, day-and-date with the Xbox One version in 2015.  This means Fable fans running Windows 10 will be able to play against their fellow gamers on Xbox One. It's the same game, in the same world, on the same map. Fable Legends is just the first of the major game franchises from Microsoft Studios coming to Windows 10 and we will have more to share in the coming months.
In the next week, anyone will be able to download the Windows 10 Tech Preview to begin interacting with an early version of the Xbox app. We'll share a video walkthrough of the app in the coming weeks so you can have a closer look at the initial features available to gamers.
Now, while Xbox is coming to Windows, Windows 10 is also coming to Xbox One. As you know, Xbox One runs on Windows today for its app environment. Later this year we'll update to Windows 10 to enable seamless interaction with PC gamers and to give developers who want to extend their applications to the television an easy path to do so.
Today marks a new era in gaming for Microsoft, and we're looking forward to sharing more about what Windows 10 means to Xbox One at Game Developers Conference in March.
For more information including a video preview and media assets, visit Xbox Wire.
New Assets and Release Details for "Ori and the Blind Forest," "ScreamRide" and "State of Decay: Year-One Survival Edition"
The latest additions to the Xbox One's stellar portfolio of exclusive games in 2015
This week, Microsoft announced new pricing and launch date details for "Ori and the Blind Forest" and "State of Decay: Year-One Survival Edition." Head on over to Xbox Wire for new assets from these titles and "ScreamRide," the latest three additions to the platform's stellar portfolio of exclusive games in 2015. Whether you love open-world survival, beautiful platforming or creation paired with destruction, Xbox is the best place to play.
This autumn, get ready to:
Join Ori in solving the mysteries of a dying forest while escaping the clutches of Kuro, the dark owl in "Ori and the Blind Forest" launching on Xbox One and PC on Mar. 11 for $26.95 AUD
Live out your zombie-survival-fantasy in "State of Decay: Year-One Survival Edition" launching on Xbox One and PC on Apr. 30 in Australia for $29.95 AUD
Create, share, and destroy extreme rides in "ScreamRide" starting on Mar. 5 in Australia for $49.95 AUD on Xbox One and Xbox 360
For more information including fact sheets and new assets, visit Xbox Wire. For further inquiries, please reach out to the below contacts.
* To qualify for the discount, players must have purchased the Xbox 360 base game, "State of Decay," and have the same active Xbox Live account when "State of Decay: Year-One Survival Edition" becomes available for purchase on Xbox One.
Xbox One and Windows 10 Gamers Can Play Together in Fable Legends
Nothing better than getting your heart racing to start the New Year
The next instalment of Lionhead Studios' award-winning Fable series, Fable Legends, is coming to Xbox One and Windows 10 this year, bringing players back to the epic fantasy world of Albion for more adventure, exploration, and monster-slaying. And this time, you're not alone: You can play Fable Legends with up to four of your friends online, across both platforms. That's right: Whether you're playing on your Xbox One or on the home PC, you can journey across Albion together as the most heroic band of adventurers the land has ever seen, or go it alone as the villain and command a vast army of minions in real-time. Check out the brand-new video above for more details from the team at Lionhead, and get ready to live out some truly amazing tales when Fable Legends debuts later this year.  Now's also a good time to begin contemplating which platform to play on and which character to play as – are you a hero, or a villain? Remember, in Fable Legends it's either all for one or one takes all.
For a preview video, information and media assets, visit Xbox Wire.
Calling all Sunset Overdrive Overachievers: New Achievements and Savings
Nothing better than getting your heart racing to start the New Year
Like all important life lessons taught in video games, Sunset Overdrive strives to provide a deeper connection to fans by offering a meaningful and enriching – ah who are we kidding? We really just want to challenge players to have more fun while air dashing all over Sunset City and sowing mayhem with the TNTeddy. To help and reward you intrepid fun-seeking, gamerscore and achievement hunters, Insomniac Games has upped the ante announcing today that they have added three new Buck National themed challenges with each achievement worth 25 gamerscore points. See below for more details on these challenges and achievements and stay tuned for more new achievements in the coming months and the next explosive new add-on pack soon.
Hardcore!: Buck National vs The Apocalypse
Beat the score of 600,000 on the Challenge "Buck's National vs The Apocalypse."
Hardcore!: Buck Strikes Back
Beat the score of 564,500 on the Challenge "Buck's Strikes Back."
Hardcore!: Buck Stops Here
Beat the score of 703,700 on the Challenge "Buck's Stops Here."
And for Xbox Live Gold Members who haven't jumped feet first into the wonderfully chaotic world of Sunset Overdrive there's no better time to join the party than right now. Starting today, Sunset Overdrive is available with 40% off, for a limited time on the Xbox Game Store.
For more information and all the latest Sunset Overdrive news, visit Xbox Wire.