News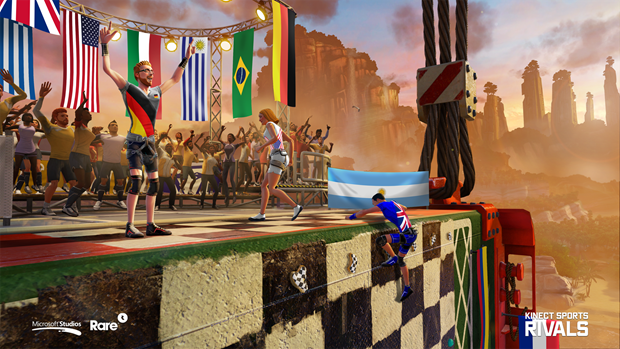 Published on June 27th, 2014 | by admin
Xbox Newsbeat 23-27 June
July Games with Gold: Celebrate More Great Games for Xbox One and Xbox 360
In the mood for a little action this July? How about a little salsa? What about … blocks? If you answered "yes" to any of those questions, we've got some good news for you: Games with Gold has you covered with three fantastic titles this month for Xbox One and Xbox 360. As usual, all games are available only for a limited time*, as part of the Games with Gold program, so jump on them while you can!
Coming July 2, "Guacamelee! Super Turbo Championship Edition" is a challenging brawler/platformer, arriving via the ID@Xbox self-publishing program for Xbox One. You play Juan Aguacate, a masked Mexican wrestler on a quest to save the President's daughter from the evil, skeletal Carlos Calaca – you'll laugh, you'll cry, you'll elbow-drop jaguars.
Available July 1-15, we have "Gotham City Impostors," a multiplayer, first-person shooter based on DC Comics' Batman universe. Here, two teams of six players face off against each other using a variety of Batman- and Joker-themed weapons in good ol' deathmatches. Raucous fun, and plenty of it to be had for fans of blowin' stuff up.
For more information visit the Xbox Wire.
Xbox One to Offer Largest and Most Critically Acclaimed Line Up of Games for Holiday 2014
It's been nearly two weeks since E3 2014 ended, and the industry has reflected on the upcoming games fans can look forward to, including a great 2014 for Xbox One fans. With nine games coming exclusively to Xbox One by this holiday season and others featuring content coming first to Xbox One, there's no better time to be an Xbox One owner. The gaming press agreed, rewarding Xbox One's 2014 exclusive games lineup with more than 60 nominations and 25 award wins to date, including seven nominations for the prestigious Game Critics Best of E3 2014 Awards, leading the industry for 2014 games.
"Congratulations to the creators who are receiving broad acclaim for the games shown at E3," said Phil Spencer, Head of Xbox. "We saw an incredible display of games at E3 from across the industry and we're thrilled gamers will have such a wide selection available this year on Xbox One, including Halo: The Master Chief Collection, Sunset Overdrive, Forza Horizon 2, Ori and the Blind Forest. Xbox One is the only place you can play these games along with creative independent titles and blockbusters such as Assassin's Creed Unity, Call of Duty: Advanced Warfare, Destiny, Evolve, Grand Theft Auto V, and dozens more – making gaming on Xbox One unmatched this holiday."
The number one pre-ordered title on many retailers lists following E3 is the experience that GameSpot says is "shaping up to be a real treat for Halo fans." For the first time, Xbox fans will be able to experience Halo on Xbox One this fall. Offering the complete story of the Master Chief (Halo: Combat Evolved Anniversary, Halo 2 Anniversary, Halo 3 and Halo 4) on one console for the first time ever, Halo: The Master Chief Collection is also packed with more than 100 multiplayer maps and will feature single-player playlists curated by developer 343 Industries.
The most awarded Xbox One exclusive of 2014 was undoubtedly Insomniac Games' Sunset Overdrive, which wowed press and gamers alike with its unique blend of highly-stylized visuals, frenetic gameplay, and over-the-top arsenal. Destructoid gave Sunset Overdrive its E3 award for "Best Xbox Exclusive" and called it "absolutely stunning," while The Nerdist said that it "may pan out to be Insomniac's best work yet." Releasing on October 30, Sunset Overdrive is the most-awarded Xbox One exclusive to date with more than 20 nominations and a dozen wins.
For more information visit the Xbox Wire.
11 Semi-Finalists Head to San Diego for Kinect Sports Rivals World Championship
For the past three months, players around the world have gone head-to-head online in the first ever global motion-sports competition, the "Kinect Sports Rivals World Championship." Now, 11 skilled semi-finalists have played their way to the top, and will be flown to California for a live, in-person championship during San Diego Comic-Con to battle for their country's glory and the grand prize. The final championship will take place in the Xbox Gamers Lounge at the Manchester Grand Hyatt San Diego on Saturday, July 26 between 11:00 a.m. – 8:00 p.m. PDT.
The grand prize winner at San Diego Comic-Con will be awarded $10,000 in cash, plus the trip of a lifetime for two to one of four amazing destinations: a water sports adventure in Bora Bora, walking the Great Wall of China, trekking to Machu Picchu or skiing the Swiss Alps. Additional prizes include:
2nd Place: USD $5,000
3rd Place: USD $2,500
4th Place: USD $1,000
5th – 11th Place: USD $500 each
From Australia the "Kinect Sports Rivals World Championship" semi-finalists include:
Alex Vlas 
Country: Australia
Gamertag: AlexVlas
How long have you been gaming? I started playing games when I was six. The first day I started playing computer games, I actually forgot to go home and my mom had to pick me up later that night. I can still remember the walk back home, all I could think is that I wanted more. I wanted to be the best.
What do you like most about "Kinect Sports Rivals?" "Kinect Sports Rivals" is my first complete motion game and I am amazed by the accuracy it has in capturing every movement. I love Wake Racing and enjoy playing it for hours.
What was the hardest thing about securing your winning spot in the competition? Bowling. I tried to get the perfect 300 for a very long while and was not able to get it. Hopefully, I will be able to get it at the San Diego finals.
What drives you to win this competition? Well, as mentioned before, I have been a gamer all my life and tried winning all sorts of tournaments, but never made it out of the national qualifiers, always got 2nd place. This is my first, and probably last, try at winning an international championship. I will give it everything I have and more. I did not sleep at all the last night of the qualifiers and I will continue with this level of dedication until the end.
Follow Major Nelson on Twitter for updates from San Diego Comic-Con and the "Kinect Sports Rivals World Championship."