News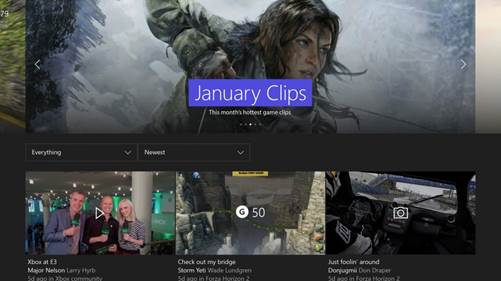 Published on January 22nd, 2016 | by admin
Xbox Newsbeat 22/01/2016
New Features Arrive on Xbox One Preview and Xbox Beta App
Coming in February for all users
In November, we transformed Xbox One to make it the fastest and most social Xbox experience ever. We continue to evolve the Xbox experience based on your feedback and I'm excited to announce the first of a set of new features releasing in 2016. Rolling out to the Xbox One Preview audience now, and to Windows 10 PC & mobile Xbox Beta app members next week, are a host of updates. This month, we're focused on continuing to improve social features to help you stay connected to the Xbox Live community across console and PC, while bringing these experiences closer together.
Brand new experiences and updates which will start to rollout to Xbox One Preview:
See who's in a Party:Xbox One Preview participants will be able to see who's in a Party before joining. When you view the profile of a friend who is in a Party in the guide, you will now be able to see who else they're playing with. Click the 'Chat' button which appears immediately below the user to jump in and see who is in the Party.
Gamerscore Leaderboard: In Xbox One Preview, go to the Achievements section of your profile by clicking 'View Achievements' through the sign-in tab of the guide to check out the revived Gamerscore Leaderboard. Through the Gamerscore Leaderboard, see where you stand relative to your friends by comparing total gamerscore, as well as biggest gains over a rolling 30-day period. Click on the Gamerscore Leaderboard to see the full list of all your friends.
To see the full list of new additions to Xbox One and the Xbox App, please visit the Xbox Wire.
Here's What's in Store for Xbox One Backward Compatibility
9 more titles added, including The Witcher 2: Assassins of Kings
Since we kicked off Xbox One Backward Compatibility in November, we've been extremely happy with the response and engagement. Fan feedback is essential in shaping the Xbox experience, and it was integral in making Xbox One Backward Compatibility a reality. To date, millions of your fellow Xbox gamers around the world have already logged more than 21 million hours playing Xbox One Backward Compatibility games – and we're continuing to listen.
Based on your feedback, the Xbox Engineering team will start to pilot a new way to launch Xbox One Backward Compatibility titles. Starting today, we'll release titles as they become available, rather than a set monthly launch date. What this means for you is that you won't have to wait to find out the latest titles; we'll release whatever is available, when they're available, once each title has received the engineering and publisher stamp of approval.
Also, we'll be creating a dedicated page for Xbox One Backward Compatibility on Xbox Wire –http://news.xbox.com/BackwardCompatibility. Here, you'll find content such as roundups of Xbox One Backward Compatibility titles recently released, as well as spotlight stories on popular titles added to the program. You'll also still be able to find the full list of titles in our catalogue at Xbox.com/BackCompat and MajorNelson.com.
We hope these changes give you even more opportunity to relive some of your favourite Xbox 360 titles on Xbox One. As always, we look forward to hearing your feedback.
To view the list of new additions, please visit the Xbox Wire, 
Take Back New York with the Xbox One Tom Clancy's The Division Bundle
Includes a 1TB DD and a digital copy of The Division
This week, we were pleased to announce the Xbox One Tom Clancy's The Division Bundle – the ultimate next-gen experience that brings the RPG into a modern military setting. The bundle features a 1TB hard drive, giving you added space to play and store more games than ever, and a full-game download of Tom Clancy's The Division.
Tom Clancy's The Division takes place weeks after a devastating pandemic sweeps through New York City on Black Friday. One by one, basic services fail and in only days, without food or water, society collapses into chaos. The Division, an autonomous unit of tactical agents leading seemingly ordinary lives among us, is activated to save society. In this immersive online open world action RPG, discover a hostile and dynamic environment where exploration and player progression are essential. Team up with other players to investigate the sources of the virus and reclaim the city from the overwhelming turmoil.
Take back New York City with the Xbox One Tom Clancy's The Division Bundle, available in Australia at participating retailers, including the Microsoft Store, on March 1 for $549 AUD RRP.
We're committed to delivering gamers the experiences and value they can't find on any other platform. With a 1TB hard drive coupled with the greatest games line-up in Xbox history, including Halo 5: Guardians, Tom Clancy's Rainbow Six Siege, Quantum Break and ReCore, there's something for everyone.
For any assets you may need, please visit the Xbox Wire.
Infinity's Armour Update Coming to Halo 5: Guardians Next Week
Free skins and maps for all!
Following on the heels of two free content releases, Halo 5: Guardians is kicking off the New Year with a bang. Infinity's Armoury delivers REQs straight from the arsenal of the most powerful space vessel in the UNSC fleet, along with new battlegrounds for both Arena and Warzone Assault. Equip weapons with intimate familiarity, as well as those completely alien. Outfit your Spartans with all-new armour sets and unlock weapon skins from worlds beyond the Halo Universe. Highlights include:
New Arena Map: Riptide – Scarred by wars both ancient and new, the Created have judged this planet to be in need to significant remediation and remodelling. Players will need to quickly learn the winding routes of steel and sand to excel in the weathered structures of Riptide.
New Warzone Assault Map: Urban – A dynamic combination of social engagement, reconstruction, and security operations was embarked on by the UNSC to disrupt nascent rebel movements, contain extremist politicians, and deny the Insurrection freedom of manoeuvre. Urban is one of Warzone Assault's open maps with many sightlines.
Halo 2 Battle Rifle – This Legendary weapon first made its appearance in Halo 2 and has now returned in Halo 5: Guardians as a Mythic loadout weapon REQ to deploy in Warzone. The Halo 2 Battle Rifle is also unlocked in Forge for those who want to recreate Halo 2 maps and take their nostalgia to the next level.
To see the new trailer and find out about everything the new update brings, please visit the Xbox Wire
Halo World Championships – Qualifier #3 Wrap-Up
Authority power through to the regional finals
After Citadel Gaming and Team Immunity's recent qualification, Qualifier Cup #3 hosted yet another opportunity for a team to pave their way to the ANZ Regional Finals in February. 24 teams signed up for this week's qualifier including notable favourites, Exile 5 (formerly Team Sidewinder) and Team 4NOT. In similar fashion to the first Qualifier Cup, underdogs emerged at the top, with new-faces Authority advancing to the finals. Authority's first appearance on stream came after they upset Exile5 in the Quarterfinals ensuring their Semifinals berth against Grudge Gaming. Making their strength known from the beginning, Authority dominated Plaza – Strongholds, 100-11. Two more convincing games followed, taking out Regret – Slayer 50-23 and Breakout on Gambol 5-1. In one of the shortest and most one-sided series' of the cup, Authority were immediately off to face Nuke and Pave in the Grand Final.
Carrying on the momentum from the previous series, Authority took Capture the Flag on Coliseum by storm, with a perfect 3-0 scoreline. Nuke and Pave weren't going down without a fight though, having a much closer game with Slayer on Empire. Both teams were desperately looking to create a gap on the scoreboard but it wasn't until after the halfway mark that Authority were able to pull away, netting their second map win in the series. Pinned against the wall, Nuke and Pave had to secure a win in Strongholds on The Rig in order to keep their qualification hopes alive.
However, Authority's in-your-face style and flawless rotations allowed them to cleanly claim victory in the third map, forging their place at the ANZ Regional Finals. Congratulations to Authority, who along with Citadel Gaming and Team Immunity, will be battling it out with the best ANZ Halo teams at the Regional Finals. Still looking for your chance to reach the Regional Finals? Qualifier #4 is only a week away and with two regional final spots up for grabs, it's going to be the most important one yet! Join today!