News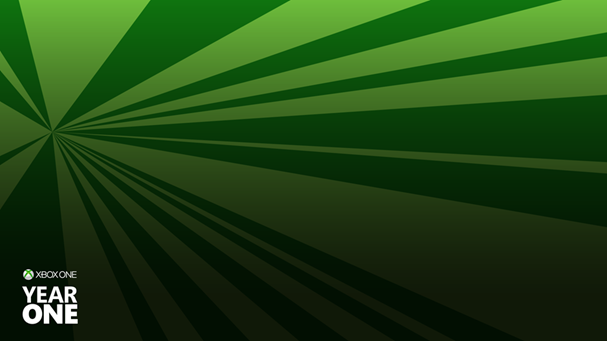 Published on November 21st, 2014 | by admin
Xbox Newsbeat 21/11/2014
Many Thanks for One Year With Xbox One
Celebrations kick off to celebrate the one year birthday of Xbox One
Saturday, November 22, marks the official one year anniversary of Xbox One. It's been an unbelievable year, but we never would have gotten to this point without our incredible fans. We want to thank you for being a part of an amazing 12 months by celebrating with you all weekend long. First, if you're in one of our original 13 markets and have opted in to receive Xbox Marketing emails*, you'll receive a personalized email detailing what you've accomplished since Xbox One launched last November. Here's a look at some of the community achievements made on Xbox One this past year:
Overall, the total community Gamerscore earned on Xbox One is more than 11 billion
Fans spent more than 2 billion hours playing games on Xbox One
The top four most popular achievements unlocked include:

Forza Motorsport 5: Welcome to Forza Motorsport
Titanfall: Build Yourself
Destiny: Ship Rite
Call of Duty: Ghosts: Spatial Awareness
But that's not all! To show our appreciation for your loyal and continued support for Xbox One, we'll have several gifts available for our fans, celebrating one year on Xbox One.
A Year One Gamer Picture
New Xbox One backgrounds: A special Year One background as well as an exclusive Day One background for those who unlocked the Day One achievement
A Year One background image for use on Twitter, your desktop, etc.
A free rental of "Halo 4: Forward Unto Dawn" (for a limited time)
A free rental of "Dragon Ball Z: Battle of the Gods" movie and a sampler pack of "Dragon Ball Z" TV episodes (for a limited time, available in the U.S. and Canada only)
And in addition, fans will be selected at random to receive a special gift from us!
To find out all about the full list of special gifts, and to find out more about the one year celebrations, please visit the Xbox Wire.
Xbox Australia Partners With DJR to Bring Marcos Ambrose Home to the V8 Supercars
Download the same livery and car Marcos will be driving in Forza Motorsport 5 starting this weekend
Today, Dick Johnson Racing (DJR) revealed that Xbox would assume the role of official 'wildcard' entry partner in the Sydney NRMA 500 V8 Supercars race this December.
Two-time V8 Supercars champion and Australian racing legend Marcos Ambrose – who is returning to Australia after eight years in the US NASCAR circuit to race the Sydney NRMA 500 season finale – appeared at a launch event this morning at Lakeside Park in Brisbane to unveil the Xbox Racing Ford Falcon FG he will drive on December 5-7.
Through partnerships with the Bathurst 1000 and other major global racing events, long term association with Mark Skaife as a racing advisor, and a decade-long investment in the award-winning Forza Motorsport franchise, Xbox has a long history and commitment to racing and racing fans.
The custom Xbox livery, revealed today at Lakeside on Ambrose's car, was created by Forza Motorsport developer Turn 10 Studios using the livery creation tools available to players of the game.
Beginning this weekend, racing and gaming fans alike now have the chance to trial a 2011 Ford Falcon FG, complete with Marcos Ambrose's return livery, in-game. This will be sent to all Forza Motorsport 5 players.
"The whole package has come together perfectly," commented Marcos Ambrose, who only arrived back in Australia from the final NASCAR race in the US a mere 48 hours before the launch. "I have been eager to get back in the V8 Supercar and I'm a gamer myself, so to head to Sydney with Xbox as our major partner is a fantastic outcome. Today is the first time the Xbox / DJR team have been together, so no doubt we will work really hard over the next week and arrive in Sydney ready to go." 
You can follow Marcos and the Xbox car at the Sydney NRMA 500 on December 5-7.
'Atari: Game Over' Now Available on Xbox
Highly anticipated documentary available to watch now on Xbox Video
Last summer, a team of excavators, archaeologists, filmmakers, and video game fans unearthed the industry's biggest secret. And today, exclusively on Xbox One and Xbox 360, you can see the story of the biggest buried not-quite-treasure in gaming: E.T.: The Extra-Terrestrial for the Atari 2600. The new documentary "Atari: Game Over" tells the real-life tale of one of video game's biggest urban legends: that, in 1983, Atari dumped thousands of unsold copies of the notoriously bad E.T. video game in a New Mexico landfill. Produced by Academy Award- and Emmy Award-winning producers Simon and Jonathan Chinn, and directed by comic book movie veteran Zak Penn, "Atari: Game Over" explores the video game industry's first bubble and collapse, as well as the golden age of video games, through the lens of the excavation.
Penn is perhaps best known for film-writing credits like "X2: X-Men United" and "Marvel's The Avengers," action-heavy films with big budgets. And while the actual dig site scene is described as "similar to an action scene, but on a very low budget," the making of a documentary was a different experience for the director.
To find out more Atari: Game Over, or to watch the trailer for it, please visit the Xbox Wire.
'Minecraft: Xbox One Edition' Now Available At Retail
We highlight some of ther fans most amazing creations to date
In celebration of the retail release of Minecraft: Xbox One Edition in North and South America today –rolling out to all regions globally by Dec. 1 – we've decided to share some of our favourite Xbox-inspired builds the talented community of 15 million Minecraft fans on Xbox Live have cooked up.  If you haven't downloaded Minecraft for Xbox One yet, pick up a copy at your local retailer for $29.95 AUD RRP and see if you can top these creations.
To see the full list of amazing creations, please visit the Xbox Wire.
Five Reasons We're Loving 'Dragon Age: Inquisition' So Far
Available now on Xbox One and Xbox 360
The five-year culmination of the Dragon Age trilogy is finally upon us with Dragon Age: Inquisition, and it's bringing the role-playing action in spades. If the notion of fighting dragons and other creatures of evil in this console generation's first giant role-playing game doesn't already have your blood pumping, here are five things that just might change that. Continuity is King
For the most part, Dragon Age: Origins and Dragon Age II were standalone stories, but the events in Dragon Age: Inquisition take those games' plots (and your actions in them) to their conclusions. If you've been playing the entire series, you'll come face-to-face with both returning characters, and the consequences of your actions. It's Freaking HUGE
We've marvelled at the enormous world of Dragon Age: Inquisition before, but it's hard to really grasp how huge it is until you play for yourself. A single region in Inquisition is as big as the entire map in Origins. You'll be 60, 80, or even 100 hours in, and will still be finding new places to explore!
To find out what our other favourite features are, or for any assets, please visit the Xbox Wire.
Crunchyroll App Rolls Out for Xbox One
Available now on Xbox One
Watch your favourite Anime titles including Naruto Shippuden, Sailor Moon, Sword Art Online, and One Piece in HD with Crunchyroll on Xbox One. Instantly view over 20,000 episodes of professionally subtitled Anime, Korean drama, and live-action titles in HD.
Enhance your Crunchyroll app experience with voice and gesture control via Kinect for Xbox One.
For any assets you may require, please visit the Xbox Wire.