News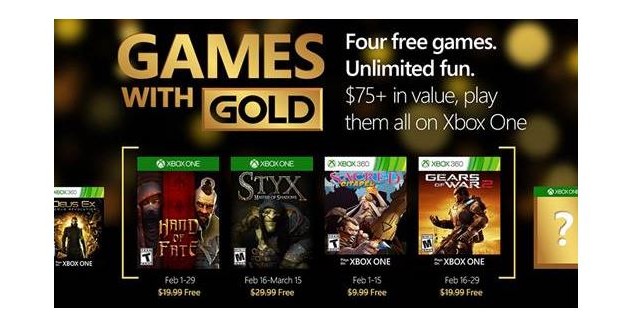 Published on January 29th, 2016 | by admin
Xbox Newsbeat 2/01/2016
February's Games with Gold are Here!
Coming to an Xbox near you
One of the nice things about Games with Gold is that it gives Xbox gamers a chance to play – totally for free – not only the biggest titles, but also the awesome indie stuff that they might have missed. In February, Xbox Live Gold members get a mix of both. On Xbox One gamers will be able to play the excellent action-RPG/deck builder Hand of Fate and the slick, stealth-action title Styx: Master of Shadows. On Xbox 360, gamers get the brawling action of Sacred Citadel, and the classic third-person shooter Gears of War 2. All four titles are playable on Xbox One thanks to backward compatibility.
As usual, all games are only available for a limited time, as part of the ongoing Games with Gold program, so don't let the post-holiday malaise slow you down. Get downloading!
Hand of Fate: Available from February 1-29 on Xbox One
Styx: Master of Shadows: Available from February 16-March 15 on Xbox One
Sacred Citadel: Available from February 1-15 on Xbox 360
Gears of War 2: Available from February 16-29 on Xbox 360
February is the perfect time to check out all kinds of good games, completely free thanks to Games with Gold. Check out the full details on our Games with Gold program, and make sure you get in on the action while you can!
* Titles are available as free downloads for a limited time, for qualifying paid Xbox Live Gold members in all markets where Xbox Live is available. Some regions may offer different titles depending on market availability. See Major Nelson's blog for additional details.
For all the latest Games with Gold titles and Xbox news, please visit the Xbox Wire.
Battling Through The Division's Apocalyptic Winter Wonderland
Closed beta now live
My time [Matt Cabral, Xbox Wire Contributor] with Tom Clancy's The Division began on West 24th Street in New York City's historic Chelsea neighbourhood. As a light snow fell, I passed rows of bundled Christmas trees ready to be sold to holiday revellers, a decorative mechanical Santa Clause ringing a bell, festive lights snaking around lamp posts, and two armed thugs looting a corpse in the middle of the street.
For anyone who's been following Ubisoft's upcoming online, open-world role-playing game, that latter element will come as little surprise. The Division's scary-real narrative unfolds shortly after a viral pandemic brings the city to its knees on the busiest shopping day of the year, Black Friday. While my preview's earliest moments wouldn't look out of place plastered on a holiday greeting card, the pair of looters quickly reminded me that Christmas is cancelled in The Division.
I was no tourist in town to see the big tree in Rockefeller Center, though – but rather, a sleeper agent that had been activated to help bring the city back from the brink. Regardless, the rich imagery and attention to detail on display immediately impresses. The authenticity of both the city and the season made me feel like I was in a living, breathing environment rather than a large-but-lifeless open world.
With my sightseeing out of the way, I took cover from the looters behind a nearby car. Shouldering an assault rifle from the game's immersive third-person perspective, I scored head shots on both targets, and earned 80 experience points for my efforts. The XP boost prompted me to pause the action and check my agent's various stats, skills, and abilities. In addition to the assault rifle, she was armed with a sidearm, shotgun, and grenades. She also had two empty ability slots in her tech and security trees, which I quickly filled with sticky bombs and a ballistic shield, respectively.
With the new tactical combat goodies equipped, I cautiously continued down the snow-covered street, pausing only to watch a large rat scurry past my feet. My ultimate destination was the city's main post office – where I was to establish a base of operations – but getting there was no walk in Central Park. Thankfully, two more agents joined me; The Division is best enjoyed as a co-op experience, after all, so the extra firepower was much appreciated.
Following a few moments of quiet, we came to another cluster of rioters and looters. The Division's low-level threats aren't especially tactical – but what they lack in military training, they make up for in firepower. Rather than running-and-gunning, I took full advantage of the game's cover-based mechanics to exploit their weaknesses. Utilizing the vault and cover inputs, I navigated a graveyard of abandoned vehicles to sneak up on them and deliver devastating melee blows with the butt of my shotgun. Of course, I can't take all the credit, as my two teammates' suppressing fire allowed me to get the jump on the goons.
Our next and final encounter was complicated by the The Division's dynamic weather system; as the snowfall significantly picked up, my visibility noticeably diminished. On top of that, we were being assaulted from all sides by a hostile group led by an "elite enemy." These named threats (ours went by "Poole") are, according to the in-game description that popped on my HUD, "The most dangerous enemies. They have even better gear and weapons, but can also drop some of the best loot."
With the inclement weather making precise shots difficult to land, I decided to test out those sticky bombs I'd equipped earlier. While my fellow agents worked together to whittle away Poole's shield and health meters, I used the explosives to thin the lesser threats. The sticky bombs, which are tossed into a targeted area before being detonated, are limited only by a cooldown timer. Stripping large chunks of health from multiple enemies simultaneously with the ability is a literal blast.
Our strategy mostly worked; after consuming several med-kits, we eliminated Poole and his men, clearing a safe path to the post office. With our trigger fingers still tingling, we entered the base with a fresh 690 experience, 34 credits, and 60 security wing supplies ready to be invested in our agents, weapons, and gear.
While the demo offered a taste of The Division's cover-based combat, co-op play, RPG-style customization, and snow-blanketed Big Apple, it only hinted at what's to come. We can't wait to continue taking back the city during the game's closed beta for Xbox One, now available.
For all the latest news around The Division for Xbox One, please visit the Xbox Wire.
Insomniac Games Announces Song of the Deep for Xbox One
Brian Hastings, Chief Creative Officer at Insomniac Games gives us the first look
"Don't Tell Your Daughters They Are Pretty," said the headline.
"Screw you," I thought to myself. "I'll tell my daughter whatever I want." I don't need some amateur psychologist blogger telling me how to be a parent.
But then I started noticing how often my daughter was complimented on her appearance and how that had become such a big part of her identity. When she told me about the female characters she liked in books and movies, she would always begin by telling me they were pretty.
It was good that she was happy with how she looked, but I didn't want that to be what she valued most in herself. She's artistic, smart, kind, funny and resilient. That's who she is. Those are the qualities I want her to appreciate in herself.
That got me thinking about games and the kind of heroines we create. Most of our female characters are sexy badasses. Now I happen to love a lot of those characters, and I have no problem with characters being sexy.
But I wondered if, like my daughter was doing, we sometimes saw the sexiness first and everything else second. At the time I was just starting to work on a new story and I wanted to make a protagonist whose heroism came only from the inside. One who was only heroic because of her character.
And that's how Merryn came to be.
Her journey in Song of the Deep is about courage and discovery in a haunting and lonely world. It's a journey of love and heartbreak. It's a story about who we are and what we care about. It's also about what it means to be heroic and how we sometimes lose sight of the best qualities about ourselves.
And if you don't care about any of that stuff, that's totally cool. You'll get to pilot a submarine through a beautiful and deadly undersea world that's full of challenging action and puzzles. There's a deep progression of abilities and upgrades that you'll need to master in order to survive. You'll explore a vast Metroidvania environment, both with your submarine and free-diving.
Our first priority is always to make games that are fun. This is a game made by gamers, for gamers. It's a game we love to play ourselves. But we also hope it's a world that pulls you in and entices you to explore its deeper mysteries. We hope it's a journey you will remember for a long time. And we hope that Merryn is a hero who reminds you of the best, and sometimes undervalued, qualities in yourself.
Song of the Deep launches on Xbox One in Winter of 2016. To keep abreast of the latest news, check out the Xbox Wire 
Rise of the Tomb Raider Debuts on Windows 10 Today
Looking better than ever
Late last year, Rise of the Tomb Raider continued the adventures of iconic treasure hunter Lara Croft on Xbox One and Xbox 360. The game was loved by fans and press alike, which is why we're so excited that Windows 10 gamers are now able to play the game for themselves. Available now for Windows 10 at the Windows Store, Rise of the Tomb Raider is looking better than ever thanks to a number of graphical improvements made possible by Windows 10. Even better, to celebrate the launch, the Windows Store is offering a 10% discount on the game and the Remnant Resistance Pack for free if you purchase by February 3, 2016. For more information on Rise of the Tomb Raider, please visit the Windows Experience Blog to read a post by from the Studio Head at developer Nixxes Software BV, or head over to the Windows Store to purchase and start downloading your copy on Windows 10.
For all the latest Rise of the Tomb Raider news, please visit the Xbox Wire 
Race to the Finish Line with the Alpinestars Car Pack for Forza Motorsport 6
Even more great cars to dive into
With the racing season set to kick into full gear during this weekend's Rolex 24 Hours of Daytona race, Forza fans now have a chance to get their own taste of endurance racing glory with the Alpinestars Car Pack for Forza Motorsport 6, available on Thursday, Jan. 28. Leading off the pack of seven cars is last year's 24 Hours of Daytona winner, the 2015 Ford #02 Chip Ganassi Racing Riley Mk XXVI Daytona Prototype. The prototype will be fielded in this weekend's race, which begins at 2 p.m. EST on Saturday, Jan. 30 and can be viewed live on Fox Sports 1 in the U.S.
The Alpinestars Car Pack features six additional cars, each with a unique pedigree all its own. From the 1990 Mercury #15 Whistler Radar Cougar XR-7 – also a competitor in Daytona 24 Hour events of years past – to the inimitable 2005 Pontiac Aztek (famous more for its fictional owner than its performance), this pack has something for every kind of car fan.
Forza Motorsport 6 is the only game where players can drive last year's Rolex 24 Hours of Daytona winner on the recently remodelled Daytona International Speedway. To celebrate this, beginning on Jan. 28, Forza Motorsport 6 players will be able to compete in a special Rivals mode featuring the Ford Daytona Prototype on the Daytona Sports Car Circuit for a chance to win amazing Alpinestars prizes. See the full rules for more information.
The Alpinestars Car Pack is included at no additional cost to owners of the Forza Motorsport 6 Car Pass, which brings a new set of seven cars each month for six months. That's 42 cars in total. If you don't have the Car Pass, the pack can be purchased separately. Cars can also be bought from the pack individually.
For a deeper look at the latest car pack, please visit the Xbox Wire.
Halo World Championships – Qualifier #4 Wrap-Up
Prime and Team Exile5 move on to regional finals
Qualifier Cup #4 was the final online opportunity for teams to cement their place at the HaloWC ANZ Regional Finals. Hosting two finals spots for competing teams, it was now or never for most hopeful Australian and New Zealand teams. Missing out narrowly in the previous qualifiers, both Prime and Team Exile5 grasped their chance for revenge, taking out 1st and 2nd places respectively.
Prime's road to the final was nothing less than impeccable, failing to drop a single map the entire way to the Final. Eliminating Swipe Right in the Quarterfinals 2-0 before moving onto the semis and dismantling Pulsate 3-0, Prime looked like a completely new squad in Qualifier Cup #4.
On the opposite side of the bracket, Team Exile5 were making their own moves to ensure their Final attendance. Defeating Get Gud 2-0, they followed up their victory in the Quarters by handily taking down No Remorse 3-0. Earning their own flawless streak, they moved onto the Finals, already securing their position at the Regional Finals alongside Prime.
Losing Slayz to connection issues, the Final match began with an unfortunate start for Prime, falling short on Map 1 due to their player deficit. Substituting in TJ Junior for Plaza – Slayer, Prime forged their comeback in the series, taking the win off the back of educated rotations and dazzling sniper usage. Prime proved to play off momentum effectively, stealing away a victory on Strongholds – Eden 100-88 before closing out the series with a dominant 5-2 Breakout win on Gambol.
Congratulations to Prime and Team Exile5 on their qualification into the HaloWC ANZ Regional Finals!
For more information and the latest Halo World Championship news, check out the ESL website.