News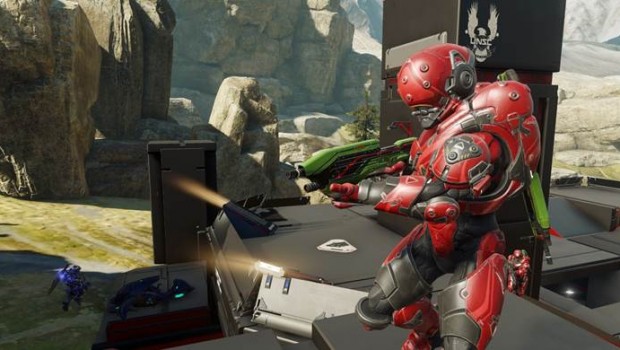 Published on November 20th, 2015 | by admin
Xbox Newsbeat – 20 November 2015
Halo 5: Guardians Battle of Shadow and Light Announcement
Free update for Halo 5: Guardians now available.
The next time players log on to Halo 5: Guardians, they will be prompted to download and install a mandatory content update, which will add the following all-new content:
Big Team Battle – 8v8 team combat comes to Halo 5: Guardians!
4 New Big Team Battle maps – Grab a group of friends, jump in a Warthog and duke it out on four new Big Team Battle canvases:
o   Deadlock
o   Basin
o   Guillotine
o   Recurve
48 New REQs – New weapons, weapon skins, armour, vehicles, player emblems, and the new "Shove It" assassination add even more variety to the Halo 5 multiplayer experience.
While the Big Team Battle playlist is now available to play, the new REQ content will take a bit of time to make their way into the Requisition System (REQ System), so expect to see them in 24 hours or less.
Visit Halo Waypoint for more details about all the new items that Battle of Shadow and Light includes, such as the Ultra Rare Shinobi armour, the Legendary Dying Star Light Rifle, the Shove-It assassination and much more.
343 Industries is hard at work creating more multiplayer content to keep players immersed in the action. Battle of Shadow and Light is just the first of many free updates being developed for Halo 5: Guardians; the highly-anticipated Forge mode drops next month, so stay tuned to Xbox Wire and Halo Waypoint for more information.
Halo World Championship Details
Compete against the very best around the world!
Earlier this year at gamescom, 343 Industries and Xbox announced the Halo World Championship (HaloWC), the biggest Halo esports competition in franchise history that is centred on the ultra-competitive Arena multiplayer mode of Halo 5: Guardians. We're excited to unveil new details, including when and where the tournament will take place, and an update on the crowd-fund assisted prize-pool.
HaloWC Prize Pool at $1.7 Million and Growing!
Xbox and 343 Industries originally announced a starting prize pool of $1 million for the Halo World Championship, with the potential to grow through crowd-funding via the all-new Requisition System (REQ System) of Halo 5: Guardians. Since launch, the prize pool has grown tremendously because of the Halo community, bringing the prize pool to $1.7 million and is growing daily!
Tournament Format
Partnering with MLG, ESL and Gfinity, the Halo World Championship consists of online and in-person live events that will take place in U.S. and Canada, Europe along with the Middle East and Africa, Greater Asia, Latin America, and Australia and New Zealand. Key dates include:
December 6, 2015 – Online Ladders Begin
December 19, 2015 to January 31, 2016 – Online Qualifiers and Regional In-Person Live Events
January 23, 2016 to February 21, 2016 – Regional Finals across North America, Europe, Latin America and Asia/Australia/New Zealand
March 1, 2016 to March 20, 2016 – Halo World Championship Prelims and Finals
Registration
Anyone who wants to learn more or register in the Halo World Championship should head over to the new Halo esports portal, Halo.gg. For esports fans, we'll be livestreaming everything from ladders, qualifiers, regionals and finals – be sure to tune-in to the Halo and Xbox Twitch channels! The stakes have never been higher in the world of Halo esports – maybe it's time to start practicing?
Check out the Xbox Wire for the full article from Mike Ybarra.
Xbox App on Windows 10: Facebook Friend Finder and Other Updates Available Today
See you on Xbox Live!
Those of you running Windows 10 on your PC or tablet may have noticed some exciting updates in the Xbox app over the past few days. Just like on Xbox One, regular updates inspired by fan feedback have been a cornerstone for the Xbox app on Windows 10. Your feedback through the Xbox beta app has been extremely valuable, and we've been listening. Today, you'll notice an upgraded social experience in the Xbox app as we're unifying your Xbox Live and Facebook communities with the release of the Facebook friend finder. This feature joins the recently launched Game DVR voice recording feature and improvements to the Xbox Store accessible through the Xbox app.
Here's an overview of the new experiences that you can now enjoy:
Facebook friend finder in the Xbox app and on Xbox.com: Inspired by a top requested fan feature, we're bringing two of your favourite social networks together – Xbox Live and Facebook – and making it easier than ever to find more people to play games and have fun with. In the Friends column on the right side of the Xbox app, look for the Facebook icon in the Suggested Friends area. Click it to link your Facebook account to your Xbox Live account and start seeing suggestions for Facebook friends who you can add on Xbox Live. Facebook friend finder can also be found in the Settings area of the Xbox app. 
As your friends link their Facebook accounts to their Xbox Live accounts, you'll see increasing numbers of Facebook friend suggestions, so be sure to spread the word. One easy way to do this: when you first link your Xbox Live account to your Facebook account in the Xbox app, take advantage of the "Share to Facebook" option which will generate an "I'm on Xbox" post on your Facebook timeline.
When your friends see your shared "I'm on Xbox" post on Facebook, they can click through and access the Facebook friend finder on Xbox.com, which also becomes available this week. In this way, web users on any platform and device can grow their Xbox Live network with Facebook friends as well. 
Record voiceover in your Game DVR clips on your PC: With today's Xbox app update running on the latest Windows 10 update, you can now plug in a headset and narrate your Windows 10 game clips with your own voice using Game bar and Game DVR hotkeys. To turn microphone recording on or off for a gaming session, press Win + Alt + M. Want to turn microphone recording on for all gaming sessions? Go to Game bar > Settings > Audio or Xbox app > Settings > Game DVR > Audio. And if you like personalizing your Game DVR hotkeys and want to customize the microphone recording hotkey, do it here: Game bar > Settings > Shortcuts or Xbox app > Settings > Game DVR > Keyboard shortcuts. 
Share your Windows Store game clips with your voiceover commentary with your friends on Xbox Live through the Xbox app, or share any of your game clips on the social network of your choice through your PC.
Record ANY game on your Windows 10 PC: The recent Windows 10 update also enables you to record game clips and capture screenshots for ALL games, including PC games where Game bar and Game DVR hotkeys didn't work earlier.
 Xbox Store section: The Store section in the Xbox app will now bring you into the Xbox Store – a launching point for browsing and searching for both Windows 10 and Xbox One games. The new interface allows you to see more content in the Store at a glance and brings you the latest crop of the most popular Windows 10 and Xbox One games, plus you can redeem Games with Gold games or get discounted games through Deals with Gold. Additional details on Xbox Store improvements that we tested recently in the Xbox beta app and have now officially released to the Xbox app can be found here.
We're grateful to our dedicated Xbox beta app and Windows Insider Program participants for taking the time to share valuable feedback on the Xbox app's new features before we implement them.
For more information be sure to visit the Xbox Wire.
The Planets of Star Wars Battlefront (…That Aren't Hoth)
May the Force be with you!
If you're a "Star Wars" fan, then you're likely excited for Star Wars Battlefront, EA and DICE's all-new multiplayer shooter based on the beloved film franchise. Most of the game's early footage and beta content has been focused on Hoth – the snowy, trench-lined planet that played a pivotal role in "The Empire Strikes Back." But there's a lot more to Battlefront than just snow: Check out some of the other planets you can explore in the fight between the Rebels and the Empire. 
Endor
The forest moon of Endor is a lush, foliage-heavy environment, made iconic in "Return of the Jedi." And while you won't be playing as the cuddly, fuzzy Ewoks, you can recreate epic fights between the Rebels and Empire in their home. The Ewok presence is felt in the treetop village, which offers snipers some pretty perfect vantage points. One of the coolest things about Endor is the lightning-fast speeder bikes: You can hop onto one and weave through the legs of an AT-ST walker as you shoot down enemy riders who are speeding through the forest. Many iconic locations from "Return of the Jedi" become the stages for your battles, like the shield generator that Han and Leia blew up in the film. 
Sullust
Sullust is a harsh, volcanic planet that "Star Wars" super-fans may be familiar with, but it's likely new to many of you out there. For reference, the planet's inhabitants – Sullustans, naturally – are those frog-faced aliens, most prominently seen as Lando's co-pilot Nien Nunb in the end of "Return of the Jedi." Home to an Imperial weapons factory, Sullust is the stage for Battlefront's aerial X-Wing vs TIE Fighter dogfights. But the battle doesn't stay in the air; players can drop down to the rocky, unforgiving surface to battle it out in different modes, inside and around the factory. Deadly Magma Troopers, Shadow Troopers, and heavy firepower make Sullust one ofBattlefront's more explosive planets. 
Tatooine
The home of Luke Skywalker, podracing, and Jabba the Hutt – not to mention one of the most iconic planets in the "Star Wars" universe – Tatooine has been featured in nearly every film of the saga. Heroes and Villains mode is a perfect opportunity to don the armour of Boba Fett, and hopefully not fall into a Sarlaac pit (although you can totally do that, and it's awesome). Massive Jawa sandcrawlers, harsh open deserts, Tusken raider villages, and rocky canyons make up the set pieces for Tatooine. 
Jakku
Another planet that may be unfamiliar to some, Jakku is actually the desert planet seen in the trailers for the upcoming film "Star Wars: The Force Awakens." Jakku marks the first downloadable content pack for Battlefront, available free for all players on December 8 – just a few short days before the film comes out. The Battle of Jakku offer glimpses into what happens between "Return of the Jedi" and "The Force Awakens." Beyond that, it's still pretty mysterious… but keep your eyes on Xbox Wire for more on Jakku in the coming weeks. 
Star Wars Battlefront is out now on Xbox One and Windows PC. Step into the shoes of your favourite heroes and villains – or join the Rebels or Empire to battle it out in game modes from eight to 40 players.
For further information, please visit the Xbox Wire.
Xbox Live Gold Members Can Play NBA 2K16 Free This Weekend only on Xbox One
Now that hoops season is well underway it's the perfect time to play some virtual ball.
We're excited to announce that all Xbox Live Gold members can enjoy the critically acclaimed NBA 2K16 for free this entire upcoming weekend with Xbox Live Gold's Free Play Days. Running from 4:00 AM AEDT Saturday, November 20 through 18:59 PM AEDT Monday, November 23, this allows Gold members in Xbox One markets to experience the excitement, drama and skills on display in NBA 2K16, including the new 2K Pro-Am game mode with fully customizable tournaments, in its entirety and for free. The game will also be on sale all week, so if you decide to purchase the game, you will be able to start again right where you left off.
NBA 2K16 does more than let you experience the modern NBA. It also lets you step onto the court with 12 new legendary teams, including some of the most epic squads from the past 15 years, including the '00-'01 Lakers or the '07-'08 Boston Celtics.
Demonstrating NBA 2K series' commitment to authenticity and innovation, 2K invited legendary filmmaker and master storyteller Spike Lee to direct, write and co-produce the NBA 2K16 MyCAREER experience. The result is NBA 2K16's most intense first-person narrative to date. Additionally, you will have the opportunity to manage your off days and earn bonus content through connections, endorsements and a live practice environment.
Take your MyPLAYER online in MyPARK, a massive multi-player playground where you can show off your game to the world in new live-streamed competitive events. Break ankles, drop dimes and create a street legacy at one of three newly enhanced parks.
During the week, you'll have the option to purchase the game online from the Xbox Store at a discount and continue playing. You will also get to keep your Gamerscore and achievements earned while playing, so draft your Xbox Live friends and practice that jump shot.
You can download NBA 2K16 by clicking on the Gold Member area on the home dashboard or downloading directly from the Xbox store, for more information please visit the Xbox Wire.
Minecraft Update Delivers Redstone, Rabbits, New Skins to Windows 10 and Pocket Edition
Happy Crafting!
Energize your worlds with the latest free update to Minecraft: Pocket Edition and the Minecraft: Windows 10 Edition beta. Now players in either of these versions can start making wonderful creations with basic redstone components, explore new desert temples, collect four types of cute, fluffy rabbits, spruce up dwellings with five new door types, and download new biome settler character skins and more. 
Redstone Circuits
The .13 update is sure to light up your life by delivering one of the most player-requested features for Windows 10 and Pocket Edition – redstone. Mining blocks of this very useful, rare material produces a substance called redstone dust. This dust can then be used to carry signals between objects and build some of the more advanced items in Minecraft. Players can make a wire out of redstone dust by placing it on blocks next to each other. By adding a redstone signal and components, players can create anything from doorbells to switchable lights to mob grinders to rollercoasters.
The .13 update brings the first of three groups of simple redstone items to the Minecraft: Windows 10 Edition beta and Pocket Edition including redstone wires, redstone torches, redstone lamps, levers, buttons, pressure plates, tripwire hooks, note blocks, trapped chests, detector rails and TNT. But don't worry- Minecrafters who've already mastered advanced redstone can look forward to advanced blocks like Pistons, Repeaters and others are planned in future updates with the final two groups of redstone functionality. 
Desert Temples and Rabbits
Redstone is a huge, much-awaited update, but we've also got icing to put on top of the cake! While exploring desert biomes, players may find mysterious desert temples emerging from the sands. Built from sandstone, these structures offer adventurous Minecrafters a chance at grabbing some valuable loot – provided they can make it out in one piece. Players will also now find six types of adorable, cuddly bunnies hopping around their Minecraft worlds. We've invested the most sophisticated in revolutionary Bunny AI Technology to ensure that, just like in real life, these skittish bundles of fur will help themselves to your crops when they are hungry. Cute, but destructive! 
Biome Settlers
The Biome Settler Pack I is also available now for purchase via the in-game marketplace – the first of a series of forest, tundra and desert biome-inspired skin packs, adds more than two dozen new character skins to the game. This new skin pack brings a slew of new settler characters like archers, hunters and brewers into the game, offering Minecrafters biome-themed skins they can use to role-play with their friends.
For more information, be sure to visit the Xbox Wire.