News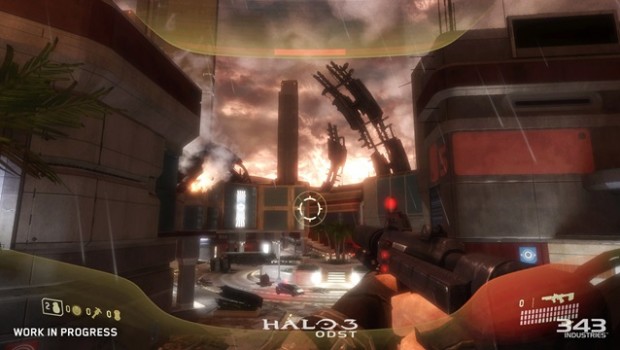 Published on March 20th, 2015 | by admin
Xbox Newsbeat – 20 March 2015
Halo: The Master Chief Collection Update 3.13.15
We want fans playing and enjoying this collection for years!
Xbox and 343i want to thank you for your support, patience and engaged feedback since the launch of Halo: The Master Chief Collection.
The most recent content update has normalised and improved matchmaking and the in-game experience for the majority of fans and the teams are continuing to work to improve that experience with the Master Chief Collection.
Another content update is coming in April (the teams are working on the server side to help improve the experience between updates), and more details will be provided closer to launch.  Xbox and 343i have an ongoing commitment to fans to make this experience the best it can be. The teams want fans playing and enjoying this collection for years, and many more improvements will be made to the experience in the coming months to support that goal.
Halo 3: ODST and Relic on the Way
The Halo 3: ODST campaign and the Halo 2: Anniversary multiplayer map of Relic are coming together to expand what Halo: The Master Chief Collection offers to fans.  Below you can see a little sneak peek of the latest progress. Additionally, internal tests and community teams have been running daily playtests on Relic to hammer on the map as much as possible. Further details and more information on launch dates will be coming soon.
To download a range of media assets and all the latest Xbox news, please visit the Xbox Wire.
State of Decay: Year-One Survival Edition
Launches worldwide on April 28th 
State of Decay: Year-One Survival Edition launches April 28th worldwide. The game brings the hit zombie survival-fantasy franchise to Xbox One and PC, delivered in beautifully re-mastered 1080p.  This edition will include both add-ons, "Breakdown" and "Lifeline," along with a new mission type, weapons, vehicles, and music.
Undead labs and P3 Studios have gone to great lengths to improve the game mechanics, animations and overall immersion so that gamers are given the opportunity to live out their zombie-survival-fantasies. This is just the first next-gen step for the SoD franchise.
SoD owners will receive an exclusive new character in State of Decay: Year One Survival Edition; Gurubani Kaur. Gurubani is an Indian-born American who has two very unique antique Sikh swords from her grandfather and a permanently-supressed gun, an old WWII rifle.
SoD Xbox 360 and Steam owners will also receive a 33% discount on the digital version of State of Decay: Year-One Survival Edition, from launch through June 30, 2015.
To view the full trailer and keep an eye out for new updates, check out the Xbox Wire.
ID@Xbox Spotlight: Cuphead Blends Classic Animation with Classic Gaming
An old-school, skill-testing run-and-gun game at heart
Cuphead is an awesomely quirky little game, in all the best ways. It's stylish and funny, and it complements its great art style with some intensely fast-paced gameplay. If those bros from Contra went back in time, met Max Fleischer, and teamed up to make an Xbox game, it would probably be Cuphead.
Embodying classic cartoons of the 1930s, Cuphead is the story of two friends trying to pay back a debt to the devil. To do so, they have to travel through farms with enormous angry murderous carrots, over the high seas, and into the amusingly upbeat and melodic bowels of Hell.
The demo offered at the ID@Xbox event at this year's Game Developers Conference did not coddle us, but rather threw us straight into a couple of boss battles, showcasing just how wacky, action-packed, and challenging Cuphead can be.
In one of the battles, the titular Cuphead was pitted against the dread pirate Captain Silver, who bears no small resemblance to Popeye's arch nemesis Bluto. Using a pink octopus as a gun, Captain Silver attacked Cuphead, all while a huge shark tried to eat our hero, and angry sentient crates tried to crush him, and a giant squid popped in occasionally to stir up trouble.
When we say this game will test your skills, we're serious: The boss battle we played required air-dashing, avoiding enemies from both sides of the level, a partially obscured screen, and numerous instant-death attacks.
From the look of it, Cuphead will feature weapon upgrades and other run-and-gun mechanical staples. Of course, run-and-gun games are better with friends, and Cuphead features co-op play in the form of the title character's best pal, Mugman. You both owe the devil, so you can both fight off the adorably whimsical forces of Hell.
We're thrilled that Cuphead is a perfect blend of classic animation and classic gaming, and we can't wait until hits Xbox One.
For more information on Cuphead check out the Xbox Wire.
ID@Xbox Spotlight: Game 4 Is an Insanely Awesome Strategy RPG
Behemoth always manages to inject more humour and wit into its games than should be physically possible
We're huge fans of The Behemoth's games – which is kind of awesome, because the developer never dabbles in the same genre twice. Whether it's sci-fi run-and-gun, or multiplayer hack 'n' slash its always different. When we first heard that the people behind some of the best indie games of all time were making a strategy role-playing game, we were all ears.
Game 4 (working title, obviously!) for Xbox One throws you into an insane world… and going by The Behemoth's usual standards, that's really saying something. As the game opens, its maniacal narrator talks about the days before the massive bear crashed into the planet and brought chaos to the world. If that isn't a crazy way to kick things off, we don't know what is.
As a team of heroes, you utilise a diverse group of warriors on your quest, and each playable character in Game 4 brings different skills to battle. Blueberry-farmer-turned-hero Horatio can block attacks with his shield, the pointy-haired princess Pipestrella wields a heavy mace… and then there's a cupcake guy who acts as a healer. Again, we said it's insane, in a good way!
Like all titles from The Behemoth, Game 4 embodies the spirit of an '80s arcade game, and it has that same streamlined, super-challenging, quick-action style of play. The only real control you have in battle is moving the characters; they attack and defend on their own, based on their skills and what enemies they're near. It's a simplified strategy RPG, but there's still a ton of strategy in here.
And it's also hilariously fun from the get go, fueled by The Behemoth's delightfully twisted sense of humor and trademark art style. The little we've gotten to play so far has been a blast, and we can't wait for more.
Game 4 doesn't have a release date (or even, as we mentioned above, an official title), so we'll have to wait to get our hands on the full Xbox One version of this wild RPG.
To view the full video about Game 4 and all the latest Xbox News, visit the Xbox Wire.
The Art of Ori and the Blind Forest
The team was inspired by classic hand-drawn animated movies 
When lead artists Max Degen and Johannes Figlhuber began work on Ori and the Blind Forest, they were tasked with bringing to life a world that simply didn't yet exist. "In the beginning, we had just very rough block-outs – you had your character and you could run around, but the game itself was just black-and-white silhouettes," Figlhuber recalled. "We had to find something to bring all of this light to life, and to create something with some story to it."
From early on, the team was inspired by classic hand-drawn animated movies, including "Princess Mononoke," the classic Studio Ghibli film. "I just love the world they created, and this depth," said Figlhuber. "The prince is an outsider in this world, and he's not really wanted there – we kinda wanted to get this feeling for Ori. We want you to feel like a visitor in our strange and beautiful world."
Indeed, as the titular Ori, the player can't help but feel diminutive in the Blind Forest, and this was a very pointed choice by the developers for a number of reasons.
"We wanted to player to feel very small in this world – we wanted Ori to be very small on the screen," said Degen. "This was a very conscious decision, both for gameplay reasons – you can see further ahead, and have more time to react to what's coming toward you – and to show the insignificance of the character, who's very small in this huge and intimidating world."
Creating this rather intimidating world was no small task, particularly since Degen and Figlhuber were the sole artists for the bulk of the project (another four artists were brought on for the final year of production). To give a sense of scale, Degen pointed out that there were over 90 unique tree graphics created for Ori, along with loads of leaf and branch graphics – which all had to be combined.
"On top of that, we can give each graphic different lighting, color, and movement sets, so the possibilities are really endless," said Degen. "The overall style of trees, and the graphics in general, change multiple times throughout the game. Generally speaking, we have over 7,000 hand-painted graphics in this game."
Because the game was initially conceived as an Xbox 360 project, it started with a very specific technical ceiling that the team needed to work within. When it eventually became clear that the game was instead destined for Xbox One, these constraints essentially disappeared.
"We thought we were more limited than we were in the end, so [early on] we sort of limited ourselves," said Figlhuber. "We went through so many iterations – and we had such great tools from the tech department – that we could just go crazy, and do everything we wanted. That gave us a lot of freedom to create all this depth and light, and make everything so vibrant. There were essentially no limits."
All of the work put forth by Degen, Figlhuber, and the rest of the team at Moon Studios has resulted in a very unique, beautiful game. Ori and the Blind Forest is available now for Xbox One – and you should check it out, because you're in for something very special.
To check out the artwork and find out more about all the latest games on Xbox One, visit the Xbox Wire.