News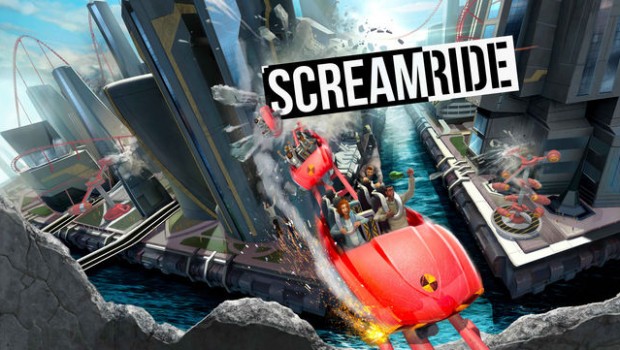 Published on February 20th, 2015 | by admin
Xbox Newsbeat – 20 February 2015
Create, Ride and Destroy in the ScreamRide Demo
The perfect way to practice and start your way to becoming a five-star-earning ScreamRider, Engineer and Demolition Expert
ScreamRide crashes onto Xbox in two weeks and if the launch trailer has you curious to see just what happens when you hurl pods full of explosives at buildings or build terrifying coasters, you can now start creating and destroying on the ScreamRide demo, which launched on Xbox Live earlier this week.
Available on both Xbox One and Xbox 360, you can try out each of the three career modes in the free demo (the full game features over 50 levels in the campaign plus a robust level creation editor). Want to test your awesome twitch action gameplay skills by steering a coaster car directly through crazy mazes? Then strap yourself in the cockpit as a ScreamRider and ride a coaster through the labyrinth of twists and turns. For a change of pace, you can play as the engineer and strategically plan how to build the best coasters with the provided tools. Finally, once you've mastered riding and creating, tear it all down by playing as the demolition expert, where you skilfully fling pods for maximum screams and destruction. Screamride is currently available for pre-order in stores, digital pre-order and pre-download. As you prepare for launch beginning March 5th, use the demo to practice and start your way to becoming a five-star-earning ScreamRider, Engineer and Demolition Expert, earning as many screams as you can!
For more information on Screamride and to view the trailer please visit the Xbox Wire.
Xbox One March system update: Screenshots and suggested friends now available in preview
Sneak peak of March system update
Earlier this month, Xbox added a host of new features and improvements on Xbox One. As of today, members of the Xbox One preview program will get to check out even more new features – some of which are planned for the March system update.
Screenshots – New in preview is a highly requested feature by our community from the Xbox feedback site

.

While playing a game, you can now take screenshots on your Xbox One console by simply double-tapping the Xbox button on your controller to capture a screenshot and pressing Y to save the screenshot. You can also say "Xbox Take a Screenshot" to take and save a screenshot. The Upload app is being updated so that you can manage your screenshots in addition to your game clips. You can use a screenshot as your background, by viewing the screenshot in full-screen mode from the Upload app, then, press the Menu button and select Set as background.  In coming preview builds, you will be able to use Upload to share screenshots to your activity feed, attach to messages, add screenshots to your showcase, and eventually share to Twitter. Also, your screenshots will be visible in your profile alongside your game clips.  In the initial preview build, the sharing functions are not yet enabled, but you can start capturing screenshots and using them for your backgrounds.
Suggested friends – With the suggested friends feature, the friends area in home and your friends list will help you find and add friends. Suggested friends will include people you might know, so you add more friends to game with, and top community broadcasters and clip creators, so you can get more great content in your activity feed. We're also adding a new 'suggested friends' page to the friend's area.
Sharing your name – This month in preview, we're rolling out two new ways to share your real name; with all of your friends or to everyone in the Xbox Live community. You can also continue to share your real name with select friends, or with no one, if that's what you prefer. Gamertags are still the primary method of identifying yourself on Xbox Live, but sharing your real name helps people recognise you who might not know you by your gamertag. The new name sharing options can be found under Friends> My profile > Name sharing settings.
Tile transparency – We continue to listen to your feedback and are adding a setting to enable you to vary the level of transparency for your background images, go to Settings> My Xbox > Tile transparency.
Privacy and online safety settings – We added a new setting for sharing voice search data to create an option for you to allow collection and analysis of voice data when using Xbox – Bing to search. You can go to Settings> Privacy and online safety > Share voice search data to change the setting.
Report spam – The Messages app has an added option to allow you to notify Xbox when you receive spam.  You can now select a specific message, press the A button and then select Report> Spam to report a specific message as spam.
OneGuide for Australia – Support for OneGuide will continue in preview in Australia for free-to-air TV listings.
Xbox One Digital TV Tuner in Australia – Xbox One owners in Australia with an Xbox Digital TV Tuner can now use it with the preview builds of this month's release.
To check out more on the list of features in the March system update preview please visit the Xbox Wire.
Xbox App on Windows 10 – February 2015 Feature Summary
Automatic updates to the February version of Xbox apps
The Xbox app on Windows 10 has an updated version now available. The goal is to continue to provide monthly updates of the Xbox app and to collect feedback and ideas from the Xbox community. There are a few small updates this month with more to come going forward.
You will automatically get updated to the February version of the Xbox app, when it becomes available in the Store (Beta). Once you receive the update, your version number should be 2.2.1502.02017 or higher. You can verify the version number of the Xbox app under Settings. The following features have been updated this month:
Top Navigation Bar. The smiley face J can be used to send feedback about the app to the product team, get access to forums for the Xbox app, and you can now rate the Xbox app.
Friends. The user experience for Friends has been updated so that you now see Suggested Friends under a Suggestions header at the top of the Friends list, with a See all button to browse the entire list of VIPs on Xbox and People you May Know. Additionally, you can now start typing in the Friends search box to instantly find specific friends.
Settings. Small fit and finish items were added to the settings page.
For all the latest Xbox update news, please visit the Xbox Wire.
6 Survival Tips to Succeed in Evolve
Key bits of advice to get yourself up to speed
The four-on-one multiplayer of Evolve looks deceptively simple. Jump into the shoes of a Hunter, and it'll feel like a first-person shooter. Even playing as the Monster can initially feel like an action-focused roaming brawler. But this is a game with a great deal more depth than it appears at first glance. No, don't shy away, we're here to help: follow these key bits of advice to get yourself up to speed. Know Your Role
In Evolve, every character is unique. And every Hunter is vital. Since you're never entirely sure which character you're going to spawn as, you need to get familiar with them all. But, more importantly, you need to operate within that character's given role. For example, if your Medic spends more time trying to damage the Monster than healing your team, you're going to have a bad time. Learn the roles, and play the role you're given. You'll have plenty of opportunities to play other roles in the future. It's Dangerous to Go Alone
Because each Hunter class supports every other, it's absolutely crucial to stick together as much as possible. The last thing you want is to have your Assault Hunter halfway across the map when you've trapped the Monster. And being low on health without a Medic around is nothing short of infuriating. So keep tabs on your teammates… and at the very, very least, stay in constant communication with each other. For Monsters, a Little Stealth Goes a Long Way
Let's review the basics of Evolve: One player controls a Monster. Four players do everything in their power to destroy the Monster. As powerful as the Monster can be, it's hard to escape the fact that it's four against one. One way to gain an edge as the Monster is to be as stealthy as possible. At the start of the match, of course, you'll want to run like hell. But as soon as you've got some distance between you and the Hunters, take it slow and careful. The quieter you are, the harder it'll be for them to find you. And for the love of all that is holy, avoid the groups of roosting birds. They'll put the Hunters on your trail immediately. Don't Get Tunnel Vision
No matter your role, it's easy to get too focused on the ultimate goal of the match, whether it be taking down a Monster or simply surviving as one. But remember that some side-tracks are worth it. Most especially, hunting albino creatures can result in seriously beneficial buffs for you or your team. You can harvest bonuses that slash your special-ability cool-down times, boost your armour, or even expand your clip size. Just don't get too distracted, or you might find your enemy creeping up behind you. Mix it Up
When you look at the progression path for both Hunters and Monsters, you'll notice that each item or ability has its own individual challenge. For example, the Medic needs to heal a certain amount of teammate damage, tranquilise the Monster a certain number of times, and place a certain number of targets on the Monster with the sniper rifle. Each class has similar challenges, and so does the Monster. Only after completing all of these objectives can you level up and unlock a new character. It can feel like a bit of a grind, but it serves two important purposes: first, it forces you to get comfortable with all of your role's abilities; and second, it gets you access to upgraded characters, who are dramatically better than the base model. …But Not All at Once
Here's the trouble: if you try to focus on all these objectives in a single game, you'll find yourself overwhelmed. Monsters really need to specialise; you only get a handful of upgrade points when you evolve to Tier 2 and Tier 3, and trying to spread those points to all your abilities is going to leave you underpowered and vulnerable. So whether you're playing as Monster or Hunter, pick just one or two abilities to focus on each round. The most important thing to remember about Evolve is that it's a much more complex and strategic game than it appears. Pay attention to your roles and your goals, though, and you'll survive. Well, some of the time.
You can test your monster-hunting abilities immediately; Evolve is available right now on Xbox One.
For more on survival tips and all the latest Xbox news please visit the Xbox Wire.