News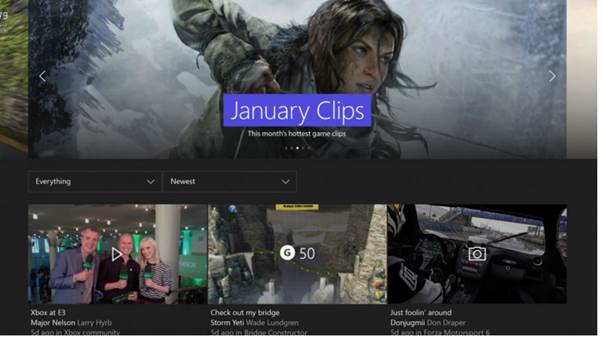 Published on February 19th, 2016 | by Admin
Xbox Newsbeat 19/2/2016
Updates Rolling Out This Month: See Who's in a Party, Gamerscore Leaderboard, and More 
This month's system update starts rolling out to the Xbox app today and on Xbox One tomorrow; with it, comes a host of social features that will help you stay connected to the Xbox Live community across both console and PC. A few highlights include being able to see who's in a Party on Xbox One before joining and – on both Xbox One and the Xbox app – we have made it easier to get details on suggested friends.
Here's what's rolling out to the Xbox app today and on Xbox One tomorrow!
New experiences and updates launching on Xbox One:
See who's in a Party: On Xbox One, you will now be able to see who's in a Party before joining. When you click on a friend who is in a Party from the friend tab of the guide, you'll be able to see who else they're playing with. Click the 'Chat' menu which appears immediately below your friend's gamertag; this will show "See who's in the Party" and list the gamertags of all the people in the Party.
Gamerscore Leaderboard: On Xbox One, from your profile in the guide, click 'my achievements' and the restored Gamerscore Leaderboard will display. Through the Gamerscore Leader board, see where you stand relative to your friends by comparing total Gamerscore, as well as biggest gains over a rolling 30-day period. Click on the Gamerscore Leaderboard to view this information for all of your friends.
To see the full list of the new experiences and updates launching on Xbox One this month, please visit the Xbox Wire
Rocket League Rockets Onto Xbox One
The long-awaited Xbox One version of Rocket League – already a big hit on Windows 
We hope you weren't doing anything important with all those hours in your day, because Psyonix's "soccer-meets-driving" multiplayer extravaganza Rocket League has made its Xbox One debut today and it is glorious. Ever wanted to play soccer, as a car, that's wearing a hat, and driving up walls, and flipping all over the place with crazy rocket boosts? How about doing all that in a Halo– or Gears of War– or Sunset Overdrive-themed car? Well, we're happy to say that your wish has been granted.
The long-awaited Xbox One version of Rocket League – already a big hit on Windows PC – was made possible by co-developer Panic Button Games and the ID@Xbox self-publishing program. For a mere $26.95 AUD, you get the base game, along with three awesome downloadable content packs: Supersonic Fury, Revenge of the Battle-Cars, and Chaos Run.
And that's in addition to the aforementioned selection of exclusive Xbox-themed customisation items.
All in all, the Xbox One version of Rocket League features 18 Battle-Cars, more than 400 different customisation items, six maps (all with multiple game mode variants), and a ton of online and local multiplayer options. And if you're feeling especially nostalgic, you can even pick up the "Back to the Future" Car Pack for just $2.65 AUD, which gets you a sweet in-game DeLorean Battle-Car.
Rocket League is a critically acclaimed masterpiece and an insane multiplayer phenomenon, with a community of more than 11 million dedicated players. It was one of the biggest hits of 2015, and we're proud to bring it to you on Xbox One. So grab your copy today, get out there, and turbo-dash into some giant soccer balls! 
To check out the full trailer and for the list of exclusive Xbox-themed customisation items, please visit the Xbox Wire 
343 Industries and Mattel Sign Master Licensing Agreement, Introduce New Halo Toys
Since Halo: Combat Evolved launched in 2001, Halo has grown from a video game to a more than $5 billion USD franchise! 
Since Halo: Combat Evolved launched in 2001, Halo has grown from a video game to a more than $5 billion USD franchise that encompasses New York Times best-selling novels, multiple live-action digital series and consumer products. The latter – including a dizzying array of toys – have generated more than $1.5 billion USD and include action figures, weapon replicas, clothing and much, much more.
343 Industries has and continues to be focused on making Halo toys fun, accessible and appealing to everyone – collectors, hardcore Halo fans and franchise newcomers alike. With that vision in mind, the studio behind one of the most successful franchises in gaming history have signed a master licensing agreement with one of the largest toy manufactures in the world: Mattel.
"The success we've seen with the Halo MEGA Bloks franchise over the years laid the foundation for this partnership," said Bonnie Ross, Microsoft Corporate Vice President and Head of 343 Industries. "We're excited to work with Mattel to bring innovative, quality and, most of all, fun products to old and new Halo fans alike."
Partnering with Mattel not only expands visibility for Halo products in retailers worldwide, it unifies the design, development and creative vision of an important branch of Halo consumer products. The collaboration has already opened up new avenues for creativity, as two BOOMCo.-inspired weapons – the Assault Rifle Blaster and Magnum Blaster – recently made their way into Infinity's Armory, the latest content update for Halo 5: Guardians.
To find out about all the new products available this fall, and to read more about the partnership please visit the Xbox Wire
How He-Man, The Walking Dead, and Invincible came to #IDARB: A Love Story
The #IDARB madness continues
When it comes to making games, it's good to have friends. Last year when #IDARB launched, we got a lot of love from fans and notice from the press when it was downloaded more than a million times its first week. One of our long-time friends, Skybound Interactive President Dan Murray, visited our studio around that time and mentioned how much he was loving the game. With an update already in the planning stages, we talked about the possibility of doing some Skybound-related DLC. Instead of just making it specific to "The Walking Dead", we thought we could do something fun with Skybound's beloved Invincible comic as well. So we set out to make two really great maps, one based on each comic universe.
Mike Mika and the team delivered an outstanding Walking Dead playfield that really adds new challenge to the core gameplay, as 'walkers' now steadily spawn into the arena. In keeping with the theme, they're lethargic in movement but deceptively disruptive as they knock the ball away from you if you make contact with them. Of course, there's a few ways to get rid of them we won't get into here. To up the ante even more, Mike created a classic first-person shooter for the half-time minigame, aptly named "Halftimenstein" which supports up to 8-players split-screen!
As part of the same DLC pack, the 'Invincible' arena offers a much different experience, taking cues from the expansive superhero universe embodied in the comic. The arena design includes a "super bounce" floor and "wrap-around ends," enabling players to really launch themselves around the map for a much faster, high-flying #IDARB experience than found in the traditional arenas. In keeping with this theme, the halftime minigame is also an aerial battler called "Sky Knights," which pays homage to early arcade game Joust, only here there's no ostriches to ride and the enemies are all controlled by other players.
For more info on #IDARB, or for any assets you may need, please visit Xbox Wire.