News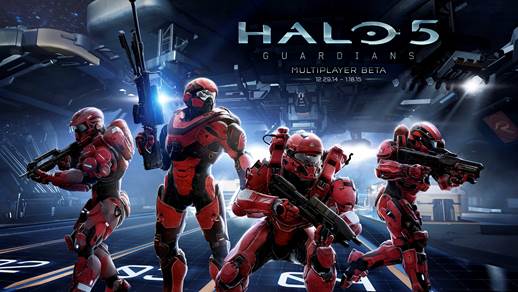 Published on December 19th, 2014 | by admin
Xbox Newsbeat 19/12/2014
Halo 5: Guardians Multiplayer Beta Trailer
Pick up a copy of Halo: The Master Chief Collection to get in on the action on December 29
Ready for some hot Red on Blue action? To prepare fans for the start of the highly-anticipated Halo 5: Guardians Multiplayer Beta on Dec. 29, 343 Industries has released a new trailer that provides a sneak peek at the new maps, modes, weapons and Spartan Abilities featured in the intense 4v4 multiplayer arena gameplay of the 3-week beta. Each week we will feature new content including 7 new maps, 2 new weapons, and new modes, plus a new Competitive Skill Rating (CSR) system. Or sit back and enjoy watching multiplayer matches in the all-new Spectator Mode. Available from Dec. 29, 2014 through Jan. 18, 2015 to anyone who owns a copy of Halo: The Master Chief Collection, the Halo 5: Guardians Multiplayer Beta, be among the first to experience the next evolution of Halo combat.
To view the brand new trailer, and for any Halo 5: Guardians assets, please visit the Xbox Wire.  
Xbox Australia Launches Locally Hosted Xbox Live Services
Locally hosted multiplayer services go live in time for the holiday season
Xbox Australia this week announced that as of right now, Xbox One fans can experience an enhanced multiplayer gaming experience with the launch of local Xbox Live servers, bringing low pings and centralised local hosting to players around the country on select Xbox One titles.
As the latest in nearly one hundred updates to the Xbox One console in the last 12 months – many of which have been requested by fans via the Xbox community feedback website – the launch of Australian-based multiplayer servers was amongst the most sought after new functions by local gamers, and brings with it a whole host of benefits for both players and developers alike.
Hosted from datacentres in Australia, Xbox One players can now enjoy the ultimate online gaming experience, with lightning quick connection speeds, centralised local hosting and improved reliability on certain Xbox One games with further title support coming soon.  The new Xbox Live services will utilise the recently launched Azure services in Australia to deliver unparalleled in-game graphics and audio, alongside deeply intelligent NPC (non-player characters) and artificial intelligence – as seen in Xbox exclusive titles such as Titanfall and Forza Horizon 2.
The launch will also improve the reliability and stability of online gameplay for supported titles by switching from international servers and peer-to-peer connections to dedicated Australian Xbox Live servers.  This will reduce drop outs and host migrations when players leave a locally supported game and provide players with a more enjoyable and reliable multiplayer gaming experience.
As of right now, Forza Motorsport 5, Forza Horizon 2, Sunset Overdrive, Halo: The Master Chief Collection all support these new servers. No update is necessary, as supported games will automatically utilise the service.
For any enquiries you may have, please get in touch with team-xbox@xbox.ogilvy.com.au
Vevo Launching on Xbox One
New app coming to Xbox One this week
At Xbox, we're committed to bringing you the best experiences and as we look back on 2014, we joined forces with some of the top brands in entertainment and gaming to bring you new content on a regular basis.
From the beginning, our vision for Xbox One has included offering gamers the ability to play the best games and seamlessly switch to the apps, movies and TV shows they love. As the year comes to a close, we're excited to continue that vision with the addition great app launching on Xbox One this week: Vevo.
Vevo offers the largest collection of premium official music videos. Start watching your favourite music videos and catch daily video premieres by downloading Vevo for Xbox One today.  Discover exciting new music videos, original shows, and live music performances from your favourite artists.
We look forward to bringing you more great experiences in the future. Here's to 2015!
To stay up to date with all the future app and gaming news, stay tuned to the Xbox Wire.
Mojang and Telltale Games Announce Minecraft: Story Mode
A new Telltale game series coming in 2015! 
Today, Mojang have cleverly announced a new project in partnership with Telltale Games.
Titled, 'Minecraft: Story Mode', the new episodic game will be set in the Minecraft universe, and be available in 2015.
To 'play' through the interactive press release and discover more info, please visit Mojang.
Kalimba Stacks Up the Challenge on Xbox One
Available now!
Kalimba, the latest game from Press Play (the team behind Max: The Curse of Brotherhood), launches on Xbox One today! Designed as a challenging platformer with both single and cooperative action, Kalimbatakes players into the three worlds on the island of Kalimba. The players' quest to reclaim Kalimba from an evil shaman for the Kalimbi people spans multiple levels portrayed in a distinct "trixelated" graphical style. Each player commands a pair of animated totems in order to craft clever ways to overcome hazards—both environmental and villainous. Discovering how to use the variety of powers and attributes in conjunction with one another is crucial to the player's survival. The synchronicity of gameplay isn't Kalimba's only unique feature—original art design along with the trixelated art style provides each character and setting a memorable look and identity to balance their unique twists. Kalimba adds another twist to the traditional leaderboard concept: As they progress, players scale a totem pole that evolves in an increasingly ornate manner based on scores for each stage, and results in creating a living embodiment of a leaderboard.
For more information on Kalimba, and for any media assets, please visit the Xbox Wire.
Smite's World Championship Brings Xbox One Debut
Xbox One version of popular MOBA to make its first public appearance next month 
In case you somehow haven't heard yet, the multiplayer online battle arena genre (or MOBA for short) is big business: What started years ago as the "Defense of the Ancients" player-versus-player map for Warcraft III has ballooned into a full-fledged real-time strategy genre where teams of professional players compete on a worldwide stage for millions in cash prizes. Case in point: The upcoming Smite World Championship, unfolding at the Cobb Performing Arts Centre in Atlanta, Georgia from January 9-11. Eight teams across five regions will compete for over $1.7 million dollars in cash – and lucky attendees will get their first crack at the game's upcoming Xbox One version, which makes its first public appearance at the World Championship.
To find out more about Smite and what it means for Xbox One gamers, please visit the Xbox Wire.
Forza Horizon 2: Storm Island Is Here!
Expansion to the critically-acclaimed racing game available now on Xbox One
The epic road trip continues on Xbox One with the expansion for Forza Horizon 2. Storm clouds are gathering; a fierce tropical storm is about to break. Several of the world's most iconic off-roaders are lined up, poised to spring with a punch of the gas pedal. Thunder crashes in the distance, an omen of the dangerous terrain and extreme elevation changes that await. Drivers grip their steering wheels, ready to tackle the epic challenges ahead. Welcome to a new land of extremes with the Forza Horizon 2: Storm Island expansion! The Storm Island expansion brings fans more of what they love about the year's best racing game: more beauty, more fun, more challenge, and more ways to compete with and against friends. The Forza Horizon 2: Storm Island expansion is available now exclusively on Xbox One and can be purchased from the Xbox Live Store for $26.95 AUD. Forza Horizon 2 VIP owners will receive a 50 percent discount on the expansion.
Download codes are now available – please enquire with Team Xbox if you're interested in one! Click below to find out more about the brand new add-on!
For all the details on Storm Island, to view the new trailer, and for any assets, please visit the Xbox Wire.