News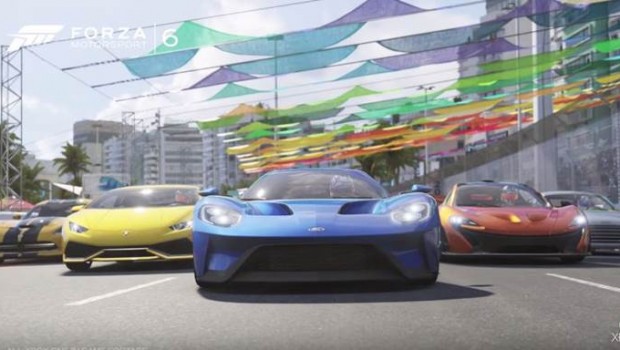 Published on September 18th, 2015 | by admin
Xbox Newsbeat 18 September 2015
Join Seven Million Forza Players on Xbox One, the Home of Racing
Forza Motorsport 6 game and limited edition console available now!
Xbox One is the home for racing this generation. Between "Forza Motorsport 5" and "Forza Horizon 2," more than seven million unique players have joined the Forza community, racing on Xbox One.
For the millions of racing fans on Xbox One, the wait is over. "Forza Motorsport 6," the biggest Forza ever created, including 460 cars, 26 world-famous locales and 24-car multiplayer, is now available to all players in North America and Australia, with availability in Europe today.
Most returning Forza players will begin the game with at least one free car in "Forza Motorsport 6" as part of the Forza Rewards program, with experienced players receiving up to eight cars in their garage, including the Lamborghini Aventador and Ferrari #62 Risi Competizione 458 Italia GTLM.
Additionally, all players of the "Forza Motorsport 6" demo – more than one million so far – will immediately unlock the game's cover car, the all-new 2017 Ford GT, in the full game at no additional cost.
Xbox One "Forza Motorsport 6" Limited Edition Console
Featuring a racing-inspired design with iconic sports car styling and custom automotive sound effects, the "Forza Motorsport 6" Limited Edition Console is the first custom console from Xbox with a racing theme. The bundle includes a 1TB hard drive, matching wireless controller with rubberized diamond grips, and a digital copy of "Forza Motorsport 6" – all for AUD$549.
The bundle is now available in most worldwide markets. Please check your local retailer for availability.
Car Pass and VIP Membership Now Available
If you're looking for the latest and greatest cars in "Forza Motorsport 6," in addition to new events, the "Forza Motorsport 6" Car Pass and VIP Membership are available for $39.95 and $26.95 respectively.
Car Pass – Includes six monthly car packs (seven cars in each pack) beginning in October 2015 for a total of 42 amazing cars, all waiting to be collected, customized, and raced.
VIP Membership – Includes five exclusive VIP cars – the 2013 Ferrari 458 Speciale, 2012 Aston Martin V12 Zagato, 2013 Lamborghini Veneno, 2016 Ford Shelby GT350R and the 1997 McLaren F1 – plus additional benefits such as double race earnings, access to exclusive online events, community gifts and more.
Fast & Furious Car Pack Available for Free to Ultimate and Deluxe Edition Owners
As previously announced, the Fast & Furious Car Pack is now available for Ultimate and Deluxe Edition owners. In association with our partners at Universal, the pack is available for individual purchase for $13.45 via the Xbox Store, or you can purchase the cars a la carte, in game.
Featuring a variety of vehicles from the "Fast & Furious" saga, the pack offers options for racers of all types. From the beastly 2014 Terradyne Gurkha LAPV to the 2002 Nissan Fairlady Z in all of its drifting glory, all of the cars in the pack have been authentically recreated for fans to enjoy. For a closer look at the cars available in the Fast & Furious Car Pack, visit ForzaMotorsport.net.
Visit ForzaMotorsport.net for full details on "Forza Motorsport 6" and happy racing!
For all the assets you need, please visit the Xbox Wire.
Halo 5: Guardians – Building an Epic Campaign
The team at 343i tell us what makes the campaign in Halo 5 special  
Josh Holmes – Studio Head of Internal Development
As we near the October 27 release for Halo 5: Guardians, we are busily polishing every part of the experience and preparing to share the fruits of our labour with the world. Earlier this year we talked about our commitment to multiplayer, with two distinct ways to play in our Arena and Warzone experiences. But we know for many fans, what they love most about Halo is our universe, characters and story. The campaign for Halo 5: Guardians is a sweeping adventure that will take players on an epic journey across the galaxy. Along the way you'll visit multiple worlds, and by the end of our story, the Halo universe will be forever transformed. This campaign represents the biggest evolution in series history. We've embraced team-oriented, cooperative play and diversity of player choice by offering players more ways to play, alone and with friends. The introduction of Fireteam AI and the new Fireteam Orders system expands the opportunities available to players and changes the play experience in fundamental ways.
In realizing our vision for the next generation of Halo, we've overhauled our game engine and made a number of important technical advances. We've implemented a new physically-based rendering system that improves the realism of our lighting model and materials in game. One of the advantages of this system is the flexibility it allows in achieving a wide variety of different looks, including alien-looking materials, while remaining plausible in appearance and behaviour. It has required a completely different approach to building content – everything in the game has been authored to take advantage of this new system. Throughout all of our connected experiences we've embraced dedicated servers, which we use to run our co-op campaign and multiplayer experiences (including custom games). We've re-architected our game systems, services and networking to take advantage of Xbox Live cloud compute for physics and AI calculation in Warzone and campaign co-op.
The combination of the Xbox One console and Xbox Live cloud compute allows us to deliver Halo at a greater scale and gameplay fidelity than ever before. Framerate is king for us on Halo 5. Gameplay is defined by the way that players experience the game from controller to screen. We want the connection between you and the game to feel seamless and instantaneous. From the beginning, we set ourselves the goal of delivering consistent 60fps gameplay across all modes of play. Delivering on this goal meant re-engineering the gameplay systems at the core of our engine. It required sustained commitment from the entire team as we continually optimised the experience, and the difference it makes to the play experience is immediate and obvious.  60fps gameplay is supported by a new progressive resolution system that allows us to dynamically scale the resolution at which we render the game (up to 1080p) based on the needs of the scene. This enables us to deploy resources where they have most impact across a diverse series of experiences throughout the game while delivering the most visually stunning Halo game ever. To talk more about campaign for Halo 5, I've asked a couple of the leads to share their thoughts.
To hear from the rest of the team, and see the new behind-the-scenes trailer, visit the Xbox Wire.
Updates Available Today for Xbox App on Windows 10
Preview program coming soon
Today, we're pleased to announce the next wave of updates for the Xbox app on Windows 10 rolling out today. In addition, just as we've done on Xbox One, we're releasing a new Xbox Beta app on Windows 10 later this month to offer a preview of coming updates before they become available. Let's dive in. Xbox App on Windows 10 September Updates Here's a closer look of what's rolling out today in the September release of the Xbox app on Windows 10:
Real-time Friends list presence. Your Friends list will automatically refresh with your friends' on/offline status and the apps and games in which they're currently engaged – including whether the game they're playing can be joined via multiplayer or party.
Real-time Activity Feed updates. No need to hit refresh to see new Activity Feed items; keep the Xbox app open and your Activity Feed will let you know when there are new items to view, comment on, like, or re-share.
Game progress comparison. Feeling competitive? Discover how you stack up against your friends on specific game progress by visiting the Achievements section of your profile and selecting 'Compare.' You'll enjoy a side-by-side comparison of your selected friends' progress on games you've recently played, including game completion percentage, Gamerscore and Achievements earned.
Console text entry. We're also bringing one of the most requested features from Xbox Feedback to the Xbox app on Windows 10 – the ability to use the Xbox app for text input on Xbox One. You will now be able to use the Xbox app and other inputs compatible with Windows devices – keyboards, touch keypads, and the like – to enter text in search boxes and more on Xbox One.
Introducing the new Xbox Beta app We've embraced fan feedback for Xbox One updates via the Xbox One Preview Program, and similarly we're excited to introduce the Xbox Beta app, available later this month. The Xbox Beta app program gives fans an opportunity to provide early input on features and enhancements coming to the Xbox app on Windows 10, helping us shape the product based on fan feedback.
To enrol later this month, visit the Windows Store to download and install the 'Xbox Beta' app. Thank you for your feedback, continuing to fuel our passion for ongoing improvements with each and every release.
For further updates, stay tuned to the Xbox Wire.
Games with Gold – Tomb Raider: Definitive Edition Available as a Free Download Right Now
Free right now for anyone with Xbox Live Gold
In anticipation of the upcoming Rise of the Tomb Raider on November 10th 2015, Tomb Raider: Definitive Edition is now available as a free download for all Xbox Live Gold members on Xbox One.
In addition, The Deer God remains as a free download until the end of the month, as does Crysis 3 for Xbox 360 gamers.