News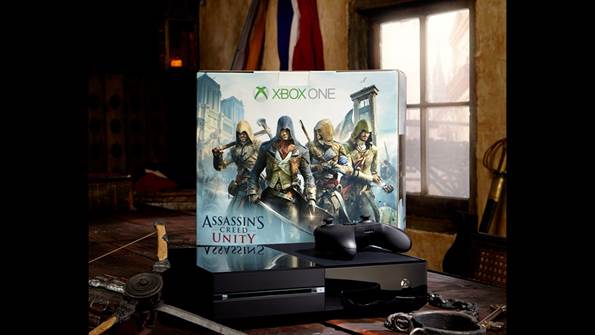 Published on October 19th, 2014 | by admin
Xbox Newsbeat – 17/10/2014
Xbox One 'Assassin's Creed' Bundle Offers Two Free Games
'Assassin's Creed Unity' and 'Assassin's Creed IV: Black Flag' included in the bundle
The holidays are kicking into high gear for fans interested in Xbox One and today we're excited to share another great option to purchase Xbox One at an incredible value. In partnership with Ubisoft, we're thrilled to offer two new exclusive Xbox One bundles, featuring what is shaping up to be the biggest, most intense Assassin's Creed game to date: 'Assassin's Creed Unity'. Available worldwide at select retailers from Saturday, November 1st, both the Xbox One Assassin's Creed Bundle ($499 AUD RRP) and Xbox One Assassin's Creed Bundle with Kinect ($599 AUD RRP) also include the critically acclaimed 'Assassin's Creed IV: Black Flag.' These two blockbuster titles in one package enable fans to dive into the Caribbean and the Golden Age of Pirates before stepping into the life of Arno, an entirely new breed of Assassin in an epic campaign set at the height of the French Revolution – all on Xbox One. "This holiday we're focused on offering fans the best games, with unprecedented choice and value," said Yusuf Mehdi, corporate vice president, Microsoft. "We've lined up an incredible set of bundles to support the launch of some of the most anticipated game launches of the year, including Assassin's Creed Unity, Sunset Overdrive, and Call of Duty: Advanced Warfare. Combined with our award-winning games line-up this holiday, it's an incredible time to play on Xbox One. Over the next two months, we look forward to celebrating with fans every week as we launch new games, new bundles, and a few surprises for Xbox One." The Assassin's Creed franchise has sold more than 77 million copies over its lifetime, and is one of the top-selling Xbox franchises. Built on a foundation of critically acclaimed titles, it has established a loyal following of players that are huge fans of the storyline and history, which has spurred projects beyond gaming like short films, comic books, animated series, novels, fashion and art.
For more information on the new bundles and to view a trailer, please visit the Xbox Wire.
Killer Instinct is Back and Better than Ever with the Launch of Season 2 on Xbox One
Download the full game for free today
Microsoft Studios and the development team at Iron Galaxy are excited to announce the global launch of Killer Instinct: Season 2 on Wednesday, Oct. 15, exclusively on Xbox One. Season 2 delivers a slew of new features, customizations and content for both multiplayer and single player fighting action. "The Rise of Ultratech" Starts Now This season, Ultratech, the shadowy corporation that hosts the Killer Instinct tournaments, steps into the light. ARIA, Ultratech's enigmatic CEO, unleashes some of their most powerful creations into the fray, including two highly-requested classic characters from the original Killer Instinct arcade games. But that's not all Ultratech is up to – their drive for perfection in all things has resulted in a new, streamlined interface and improved visual fidelity across the entire game. As with Season 1, players can download the full game for free and play a free rotating character each week. As soon as you start it up, you can play all game modes, even online multiplayer matches against the entire Killer Instinct community, with the free character. If you already have Killer Instinct: Season 1 downloaded, you're ahead of the game and the Season 2 feature updates will download to your profile automatically.
To see all the new additions in Season 2, and for any assets, please visit the Xbox Wire.
Want in on Evolve's Big Alpha? We've Got You Covered
'Big Alpha' receiving 24 hour head start on Xbox One
We already love Evolve, and have previously raved about it in our E3 and Comic-Con previews – but now that we've gotten the chance to play it multiple times, we're starting to realise how awesome Evolve is as a deeper experience. That's why we're so excited to share today's announcement that not only will Evolve's "Big Alpha" be launching 24 hours early exclusively on Xbox One beginning October 30, but that you will have a great chance to get in to play the game for yourself.  The first step is heading over to the official Evolve "Big Alpha" on Xbox One registration page to fill out all of your various details, including your email address and date of birth. Once you're done with that, all you need to do is drop the following codes into their corresponding fields:  Referral Code: Xbox4VOne  Registration Code: 44549-09164-02289 All done? Great! You can keep refreshing your inbox until your "Big Alpha" code shows up (sometime before the 30th), but your time would be much better spent reading about our time with Evolve at PAX last month.
To read more about Evolve, and for any assets you may require, please visit the Xbox Wire.
Halo: Spartan Strike Comes to Windows 8 Devices and Steam this December
Coming December 12th to Windows 8 devices and Steam
Microsoft Studios and 343 Industries, in conjunction with Vanguard Games, is excited to announce Halo: Spartan Strike – an all-new Halo top-down shooter – coming to Windows 8 devices and Steam on December 12, 2014 as a digital download for $7.95 AUD. Halo: Spartan Strike includes a compelling new story, improved touch controls, updated graphics and an all-new score from award-winning composer Tom Salta. In addition to weekly challenges where fans can take the top position in leaderboards to showcase their skills, playing Halo: Spartan Strike will earn Xbox achievements that unlocks content for the upcoming Halo: The Master Chief Collection, which will launch exclusively on Xbox One on November 11th. 
Set during the events of Halo 2, Halo: Spartan Strike tells a new chapter in the Halo universe. You play as a Spartan in a real-world, classified ONI simulation that starts on New Mombasa in 2552 and will take you through jungles, cities and more. Using your Spartan skills, an all-new arsenal of weapons, abilities and vehicles, including the iconic Warthog, you must lead UNSC troops through 30 challenging missions and prevent Earth from being overtaken by hordes of Covenant and Promethean enemies.
For more information on Spartan Strike, and for any assets you may need, please visit the Xbox Wire.
Watch All the Vines You Could Ever Want on Xbox One
Watch all the Vines you want, with the new Vine app out now on Xbox One  
As of right now, you can entertain yourself with hours of short, looping videos on the big screen with the addition of the Vine app on Xbox One. Available to Xbox Live members, Vine on Xbox One provides a spectacular Vine viewing experience for your TV that brings you one of the world's most used video apps alongside your favorite games and entertainment. This is the first Vine viewing experience built specifically for the TV, giving you access to funny, quirky, artistic, creative Vines directly in your living room. Now you can watch and explore the world of short, looping videos, and Xbox One makes them easy to enjoy using Kinect voice or gesture control to play, pause and search through the next or previous Vine. You can watch popular Vines, explore channels like Art, Music & Dance, and Comedy, view playlists, and more. In addition, the app can be snapped next to your games, TV or other entertainment apps, making it possible to watch Vines alongside your favourite games or whatever you're watching. Check out the Vine experience today by visiting the Xbox Store and downloading Vine onto your Xbox One.
For more information and screenshots, please visit the Xbox Wire.
Xbox One System Update: New Friends, Snap and TV Features on Xbox One
All new Xbox One system update for October rolling out now 
We're excited to roll out updated features this month that take advantage on the multitasking capabilities of Xbox One and connect with your friends in better ways than before thanks to your feedback.  New Snap and Friends functions – Stay in the game and in touch with your friends at the same time with improved Snap, SmartGlass and Achievements functions.
Snap Updates – We've updated the Snap Center to include quick access to many of the things our fans wanted faster access to when playing a game – Friends, Messages, Game DVR, clock, and battery indicator – as well as making it easier to close and open new snap apps when playing a game. A double tap of the Xbox button on your controller will bring up a menu that allows you to open a new app in snap mode, close the current snapped app, or switch focus between your game and your running snapped app. Additionally, two apps have been optimized for Snap mode:

Friends Snap App – Access your friends list without leaving the game. Quickly check your friends list to see who's online right now and take actions like send message, invite or join.
Messages Snap App – You'll be able to open, read and respond to messages in Snap mode, and messages will now be displayed in a threaded conversation view.

Achievements App – Updated to enable sharing of achievements you've unlocked with captions, see a list of friends who have unlocked specific achievements, and an updated achievements Snap landing page that that shows Achievements on recently played games, when a gamer is not actively playing a game.
Friends section – The new Friends section enables you to see at a glance what's going on with your friends. You can stay up-to-date with their current activities, the most popular games your friends are playing, and a Gamerscore leaderboard to see who has improved their Gamerscore over the last 30 days.
New SmartGlass features – You can now see a list of your top games in your profile. You can also see a list of your friend's most popular games in the Friend's section of SmartGlass.
Media Player DLNA and MKV support – The latest version of the Media Player app will now have support for DLNA streaming. With this update, you will be able to easily access and play music, watch photo slideshows or movies stored on home media servers and devices that support the DLNA server protocols. Additionally, you will now be able to playback MKV files stored on a USB device or a device on your home network that supports DLNA streaming.
For the full list of updates, check out the Xbox Wire.