News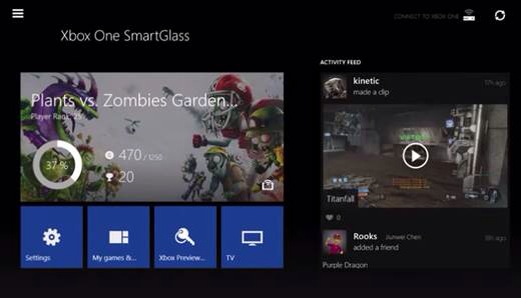 Published on August 22nd, 2014 | by admin
Xbox Newsbeat 16-22 August 2014
Next Xbox One Update Rolls Out with New Social and Mobile Features
The result of all the invaluable feedback from the Xbox community
This week, we began rolling out the next Xbox One system update to fans around the world, including improved social features to make sharing your gaming experiences with friends better and easier. These new features are a result of your invaluable feedback, including some of the most requested features seen on Xbox Feedback.
Here's the final list of the features rolling out to Xbox One systems over the next few days:
Mobile purchase: One of the most requested features on Xbox Feedback. Using Xbox SmartGlass or on Xbox.com, you can remotely purchase games and Add-on content. No more waiting to begin downloading when you get home – if your console is set to automatically take updates, your console will begin downloading your purchase.
Activity feed updates: We're adding new ways for you to interact with friends in the activity feed. The interface will change to a single column scrolling list that is longer and includes more content. We'll add the ability to post text to your feed, and to "like" and comment on feed items. You can share game clips and anything else in the feed with friends either publically (to your activity feed) or privately (as an attachment to a message). You'll also be notified when anyone likes, comments on or shares your items. Each user will get a personal feed on their profile, so you can see what specific friends have been up to. And, with SmartGlass, you can see what your friends have shared to their activity feed and "like" specific posts (additional activity feed support coming in future SmartGlass updates).
Low battery notification: You asked for it, now a notification will pop up when your controller battery is getting low.
Disable notifications during video: Adding the ability to turn off notifications based on feedback we heard from you.
Enabling 3D Blu-ray: An update to the Blu-ray player app will enable 3D Blu-ray functionality on Xbox One.
Last seen time in Friends list: Direct from Xbox Feedback, the friends list will now show how long it's been since a friend has been online. For example, "Last seen 20m ago: Forza Motorsport 5."
For more information and relevant media assets, please visit Xbox Wire.
Gamescom 2014: Time Keeps on Slipping in Quantum Break
The time-bending experience that crosses entertainment mediums
Quantum Break has been one of the most mysterious Xbox One games yet. Gamers the world over have been dying to find out more about developer Remedy Entertainment's follow-up to Alan Wake, especially regarding what the gameplay would be like. At Gamescom 2014, the developer behind Max Payne's groundbreaking bullet time and Alan Wake's remarkably balanced light/dark mechanic finally gave us a taste of what we've been waiting for, and it's clear that Quantum Break will be another Remedy title that perfectly combines a compelling narrative with intense action.
But before we get into the action, let's review the story so far. You are Jack Joyce, a man caught in the blast of a university's failed time travel experiment who gains the power to manipulate time. Given that the explosion has also started to break down the fabric of time itself, this ability comes in more than a little handy. Quantum Break follows Jack as he fights to keep time from unravelling. Fighting whom, you ask? All we know so far is that a corporation called Monarch Solutions is opposing his efforts, which seems like a bad idea given his efforts are to save our very existence. While Remedy is also working on a TV show that will meld with the game to create a singular experience, the focus for Gamescom was clearly on showing off the gameplay.
For the full story, to view the trailer, and for any media assets, please visit Xbox Wire.
Forza Horizon 2 Car Reveal – Check Out the Week Five Cars
We've revealed 159 thus far of the more than 200 cars in Forza Horizon 2
Here we are at week five of our weekly Forza Horizon 2 car reveals! We've revealed 159 thus far of the more than 200 cars in Forza Horizon 2, all built for Xbox One. Let's take a look at what this week brings to the open-world playground of Southern Europe in Forza Horizon 2.
This week's list features plenty of ground-breaking models. The 1973 Ford Capri RS3100 is a highly sought-after version of the long-nosed beauty that won the hearts of car lovers, as well as multiple European Touring Car Championships. Or consider the 1962 Ferrari 250 GT Berlinetta Lusso. A similar model recently sold for more than $38 million at auction.
Among the rest of our week five cars, you'll find speed demons like the McLaren F1 and the KTM X-Bow, as well as Japanese gems like the 2004 Honda Civic Type-R and the 1992 Nissan Silvia CLUB K's. Need a rally car fix? The 1992 Ford Escort RS Cosworth is ready to toss around on the back roads of the Horizon Festival.
For more information, the full list of cars and relevant media assets, please visit Xbox Wire.
Gamescom 2014: Sunset Overdrive: A Post-apocalyptic Party We Can't Wait to Attend
"An open-world shooter that takes place in a stylised, open city that you can bounce, grind, and traverse your way across."
At last week's Gamescom 2014 expo, Insomniac Games head honcho Ted Price described the upcoming Sunset Overdrive to us as "An open-world shooter that takes place in a stylised, open city that you can bounce, grind, and traverse your way across. All the while, you're going on missions, quests, challenges… you're crafting, and engaging in a progression system, and meeting lots and lots of factions that help you uncover what went horribly wrong during the first night of the game."
As anyone who's been following the obscenely over-the-top, post-apocalyptic fragger is well-aware, the fabled evening Price is referring to is the one that saw the titular town's partying populace turned into mutants by a tainted energy drink. While previous demos of the game have primarily focused on free-form, monster-mashing shenanigans, our in-depth presentation featured an objective-driven story mission, starring new enemy breeds and fresh ways to pulverize them.
Tasked with delivering a valuable sword to one of those factions Price mentioned, the protagonist began scaling a high-rise condo in search of such a weapon. The heroine (Sunset Overdrive encourages players to personalize their male or female mutant-killers in outrageous get-ups), however, was met with resistance from killer robots. Sent by Fizzco – the company responsible for crafting the outbreak-bringing beverage in the first place – the bots were programmed to cover up any evidence of the incident.
Coming in a variety of menacing flavours, from those armed with missiles and machine guns to others wielding dual laser-swords that would have a Jedi doing a double-take, the terminators made it difficult for the player to reach the destination. Thankfully, her ample agility and arsenal of outrageous weapons generally trumped the bots' best efforts. The challenge was complemented by a number of strategically placed fans that could blow her upward, showing off Sunset Overdrive's vertical side.
For more information and relevant media assets, please visit Xbox Wire.
Twitch Gets New Features on Xbox One
The popular Twitch app continues to evolve with big update
Twitch on Xbox One is adding new features to the app including auto zoom, audio capture from headsets and "watch with friends."
The "watch with friends" section lets you see the Twitch channels your friends on Xbox are watching and check out the same broadcasts. The home screen of the "watch with friends" section showcases what up to six friends are watching, and becomes hidden if none of your friends are viewing Twitch channels.
Twitch is also adding a new optional feature that allows Kinect to follow and zoom to your face while broadcasting, and when the Kinect is not plugged into the console, audio can be captured from the player's attached headset.