Games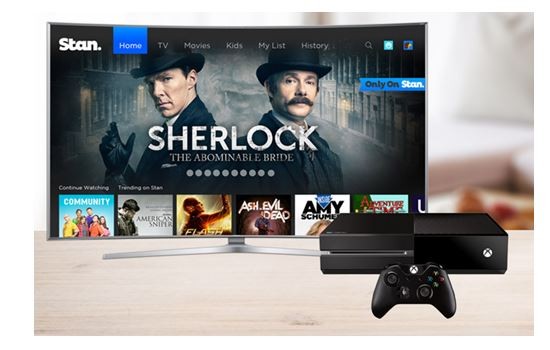 Published on January 15th, 2016 | by admin
Xbox Newsbeat 15/01/2016
Stan Available Now on Xbox One
Voice search available now, OneGuide integration coming soon!
As of right now, Aussie Xbox One owners can stream even more of the latest and greatest films and TV shows as popular streaming service Stan comes to the console. Xbox One fans now have even more access to the largest library of video on demand content, proving that Xbox One truly is the home of entertainment in Australia.
The addition of Stan to the Xbox One platform is the latest milestone in Xbox Australia's ongoing commitment to bring fans the best entertainment from around the world, straight to their living rooms.
Jeremy Hinton, Business Group Lead for Interactive Entertainment at Microsoft Australia, said: "We're delighted to welcome Stan to the Xbox One. Stan's content line-up has something for everyone which perfectly complements our incredible list of unique entertainment features on the console such as Live TV, Voice Control, Skype, Xbox Fitness and a huge selection sports apps to name a few. The inclusion of Stan further cements Xbox One as the home of entertainment in Australia."
"Stan provides consumers with another great reason to jump into the Xbox One's growing entertainment offering. Fully integrated into the Xbox One's entertainment features to ensure consumers have the very best experience – Stan on the Xbox One offers users more flexibility in their viewing experience than any other platform, even allowing them to continue gaming, unlock achievements or even sharing content to Twitter whilst watching their favourite film and TV shows, all at the same time."
Hinton continued, "We are always listening to our fans and are constantly improving the entertainment experience with additional features, such as the highly requested personal assistant, Cortana integration, live TV DVR and many new Universal Apps coming to Xbox One in the near future."
Stan gives film and TV fans access to the latest and greatest content, in HD, for just $10 a month. Existing Stan subscribers can log in to the app on Xbox One as of today, using their username and password linked to their account. New subscribers can sign up at www.stan.com.au and start their 30-day free trial.
Halo World Championship Regional Qualifier Results
Teams compete to win a share of more than $2 million USD
The first two ANZ Regional Qualifiers for the Halo World Championship are in the books, with a huge congratulations in order for Team Citadel and Team Immunity, who are in the running for the Regional Finals thanks to some masterful play!
Team Citadel won a closely contested battle with Team Immunity in the final of the first qualifying round, thanks to some overwhelming individual talent and flawless power weapon usage.
It wasn't long before Team Immunity struck back, however, with an emphatic run to victory in the second qualifier to take out the win.
We wish both teams the best of luck in the regional finals!
Be sure to stay tuned this weekend to ESL Australia, as the third Regional Qualifier takes place on Sunday January the 17th.
To see the full results of the first two Qualifiers, be sure to check out ESL Australia, and stay tuned to Halo Waypoint for all the latest Halo news.
Homefront: The Revolution Gets a Date and an Xbox One Beta in February
Brand new trailer also released
Deep Silver's tense open-world first-person shooter Homefront: The Revolution aims – oddly enough – to start a revolution. Guerrilla warfare is the name of the game, and it's up to you to lead the titular Resistance against superior forces as you attempt to liberate the war-torn streets of near-future Philadelphia from the Korean People's Army. You only have to wait until May, when Homefront: The Resistance hits Xbox One… but if you just can't wait that long, you just might be able to jump into the just announced beta, which is coming exclusively to Xbox One in February.
Now, being a closed beta, the spots are limited. You'll be able to gain access by earning yourself an Xbox One Beta Token, which will be given out during several promotions in the coming weeks, both on Xbox.com and at the official Homefront website. So, keep your eyes peeled!
To read more about Homefront: The Revolution, and to view the new trailer, please visit the Xbox Wire.
Stoic Studio Wants You to Think Like a Viking in the Banner Saga, Available Now for Xbox One
We chat with the team behind the game
Within minutes of talking to art director Arnie Jorgensen and writer Drew McGee of Stoic Studio, it's clear they don't bear the Viking motif of The Banner Saga just for show – in particular Jorgensen, who's proud of Danish heritage. In fact, he's all too happy to take a detour mid-conversation to discuss the various cultures of the Old English epic "Beowulf" and how they tie in to Norse heritage themselves.
As veterans of BioWare, Jorgensen and McGee are all about storytelling, and in The Banner Saga – the outstanding tactical role-playing game based around quick, brutal decisions – they've taken what they learned on games like Star Wars: The Old Republic and delivered a thrilling adventure that debuts on Xbox One today. It's "Beowulf" and Final Fantasy Tactics meets "Game of Thrones" and The Oregon Trail through the lens of classic Disney animation, and the result is a game that should be experienced by any strategy or storytelling fan.
To view the Q&A with the team behind The Banner Saga, head over to the Xbox Wire