Games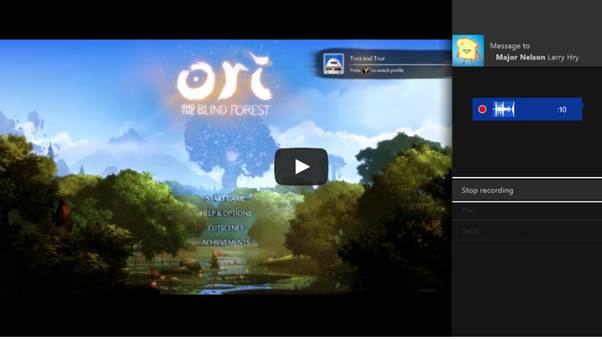 Published on May 15th, 2015 | by admin
Xbox Newsbeat – 15 May 2015
Xbox One May System Update: Voice Messages, Party Chat Improvements Out Now
A new month means we get to deliver a new set of fan-requested features on Xbox One.
Xbox is streamlining your gaming experiences even more this time around, whether you're looking for an easier way to power up the console or connect with distant friends in real time through voice messaging.
The full list of features in the May system update include:
Voice Messages –You can now send and receive voice messages from the Xbox One messages app. This is the No. 1 feature requested in the Friends and Parties area on the Xbox Feedback site. Quickly and easily record audio to send to your friends or others through your snapped messages app, accessed through a simple quick double tap of the Xbox button. Additionally, voice messages can be exchanged between Xbox 360 and Xbox One consoles.
Power On/Off from Xbox One SmartGlass – The Xbox One SmartGlass app for Windows, Windows Phone, iOS and Android has been updated to let you power your Xbox One on and off when your devices are on the same home network as your console. This feature request had more than 4,000 votes on the Xbox Feedback site.
User Selectable Power Mode – The initial setup experience is also changing on Xbox One worldwide to enable you to select your preferred power mode. Instant-on enables you to use the "Xbox on" voice command and receive background updates to console, game and app updates. Energy-saving mode is a low power state that requires you to press the Xbox button on your console to start up your Xbox One.
Dedicated Servers for Party Chat – Back in March, Xbox enabled dedicated chat relay servers for Xbox One preview members to solve NAT traversal issues that prevented some people from being able to use party chat. Over the coming weeks, Xbox will start to expand the availability of the party chat relay services beyond preview members to a broader audience and continue to fine tune the feature and scale out the servers needed to support party chat relay services.
Keep suggestions coming through to Xbox Feedback and tune into the Xbox Wire for further news.
Assassin's Creed Syndicate Prepares for Gang Warfare
Ubisoft has announced Assassin's Creed Syndicate – the next chapter in everyone's favourite historical adventure.
Assassins Creed Syndicate is here so get those hidden daggers ready, and prepare to firmly shove people aside as you make your way through the crowded streets of London en route to stabbity-stab some people.
Syndicate unfolds in Victorian London during the Industrial Revolution – and this time, it's a vast open-world environment, and the largest ever seen in an Assassin's Creed game. It's also a more modern setting, which means you'll get to pull all sorts of mean parkour moves across moving vehicles, engage in some wetwork on a steamboat, and even partake in a few tense street races. Twin protagonists Jacob and Evie Frye have some bold new tech up their stabby sleeves, too; Syndicate brings an all-new arsenal of modern killing implements.
Story-wise, it's up to you to take these neophyte assassins and turn them into the leaders of London's most fearsome gang. Yep, that's where the Syndicate part comes in: You get to build up your own posse, crush your rivals, conquer the mean streets of London, and free the oppressed masses from all manner of tyranny.
"The ability to become the leader of an underground gang and take on an expansive and fast-paced Victorian London sets this game apart from previous Assassin's Creed titles," said Marc-Alexis Côté, creative director at Ubisoft Quebec. "We've been working on Assassin's Creed Syndicate for several years, and we're confident that with this new take, and the great living open world we're creating, fans will be thrilled by the game."
Assassin's Creed Syndicate will be available for Xbox One and Windows PC. Find out more information on Xbox Wire.
Forza Takes A Ride in the FoustLane…
First few episodes are out now!
Popular Rockstar Energy Drink online video series "Life in the Foust Lane" chronicles the fast-paced life of professional race driver, TV celebrity and Xbox and Forza Ambassador Tanner Foust. Season three just kicked off and episodes three and four of the new season will recap Tanner's participation in #ForzaFuel, as well as his visit to Turn 10 Studios to check in on the production of Forza Horizon 2, a visit to the Microsoft campus and his participation in the Seattle round of Global Rallycross with his Global Rallycross Beetle. Episode three is now out.
"Life in the Foust Lane" has been online since 2012 giving viewers a closer look at what fuels this world-class driver on and off the track with a behind-the-scenes look of his hectic travel schedule, circling the globe to race, drive a variety of four-wheeled vehicles and to participate in numerous events far and wide.
Forza first appeared on "Life in the Foust Lane" when Tanner drove the Forza FilmSpeed car for Forza Motorsport 5.
To learn more about the Forza Motorsport franchise, and to gain access to media assets visit the Xbox Wire.
Killer Instinct Community Fund Raises US$100, 000 for Tournaments, Shadow Jago to Become a Full Character
The Killer Instinct team thank their community!
The Killer Instinct team would like to extend a big thank you to their community, who raised $100,000 in tournament funding in less than 72 hours!
On April 29 when they launched their newest character, Cinder, they also announced that 100 per cent of digital purchases in Killer Instinct would go directly into a tournament fund, up to $100,000 or until May 14. Fans blew them away by helping the team meet their goal faster than they had imagined, and they are now happy to announce that they are contributing to a number of tournament prize pots, including a $50,000 prize pot at EVO, with the remainder distributed across a number of online and offline tournaments, such as CEO and Combo-Breaker, coming up on May 22 in Chicago, IL.
To celebrate the crowd-funding effort, Killer Instinct also released the Shadow Jago character in a special Community Bundle. Shadow Jago had only been available on Xbox One at launch and is something players have been asking for. To thank Killer Instinct fans for helping us meet our $100,000 goal, they are developing Shadow Jago as a real character later this year – complete with his own move set, balanced for competitive play!
Check out the Xbox Wire for more details.