Games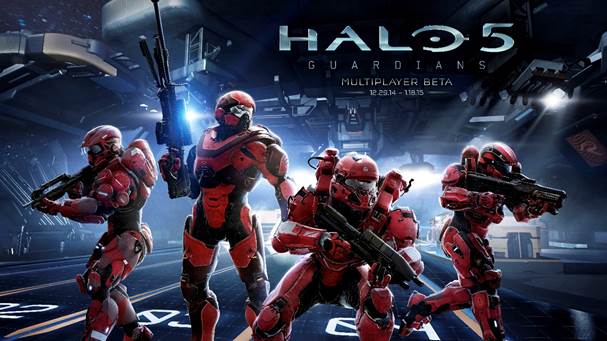 Published on November 14th, 2014 | by admin
Xbox Newsbeat 14/11/2014
Hands-On With the Halo 5: Guardians Multiplayer Beta
Purchase 'Halo: The Master Chief Collection' now to get in on the action
It's almost here. The day Halo fans have been waiting for since the day they finished Halo 4. That's right, the official unveiling of Halo 5: Guardians gameplay is upon us. Perhaps not surprisingly given the Halo franchise's deep multiplayer lineage, the team at developer 343 Industries decided to show off the next evolution of the series' multiplayer first. At HaloFest, the team introduced the world to the Halo 5: Guardians Multiplayer Beta that will begin on December 29 and run through January 18. It will be open to everyone who purchases Halo: The Master Chief Collection for Xbox One. We had the chance to go hands-on with the Halo 5: Guardians Multiplayer Beta last week for a closer look at the future of Halo multiplayer. Even in this early state, it's an absolute blast to play. Though Halo 5: Guardians will have a variety of both large and small game types and maps, the focus for the multiplayer beta will be on intense 4-on-4 arena action. There will be seven maps in the beta (we checked out three of them), as well as a brand new game type. One map, Truth, is a striking homage to Halo 2's Midship that features multiple levels and curved Covenant hallways. Empire, on the other hand, is a showcase of human industry, with a large central command area and Warthog garage. Finally, there's Crossfire, a map which looks like a virtual Spartan training area and features a slightly disorienting floor grid.
Team Slayer matches on the maps were just as awesome as you'd expect, with lots of hooting and hollering going on throughout the game. That tone changed, however, once we got a taste of the new Breakout game. In Breakout, each player is given one life per round, with each team needing 5 rounds to win. It quickly became apparent that coordination and communication were paramount, as straying too far from your squad usually resulted in being picked off. It's an intense new Halo multiplayer experience that we can't wait to explore more. Halo 5: Guardians mutiplayer features the addition of a booming pre-match voiceover that calls out key strategic locations on each map. It's a great way for new players to get up to speed more quickly, as is the fact that nearby players will actually "call out" locations if they're under fire or have the enemy pinned. Finally, there's the weapon pad system, which shows where so-called "power weapons" like rocket launchers and sniper rifles will spawn and how much time is left on the countdown. It's a great way to ensure regular and intense clashes as teams vie for control.
For read the full hands-on, and to view the full trailer, please visit the Xbox Wire.
Halo Nation Celebrates the Xbox One Debut of The Master Chief
This week's HaloFest highlights the best of The Chief
This week, more than 13 years after the first Halo game launched in 2001 on the original Xbox, the legendary franchise has arrived on Xbox One with the worldwide release of Halo: The Master Chief Collection. Leading up to the official launch of the title worldwide, Halo Nation came out in full force with more than one million people around the world tuning in to live streams previewing the game's content, and hundreds of thousands of fans lining up at more than 4,300 midnight madness retail events around the world to get their hands on the highly anticipated game. "Halo has always been synonymous with Xbox," said Head of Xbox Phil Spencer. "Halo: The Master Chief Collection' allows us to thank our fans and celebrate with an amazing package that will introduce a new generation to the epic Halo universe." In early reviews, press have echoed the fan excitement in seeing Master Chief finally welcomed to the next gen. The Xbox One exclusive title has already been hailed as "a stunning introduction to one of the most beloved series in video games"* and currently holds a 90 Metacritic score.
The historic arrival on Xbox One also prompted Twitter conversations around Halo to double since November 1 and the Remaking the Legend: Halo 2 Anniversary, the documentary about the making of Halo 2 Anniversary is currently the most watched video on Xbox Video and has been trending since its debut on October 31.
To find out about all the action that went down at this year's HaloFest and to see photos, please visit the Xbox Wire.
The 'Halo 2: Anniversary' Original Soundtrack Available Now
The iconic, re-recorded score is available now for $15.99
This week, in tandem with the blockbuster launch of Halo: The Master Chief Collection, 343 Industries has continued the celebration of Halo 2's 10th anniversary with the release of the Halo 2: Anniversary Original Soundtrack on CD, Vinyl, and Digital Audio.
For the Halo 2: Anniversary Original Soundtrack, 343 Industries Senior Audio Director, Paul Lipson, accompanied by Lennie Moore, Tom Salta, Brian Trifton and Brian Lee White, partnered with Skywalker Sound to adapt and re-record the iconic Halo 2 score created by Martin O'Donnell and Michael Salvatori. In addition, the soundtrack also features new tracks from Periphery's Misha Mansoor and guitar legend Steve Vai.
The Halo 2: Anniversary Original Soundtrack can be purchased through the Apple iTunes store for $15.99.
Halo: The Master Chief Collection delivers the entire story of the Master Chief for the first time on one console, including a fully remastered Halo 2: Anniversary.  Featuring campaigns and every single multiplayer map from Halo: Combat Evolved Anniversary, Halo 2, Halo 3 and Halo 4, plus access to the live-action digital series Halo: Nightfall and the upcoming Halo 5: Guardians Multiplayer Beta, Halo: The Master Chief Collection offers the definitive Halo experience exclusively on Xbox One.
For any assets you may require for the Anniversary soundtrack, please visit the Xbox Wire.
What's New In Assassin's Creed: Unity
Seven all-new features in Assassin's Creed: Unity
Any new game in any series introduces new features of some sort or another. But the Assassin's Creed series has been particularly eager to add interesting new stuff to its already awesome mix, from Brotherhood's multiplayer to Black Flag's high-seas adventuring. And Assassin's Creed Unity is no exception: Here are seven particularly interesting new features debuting this time around. Co-Op While previous games have included cooperative objectives in multiplayer mode, Unity folds co-op directly into the main campaign. You can join up to three friends in many story missions, including some designed specifically for co-op. Or you can just meet up and wander the streets of Paris together. But don't expect to see four identical Arnos leaping through the city, because Unity also now offers… Custom Gear and Skills Getting to choose your own weapons is nothing new to Assassin's Creed, but how about gearing yourself up with unique armor and skills? Skills allow you to customize your abilities in stealth, melee combat, ranged attacks, and health. And both armor and weapons have specific bonuses that allow you to enhance Arno to complement your own play style. Based on what we've seen, there's a pretty large assortment of gear to choose from, as well as a selection of color schemes to distinguish your Assassin from others.
To find out about the other new features, or for any assets, please visit the Xbox Wire.
Pre-Order and Pre-Download Grand Theft Auto V on Xbox One Right Now
The Xbox 360 classic returns, better than ever 
Rockstar Games' critically acclaimed open world game, Grand Theft Auto V, is coming to Xbox One. Pre-order and pre-download the Xbox One Grand Theft Auto V Pre-Order Edition, available now for $99.95.  The Pre-Order Edition includes the standard game plus $1,000,000 in-game cash to spend across Grand Theft Auto V and Grand Theft Auto Online – Get it today through the Xbox Store on the console or online at store.xbox.com. Grand Theft Auto V for Xbox One will feature a range of major visual and technical upgrades to make Los Santos and Blaine County more immersive than ever. In addition to increased draw distances and 1080p resolution at 30FPS, players can expect a range of additions and improvements including:
New weapons, vehicles and activities
Additional wildlife
Denser traffic
New foliage system
Enhanced damage and weather effects, and much more
To find out about the other new features, or for any assets, please visit the Xbox Wire.