Games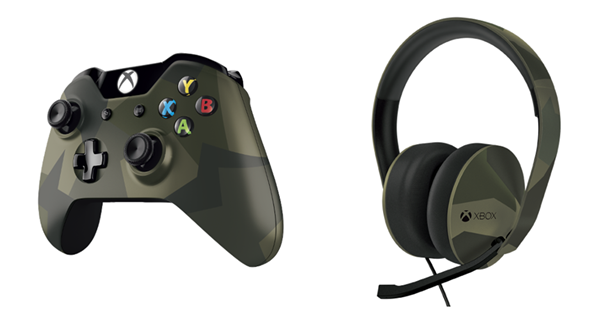 Published on July 18th, 2014 | by admin
Xbox Newsbeat 14-18 July 2014
Xbox One Special Edition Armed Forces Wireless Controller and Stereo Headset
Special Edition controller and headset coming to Australia this October
Get ready to own the battlefield with the new Xbox One Special Edition Armed Forces Wireless Controller and Stereo Headset.  As the first set of custom accessories for Xbox One, the controller and headset feature a modern camouflage pattern and military look and are available for pre-order right now. The controller and headset will be on store shelves worldwide beginning in October and are priced at $84.95 (Xbox One Wireless Controller) and $104.95 (Xbox One Stereo Headset) AUD RRP.
For more information and assets, please visitXbox Wire.
Gatorade Sports Performance Now Available Exclusively On 'Xbox Fitness'
Workout with and learn from some of the top sports stars around the world
Athletes are constantly training to become the best athletes they can be and they are already turning to digital tools to help improve their performance. We're excited to announce Gatorade Sports Performance, a new training program from Gatorade, available exclusively through Xbox Fitness, which offers athletes actual workouts from the pros, with the pros.
First up in the program is Football Training Camp. Workout alongside JJ Watt, defensive end for the Houston Texans, as he takes you through his football workout routines to improve your performance on the field. Training with JJ will help boost your stamina, agility, strength and ability to recover with workouts designed to focus on each specific attribute. Best of all, you can train with JJ for free on Xbox Fitness starting tomorrow, July 18. The Gatorade Sports Performance training program offers a training resource to supplement organized practices and games. The workouts can be completed in the convenience of your own home, at any time that fits in your schedule.
Looking for more? Gatorade Sports Performance will expand to include Basketball Training Camp, which will feature NBA star Paul George, this fall.
So what are you waiting for? Be sure to check out Gatorade Sports Performance Football Training Camp with JJ Watt on Xbox Fitness. Stayed tuned for more fitness content from some of the world's best fitness experts, only on Xbox One, and explore the many options available now in the fitness section of the Xbox store.
For more information on Xbox fitness, please visitXbox Wire.
Five of the Hardest Achievements on Xbox 360
Have a go at some of the most difficult Xbox 360 challenges around
Think you're hardcore? Well, you might be, but not all Achievements are created equal. You may have skills, but if you want these tough-as-nails Achievements, you need skills. That's skills with italics, just to be clear. If you're the kind of gamer who's up for the toughest of the tough, these are just some of the Xbox 360 Achievements that will push your gaming prowess to the limits. Game: Gears of War Achievement: "Seriously…" Gamerscore: 50 Picked by Gamerscore maestro Stallion83 as the single hardest achievement he earned in his long quest to get 1,000,000 Gamerscore, this one involves killing no fewer than 10,000 people in ranked multiplayer sessions. Ten freakin' thousand people. And in ranked matches, no less… so you know you're not up against total newbies. The serious moniker is apt, indeed. To see the rest, please visit Xbox Wire.
Assassin's Creed Unity 'Bastille Day' Trailer, and Some Little-Known Facts of the French Revolution
Assassin's Creed Unity Bastille Day trailer releases
Bastille Day. For those of you who just stared blankly at your screen upon seeing those words – that's France's national holiday. It's a celebration marking the storming of the Bastille (a fortress/prison used by King Louis XVI to make his enemies disappear) by the people of Paris in 1789 and one of the most important events of the French Revolution. That makes this the perfect time to take a closer look at Assassin's Creed Unity's setting (as if we needed a reason). Turns out, a lot of the things we thought we knew about this tumultuous time in history aren't quite accurate.
For more information and assets, please visit Xbox Wire.
Two New 'Dragon Age: Inquisition' Videos Get Bloody Exciting
Not one but TWO walkthrough videos from BioWare
During E3 2014 last month, Xbox Wire gave you a hands-on preview of BioWare's upcoming medieval action-role-playing game, 'Dragon Age: Inquisition'. But we know that's not nearly enough Dragon Age, so we've got something more for you: Full video walkthroughs of the excellent E3 demo, hosted by creative director Mike Laidlaw.  In the first video, Laidlaw leads you through Inquisition's Lake Luthias, showing off a single region that is bigger than the entire map from the original 'Dragon Age: Origins'. It culminates in a battle between a mage and the High Dragon that perfectly shows off the game's cutting-edge graphics and beautiful visual aesthetic.
To view the trailers and for any assets, please visit Xbox Wire.