Games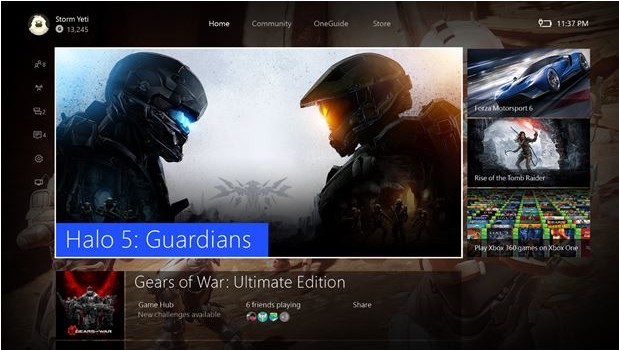 Published on November 13th, 2015 | by admin
Xbox Newsbeat – 13 November 2015
Your New Xbox One Experience Begins Today
A complete transformation of Xbox One, integrating the speed and versatility of Windows 10.
The update for the New Xbox One Experience is available starting today. Monthly releases inspired by your feedback have been a cornerstone of the Xbox One experience. We launched the Xbox Feedback site to enable you to influence how Xbox One evolves and we've been listening. Over the past two years, we have delivered more than a hundred new features based on your input. On behalf of the entire Xbox team, I want to express our appreciation for all of your valuable feedback.
The New Xbox One Experience is a complete transformation of Xbox One, integrating the speed and versatility of Windows 10. We put fans at the centre of everything we do and wanted to make some big changes, including enabling one of your most requested features – the ability to play Xbox 360 games on Xbox One. We also wanted to meaningfully improve how gamers interact with Xbox One and redesigned it to make it the fastest and most social Xbox experience ever.
Here are some of the new experiences that you will enjoy on your Xbox One with this update:
Xbox One Backward Compatibility. You'll be able to play over a hundred Xbox 360 games on Xbox One starting today, with hundreds more to come. Xbox 360 game play on your Xbox One includes the added benefits of Xbox One features such as screenshots, in-home streaming, and Game DVR. You can even enjoy multiplayer with friends playing Backward Compatible titles on Xbox 360.
To start playing your Xbox 360 games on Xbox One after 12pm PST today, refresh your Game Collection to see your pre-purchased, digital Xbox 360 titles from the Backward Compatible title list in your ready to install queue or simply insert the disc for a supported Xbox 360 title and download the game to start playing it on Xbox One. In addition, for a limited time, all Xbox One owners can play backward compatible games on Xbox One with the multiplayer benefits normally available only with an Xbox Live Gold subscription.
Take a look at the list of backward compatible games available now, and get started playing today.
A new Xbox One Home makes it faster and easier to get to the things you love. We redesigned Home to provide fast access to the games and apps that you've recently used. The new Home also enables you to get to social activities quicker:
Share your achievements and game clips with the Xbox Live community.
See whether your friends are playing the same games.
Access Game Hubs to get breaking news and updates from game developers and the Xbox Live community.
A new guide lets you rapidly access top tasks with just one button press. You can bring up the guide from Home by tapping left with the D-pad or left thumbstick. Or, while playing a game, you can double tap the Xbox button on your controller to instantly overlay the guide – without interrupting your gameplay. You can access your Profile, Friends, and Settings; quickly start a Party; view your Messages and Notifications; and Snap an application all from the new guide, saving you valuable time weaving in and out of apps.
A new Community section makes Xbox One more social. This section is designed to help you keep up with what other gamers are doing on Xbox Live as well as jump directly into the conversation yourself. Check out what your friends are up to and keep track of the games you follow in the redesigned Activity Feed. The new Trending section lets you view the most popular posts from other players on Xbox Live.
The revamped OneGuide is your single destination for TV, movies and video. Find the most exciting new movies, TV shows and videos from across apps on Xbox One. App channels help you discover what's new in your favourite apps, making it easier to find entertainment content. TV listings are viewable instantly in OneGuide – including listings from over-the-air channels and, coming soon, Sling TV. Picture-in-picture allows you to keep browsing for other things to watch without missing what's happening on live TV.
A new Store makes it easier to find the content you want. The new and improved Store includes four easy to explore areas – Games, Movies & TV, Apps, and Music – plus a new vertical gallery view to reveal more listings at a glance. You can browse through intuitive categories like Staff Picks, New Releases, Top played, Top rated, Coming Soon and Recommendations to uncover new games, apps, and entertainment for your Xbox One.
We have made a tremendous number of other improvements. Here are some to check out:
Xbox One Avatars. We know that our fans love Avatars on Xbox 360 and so we've brought them to Xbox One but with some critical, visual fidelity upgrades including anti-aliasing, lighting, and shading improvements. The end result is a modern take on a longstanding favourite.
Game Hubs. We redesigned Game Hubs from the ground up to bring everything you want to know about a game into one place. Follow your favourite games to keep up to date on the latest news and social media. The new Game Hubs are always literally at your fingertips: with one button press, access the Game Hub for each game in your recently played games list.
Remap buttons on any controller. The new Xbox Accessories app lets you reassign buttons on any Xbox One Wireless Controller. You can now customize your button mapping, invert thumbsticks, swap triggers, and more to create the best personalized experience
New ways to navigate and interact with Xbox One, including:
o   Narrator: screen reader that reads aloud in-focus text on the screen
o   Magnifier: allows you to zoom in and out and pan, providing an enlarged view of elements on your screen
o   High contrast: adjusts colour and transparency settings
We're incredibly grateful to our dedicated Preview members and MVPs for sharing valuable feedback on features before we officially deliver them. We are so excited to share the New Xbox One Experience and Xbox One Backward Compatibility with the Xbox community starting today. Our sincere thanks to you for being an integral part of the journey!
Check out the Xbox Wire for the full article from Mike Ybarra, and for all the latest Xbox news.
Introducing Your First 104 Xbox One Backward Compatible Games
Bringing back some the titles you've owned, played and loved, available from November 12
Our philosophy since launching Xbox One two years ago has been to put gamers at the centre of everything we do and create the best, most seamless gaming experience possible. We're taking a major step forward in that journey starting from November 12 when we begin rolling out the New Xbox One Experience with Xbox One Backward Compatibility.
As such, we are happy to unveil to you the first 104 Xbox One Backward Compatibility games. Some of the favourites are included, like the complete Gears of War catalogue, Assassin's Creed II, Fallout 3, Borderlands, and Castle Crashers. The full list of the first 104 games is provided in the link below and can also be found on Xbox.com/BackCompat.
The launch of 104 titles on Nov. 12 is just the beginning. You can expect new Xbox One Backward Compatible games to be announced on a regular basis, starting in December. More titles are on the way, including fan favourites like Halo Reach, Halo Wars, Call of Duty®: Black Ops 1, Bioshock, Bioshock 2, Bioshock Infinite, and Skate 3. Stay tuned because this is just the beginning of a long list of Xbox 360 games that will run on Xbox One.
In the meantime, click here to watch the video that gives you a snapshot of Xbox One Backward Compatibility in action.
Since the launch of Xbox One, your input and feedback have helped shape the future of gaming at Xbox, including making Xbox One Backward Compatibility a reality. Keep it coming, and keep voting for the Xbox 360 games that you want added to Xbox One Backward Compatibility, at Xbox.UserVoice.com.
Stay tuned to the Xbox Wire for all the latest backwards compatibility and Xbox news.
Rise of the Tomb Raider Offers More Ways to Play
Intrepid adventurer Lara Croft has undergone several transformations since her 1996 debut.
These days, she's more of an embattled survivalist than a smug, confident explorer who waltzes right into an ancient tomb, guns a-blazing. While 2013's Tomb Raider reboot focused on reshaping the woman at the centre of the franchise and making her more relatable and realistic, Rise of the Tomb Raider is most significant in the ways that developer Crystal Dynamics has tweaked the moment-to-moment gameplay. This time around, Lara won't simply pull out her flaming bow and arrow and unleash fiery destruction from above when she's in a pinch – every element is now far more nuanced, and Lara's adventure has expanded in scope on a tremendous scale. 
A Stealthier Lara
This is probably the most welcome change players will find in Rise of the Tomb Raider. During Lara's coming-of-age tale on the legendary Japanese island of Yamatai in 2013, she could certainly employ stealth tactics to get the drop on enemies. In most cases, however, the fight ultimately came to her – whether she was looking for it or not.
Crystal Dynamics knows that not every player wants Lara to be a stone-cold killer, so they've diversified the options with Rise of the Tomb Raider. The increased emphasis on stealth alone allows for a multitude of options, and Lara now has the capability to take out an entire enemy encampment, sight unseen. For example, she can emerge from the water and pull an unsuspecting guard under, sneak through the bushes and take out another sentry with her hunting knife, and finally dispatch the lone remaining foe with a well-placed arrow to the jugular – all without anyone ever detecting her presence. If you'd rather distract foes and slip by unnoticed without resorting to lethal actions, the game also allows for that tactic.
What's more: Rise of the Tomb Raider's skill tree accommodates a diverse array of play styles, encouraging players to experiment throughout their adventure to uncover the Invisible City of Kitezh. 
The Power of Crafting
Since Rise of the Tomb Raider offers so many more ways to approach combat, it only makes sense that the game provides more ways to prepare for it as well. Lara comes to Rise of the Tomb Raider with a revamped crafting ability that's far more fleshed out than what players saw in the 2013 game. For one, hunting animals in the wilds of Siberia serves a purpose, and specific flora and fauna play precise roles in building up Lara's camp, her weapons, and her accessories. She might gather wood to build a fire and use deer antlers to provide a more powerful bow, to give two examples.
The game's enhanced, improved day-night cycle means that some animals only come out during certain times of the day, which requires careful planning to track down a particular creature and acquire the necessary crafting components. In a way, the beasts of the Siberian wild now serve as a rival equal to that of the humans in Lara's world.
The best part about crafting, however, might be the fact that Lara can upgrade her gear even if she finds herself in a sticky situation. This gives players every opportunity to wiggle their way out of trouble if they find themselves suddenly surrounded and in desperate need of some on-the-fly improvisation.
Return of the Raid
The 2013 entry might have been called Tomb Raider, but it was surprisingly light on tombs – and that was by design, because the focus was forging the indomitable woman Lara would become. Now, she's growing into the raiding icon gamers expect, and exploring hidden areas across the game's open world is a huge part of that experience. In a way, this is an example of something old becoming new – for all the improvements to the nuts-and-bolts gameplay, this element actually takes the game back to its roots, where exploring and uncovering surprises behind every hidden passage was a major reason that we kept playing back in the day.
Inside these tombs, you'll find the series' trademark puzzles – but more importantly, you'll find a sense of wonder, since they provide some of the most spectacular vistas in the game. They serve as an inspiration to keep exploring and keep playing, and since Crystal Dynamics isn't delivering these areas to players on a platter anymore, they feel special – and earned.
Of course, these are just a few of the ways that Crystal Dynamics has redefined one of gaming's most enduring icons; there's a whole lot more to uncover once you take control of Lara Croft yourself, and explore the expansive unknown of Siberia on your own terms. And, of course, don't forget that you can find the unparalleled adventure of Rise of the Tomb Raider exclusively on Xbox One and Xbox 360 this holiday.
Keep up to date on all related news on the Xbox Wire.
Cosplayer Scales World's Highest Bungee Jump for Rise of The Tomb Raider Launch
Hurtling towards the ground at a speed of more than 120 km/h!
To celebrate the global debut of Rise of the Tomb Raider, renowned cosplayer Jenn Croft scaled the world's highest bungee jump dressed as Lara Croft, the fearless heroine of the Tomb Raider series, before leaping from a 764-feet high platform off the iconic Macau Tower. At a speed of more than 120 km/h, Jenn's stunt embodies the defining characteristics of Lara Croft, who is known for her courage and perseverance in overcoming challenges as the Tomb Raider.
Stepping into the shoes of Lara Croft, Jenn Croft scaled the AJ Hackett Macau Tower Bungee Jump in a Lara Croft costume of her own creation, complete with replicas of Lara's customizable gear from Rise of the Tomb Raider. The jump was livestreamed to fans across Asia as part of the global launch celebration which featured never-before-seen footage from Rise of the Tomb Raider and opportunities to interact with Jenn Croft and Meagan Marie, the Senior Community Manager at Crystal Dynamics, the developers of Rise of the Tomb Raider to win prizes.
"Lara Croft is one of the most popular video game characters among female cosplayers, as well as the general cosplay community. She is a great inspiration for people to step out of their comfort zone, take a risk and achieve their goals. This jump is dedicated to all the passionate Lara Croft and Tomb Raider fans from Asia, as well as the rest of the world. I hope everyone will have as much fun playing Rise of the Tomb Raider as I did flying in mid-air," said Jenn Croft.
Rise of the Tomb Raider is now available exclusively on Xbox, and can be ordered via the Microsoft store. For more information be sure to visit the Xbox Wire.