Games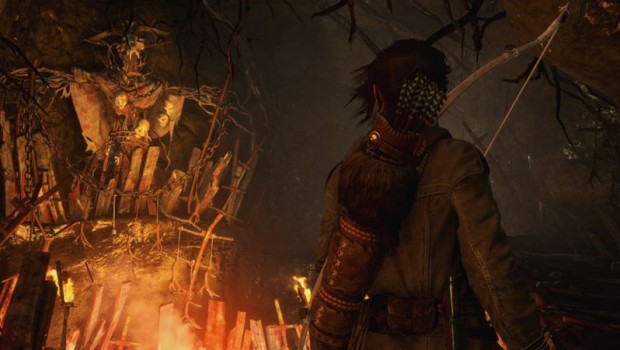 Published on December 11th, 2015 | by admin
Xbox Newsbeat 11.12.15
Rise of the Tomb Raider Add-On Content Detailed
New content coming soon for you to sink your teeth into
Back in October, Xbox and Crystal Dynamics revealed how the single player experience will be extended in Rise of the Tomb Raider and last week at The Game Awards shared a first glimpse at Baba Yaga: The Temple of the Witch, one of the major content packs coming early next year via the Season Pass or as standalone DLC. In addition to Baba Yaga: The Temple of the Witch, fans can also look forward to two other considerable additions to Rise of the Tomb Raider with Endurance Mode (available Dec. 29) and Cold Darkness Awakened (available in 2016) along with a slew of new outfits, weapons and expedition cards to personalise and extend fans experience in the main campaign.
See below for more information on the main content additions as well as the card packs, weapon skins and outfits available in the Season Pass or as Standalone DLC for both Xbox One and Xbox 360.
Endurance Mode – Available December 29th
Alone and in the wild, Lara must scrounge, scavenge, craft and survive the harsh elements by day, as well as lethal threats from enemies, both man and beast, by night. This is her ultimate woman-versus-wild test to push the limits of how long she can survive on her own in sprawling, unforgiving landscapes. Fire takes fuel, cold kills the unprepared, food restores health, but everything must be caught, collected, or crafted. You start with nothing and must find everything. Challenge friends to your longest survival run and battle to the top of the leaderboards for the title of Ultimate Survivor. Includes a new outfit and weapon.
Baba Yaga: The Temple of the Witch – Available in early 2016
Deep in the wilds of Siberia, there is a forbidden forest that no man will enter, where a Soviet expedition vanished without a trace. Lara enters the Wicked Vale in search of a missing man, but what she finds is a nightmare that she cannot explain. Is the witch, Baba Yaga, truly haunting the forbidden forest? Or is there more to the legend? Featuring hours of new gameplay, this adventure expands the story of the main campaign with Lara facing deadly new adversaries, exploring a new puzzle-filled tomb, and solving a decades old mystery, all culminating in a showdown with an ancient and mythic evil. Includes a new outfit, and a new bow.
Cold Darkness Awakened – Available in 2016
Decommissioned during the Cold War, a dormant weapons research base has been breached, unleashing a mysterious affliction into the Siberian wilds that transforms beasts and men into blood-thirsty, mindless killers. Lara must overcome increasingly dangerous waves of these infected predators while scrounging their equipment and crafting additional gear on the fly, in kill or be killed survival-combat. Fight for your life against new enemies and complete new challenges, while discovering a way to stop or perhaps even reverse this impending catastrophe. Includes a new outfit and weapon.
To keep up to date on all the latest Rise of the Tomb Raider News, check out the Xbox Wire.
Xbox Live Gold Members Can Play The Elder Scrolls Online Free This Weekend only on Xbox One
For free… free!
We're excited to announce that all Xbox Live Gold members can enjoy The Elder Scrolls Online: Tamriel Unlimited – for free – as part of Xbox Live Gold's Free Plays this weekend. Beginning at 4AM AEDT on Friday, December 11 and running through 6:59PM AEDT on Monday, December 14, Gold members on Xbox One can explore all of Tamriel, from the icy reaches of Skyrim to the depths of the Black Marsh. You and your friends can team up together to discover dungeons and ruins, embark on hours of quests from series staples such as the Fighters and Mage's guild, battle dangerous world bosses, or simply admire the many beautiful vistas throughout Tamriel.
As part of the Free Play Weekend, your time spent playing will make you eligible to win One Million Dollars (and other prizes) in Bethesda's #MillionReasonsToPlay giveaway. The game will also be on sale all week, so if you decide to purchase the game, you will be able to start again right where you left off. For more information (including complete rules and regulations) on the #MillionReasonsToPlay giveaway, visit http://millionreasons.elderscrollsonline.com
Once the weekend kicks off, you can download Elder Scrolls Online by clicking on the Gold Member area on the home dashboard or by downloading directly from the Xbox store.
During the week, you'll have the option to purchase the game online from the Xbox Store at a discount and continue playing. You will also get to keep your character and all progression, Gamerscore and achievements earned while playing, so determine your character and your strategy and start exploring!
For all the latest Xbox Live news, check out the Xbox Wire.
Next Free Halo 5: Guardians Update Brings Forge, New Maps, and More
Even more content to help you practice for the Halo World Championship in 2016
New details about the next free update coming to Halo 5: Guardians later this month – The Cartographer's Gift – were revealed at The Game Awards. The Cartographer's Gift will add the biggest and most improved Forge mode ever to Halo 5: Guardians, in addition to brand-new Warzone (Battle of Noctus), Arena (Overgrowth) and Big Team Battle (Antifreeze and Entombed) maps, and more than 30 new REQs for armours, weapons, emblems and more.
Additionally, the Halo World Championship 2016 begins Sunday, Dec. 6 with the launch of online tournament ladders around the world. The biggest Halo eSports competition in franchise history is centred on the ultra-competitive Arena multiplayer mode of Halo 5: Guardians, with a prize pool that has now reached US$2 million dollars and growing through crowd funding. Starting today, in celebration of the Halo World Championship, a special Halo Championship Series (HCS) Premium REQ Pack – including HCS themed weapon skins, armour, and emblem – will be available for purchase. Fans will need to act fast though as this will only be available through Sunday at 12pm PST. As with all REQ Packs a portion of each purchase will go directly to the Halo World Championship prize pool. For more details about the Halo World Championship, please visit Halo.gg.
343 Industries is hard at work creating more Halo 5 multiplayer content to keep players immersed in the action. Cartographer's Gift is the second free update since the game launched in October, with more free content coming throughout 2016, including additional maps, weapons, armour and modes.
More on the latest Halo updates can be found on the Xbox Wire.
Time is Power in the New Quantum Break Cinematic Trailer
It's only a matter of time now until you get to dive into the world of Quantum Break
Remedy Entertainment and Microsoft Studios gave players an all-new look inside the world of Quantum Break at The Game Awards 2015. Shawn Ashmore, who plays the main protagonist Jack Joyce, was present onstage to reveal a new trailer with never-before seen content captured all in-game.
Narrated by Shawn as Jack Joyce, the trailer shows how Jack gains time manipulation powers as a result of a catastrophic accident. In tandem, a fracture in time threatens to lead to the end of time itself, and only Jack can stop it.
The new trailer highlights the game's Frozen Scenes of Drama, where Jack explores the world from the unique perspective of frozen time. Players have other time-based mechanics to look forward to in Quantum Break, including time-amplified combat and Stutters, where the breakdown of time causes disasters in the environment to pause, rewind and loop violently, forcing players to strategically use their time powers in order to navigate through the chaos and destruction to safety.
Quantum Break is helmed by Remedy Entertainment, masters of creating cinematic experiences that seamlessly blend innovative, adrenaline-fueled gameplay with deep and thoughtful narrative.
Quantum Break will be released exclusively for the Xbox One on April 5, 2016.
For the full trailer and all the latest news ahead of the release of Quantum Break, check out the Xbox Wire.